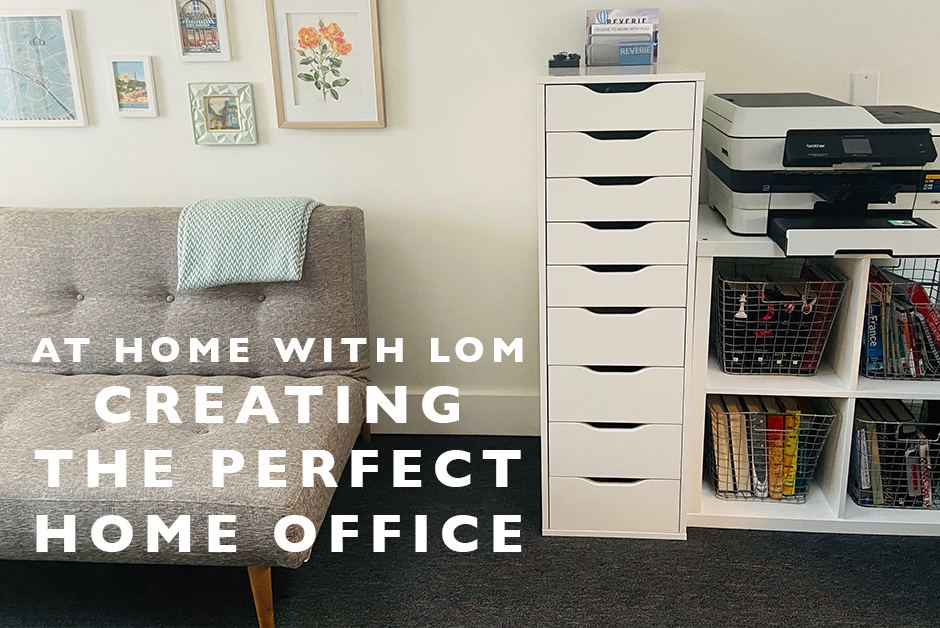 Many of the spaces in our 1925 Dutch Colonial home in SE Portland took us time to renovate.  However, our home office was one of the first that we tackled due to the fact that I've been working from home for almost a decade and I needed a space right away that was conducive to me being able to get straight to work after moving in.  While most of the world is just figuring out how to work from home and learning all the tricks for creating the perfect home office space, I've been doing this for years and have finally figured out what works best for me to be productive and get work done when I need to.  So today, I'm sharing how we went about creating the perfect home office in our house!
Step 1 : What will the space be used for?
The first thing we looked at for our home office space was how the space will be used.  We use our third bedroom as an office and it's a large space with vaulted ceilings and skylights, so we wanted to see how best to use it for multiple uses.  In the end, we decided on using one end of the room for our desks and workspaces and the other end of the room for storage, a lounge area with a futon, and an exercise bike.  We positioned our desks along the window wall that faces out the front of our house to the street so we have a view and used the other end of the room that looks out to our backyard for our storage and lounge space.  In our previous home, we had a futon in our second bedroom for guests but because we have a specified guest room in this house, we decided to move the futon in the office and use it as a lounge space or an impromptu third bedroom as well for guests if needed.
Step 2 : Paint + Re-carpet
Next, we decided what we wanted the space to look like.  When we moved in, the walls were white and the carpet was a dirty beige berber carpet.  As the space has vaulted ceilings with skylights, we wanted to make the most of the light that filters into this room and make use of the vaulted ceilings.  We decided on keeping the side walls white but painted the end walls, where they come to a point because of the vaulted ceilings, a very light gray.  The change from white to gray at each end of the space is subtle but adds a very cool, calming element.  Next, I painted all the baseboards and window trim a lovely bright white to freshen everything up and changed out the knobs on the built-in storage that was already in this room.
Our last step for finishes was to re-carpet.  We bought a dark gray, low-pile carpet from Home Depot and had it installed by a couple that we've used several times in the Portland area for carpet installs in our homes.  They were able to lay the carpet pretty quickly and by changing the beige out for a dark gray, it not only changed the whole look of the space but also made this room fit in better with the rest of the house as well.
Step 3 : Organize
As someone that has worked from home for years, I know the importance of organizing your office space.  All those files you saved from 5 years ago… you probably don't need those anymore.  All the textbooks you were saving from college… probably could sell those now.  It's important when you're creating the perfect home office space to go through and organize what you have, get rid of what you don't need and set up a system that allows you to work efficiently.
Step 4 : Add Inspiration
I know that for me, as a creative in a creative field, I need to be inspired by my workspace.  After all the painting and re-carpeting and organizing was done, I needed to add some elements that inspire me as a I work every day.  I personally like to have framed artwork in my office space with quotes or words that inspire me and I keep those closer to my desk space.  Over the office lounge space, I put together a gallery wall of images from our travels and artwork that we've picked up over the years from all around the world.  We also keep our world map in our home office space with pins of where we've traveled.  Having that in the office space where I spend most of my days really allows me to feel inspired and to keep going even when I feel creatively drained.  Your office space should reflect you and showcase what you need to be the most productive you can be, so don't forget to add inspiration to your space that means something to you personally.
The Final Result
In the end, this space didn't take a lot of work or money to make it feel just right for me to work from.  I really enjoy working in my home office every day and between changes in paint, carpet and some touches of inspiration, it turned into a really lovely space in our home!
BEFORE:
AFTER: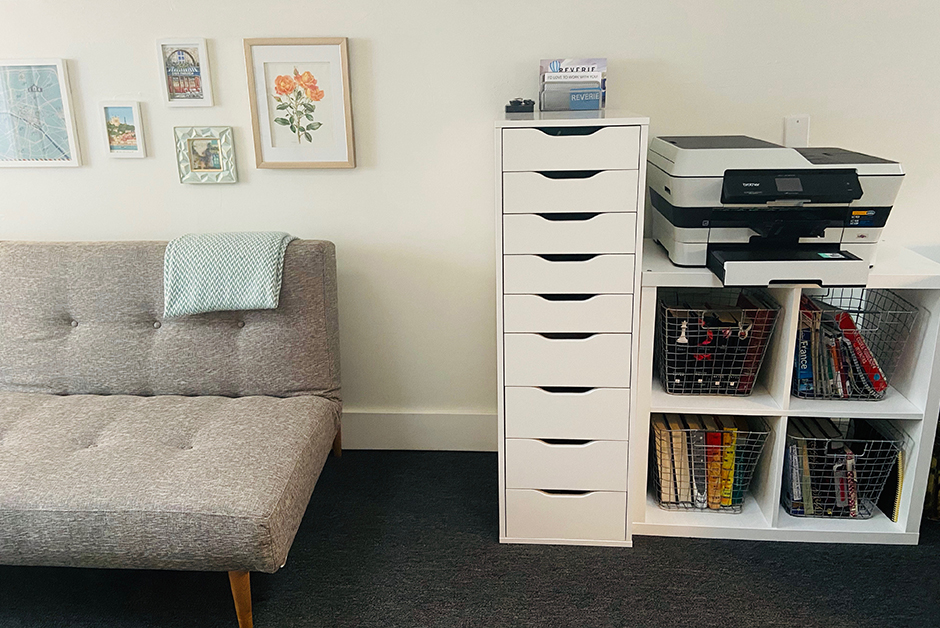 All the Items We Chose for This Space
These are the touches in this space that we purchased to do this renovation project: