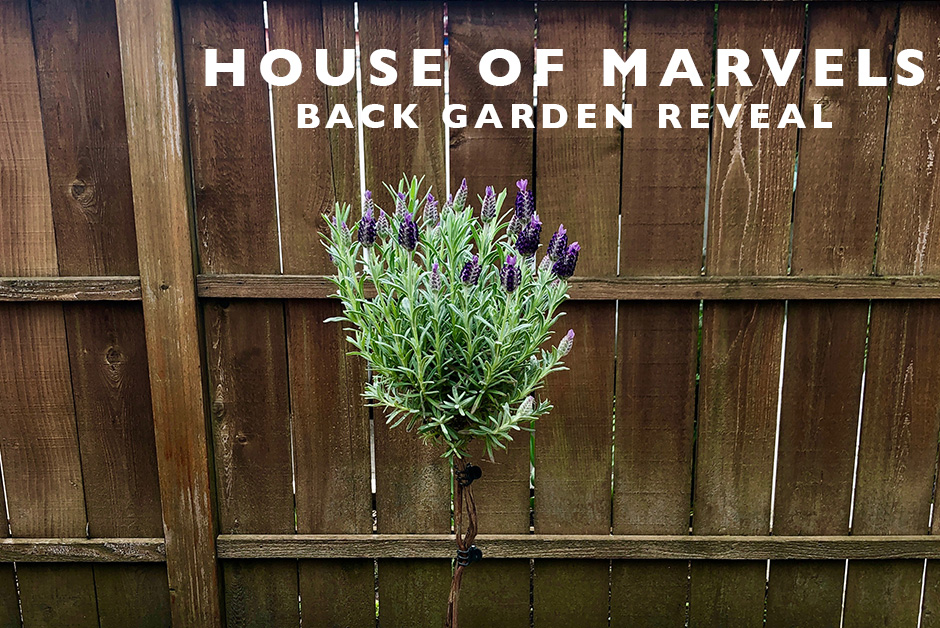 Next up in my series all about our house renovation, I'm revealing what we did with the small back garden!  When we moved into the house last August, the yard was a chaotic mess.  The house had been sitting on the market for months with not much yard upkeep during the Summer and everything was completely overgrown and looked like a jungle.  The first thing we did when we moved in was to hire a landscaping company to just pull almost everything out to start with a clean slate.  I wasn't crazy about the plants they had for the most part, so we just decided that starting fresh was the best solution for our vision.  The only thing I had the landscapers keep in the back yard was a large old blueberry bush and I'm excited to have that this Summer but other than that, everything went away.  Instantly, the space felt bigger and more open.
We kept it empty all Winter and once Spring rolled around, we started working on the renovation of this space.  We wanted to make it feel larger, as it's a fairly small space.  We also wanted to add a food and herb garden back here as well as just more greenery that we can look out to from inside the house.  All in all, I'm so excited with how this space turned out and as we did all the work ourselves, it feels extra fulfilling.
*I am linking to some of the decor and furniture items below for each room if you want to know where stuff is from, but none of them are affiliate links FYI.
Back Garden Reveal
This space has been one of my favorites as we've renovated and it's become my little oasis outside.  Our back garden isn't really that big but it's a lot of usable space now that we cleared out the landscape from before.  And while our house has a very New England vibe on the exterior, I wanted it it to feel very French out back.  Imagine Provence in the Summer meets an urban Parisian garden … that was my inspiration for this space.
We already had a raised bed out here so I started there with planting.  I've got it full of sweet onions, garlic, leeks and artichokes to harvest this Summer.  Then I used the back of our fence to add a vertical herb wall, highlighting my favorite herbs that I cook with.  Next, I started my pots of plants along the back wall.  I was lucky in that my grandma is a gardener and had a ton of terra-cotta pots for me to bring home which saved me a ton of money but I also bought a few at Ikea that were excellent prices.  I created a variety of pots and plants that grow lots of different things like strawberries, raspberries, dahlias, chamomile, rosemary, chocolate cosmos, sugar snap peas and marigolds.  I wanted a variety of edible things mixed with flowers and greenery and it's coming along lovely.  We already have strawberries growing and the fragrance of the rosemary and flowers is divine.
A few weeks ago, we finally found an outdoor table and chairs we loved from Ikea that fits perfectly with our space.  On the back of the fence, we already had a built in bench so we just needed chairs for the ends and one side of the table and it truly turned out gorgeous.  I can't wait for the Summer months to sit out there with my coffee and take it all in.
For the back area behind our garage that doesn't get a lot of sun and is pretty narrow, maybe 6-7 feet across, back here, we just wanted to open up the space to make it feel bigger so we planted a large hydrangea in the very back and pavers in a cobblestone pattern leading back as a second patio.  On the sides, we'll eventually have rows of gravel (imagine the gardens of Provence) and we planted pots with Sky Pencil Holly and sweet alyssum to add greenery.
In the end, this space evolved a lot as we worked on it, but it really did turn out so great and we're so excited to spend the Summer out here!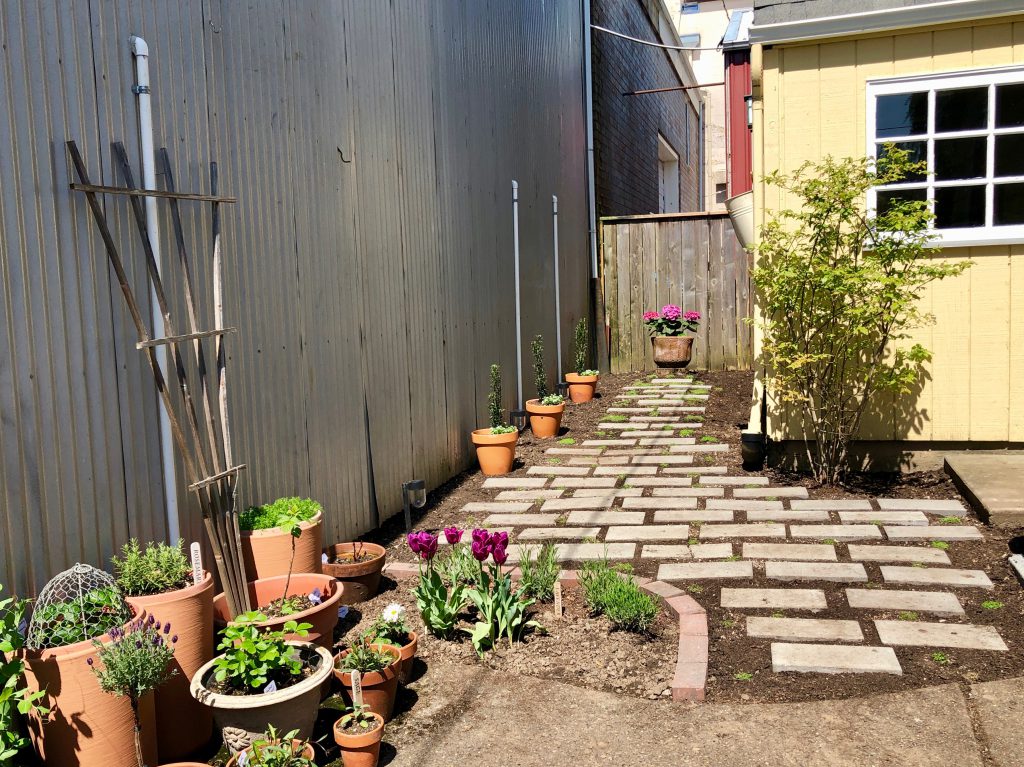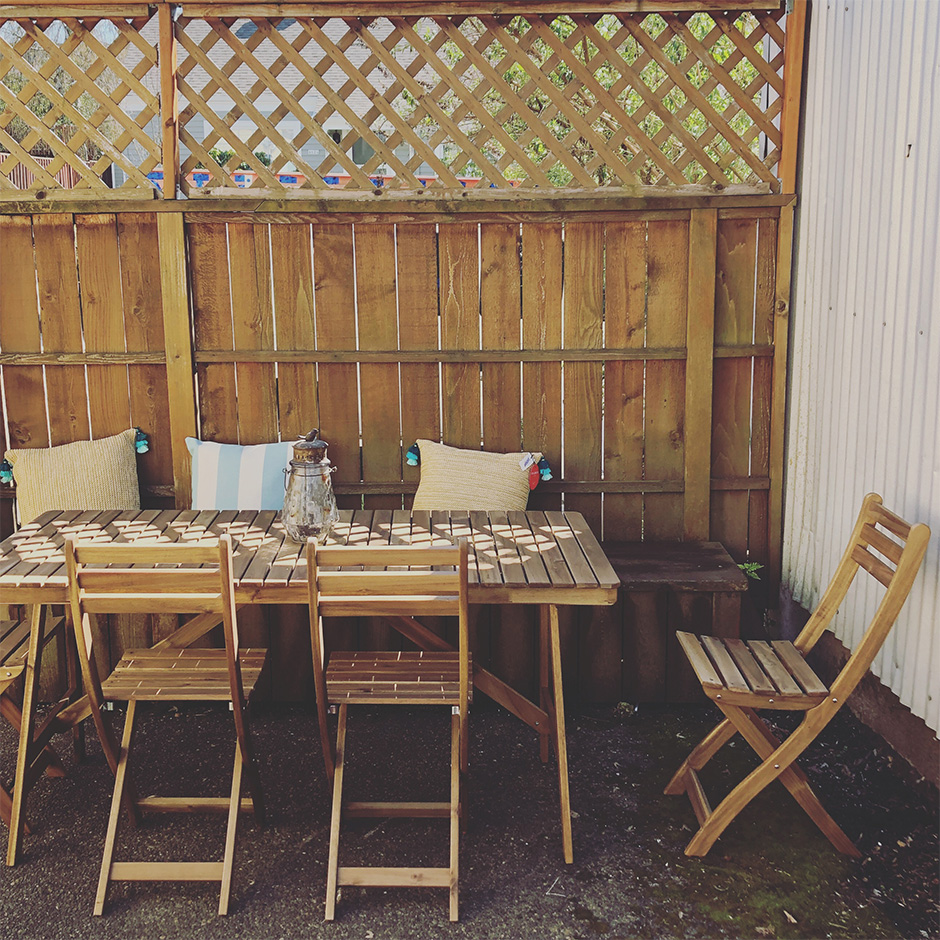 The Decor : Ikea Outdoor Table | Ikea Outdoor Chairs | Crate and Barrel Pot Holders