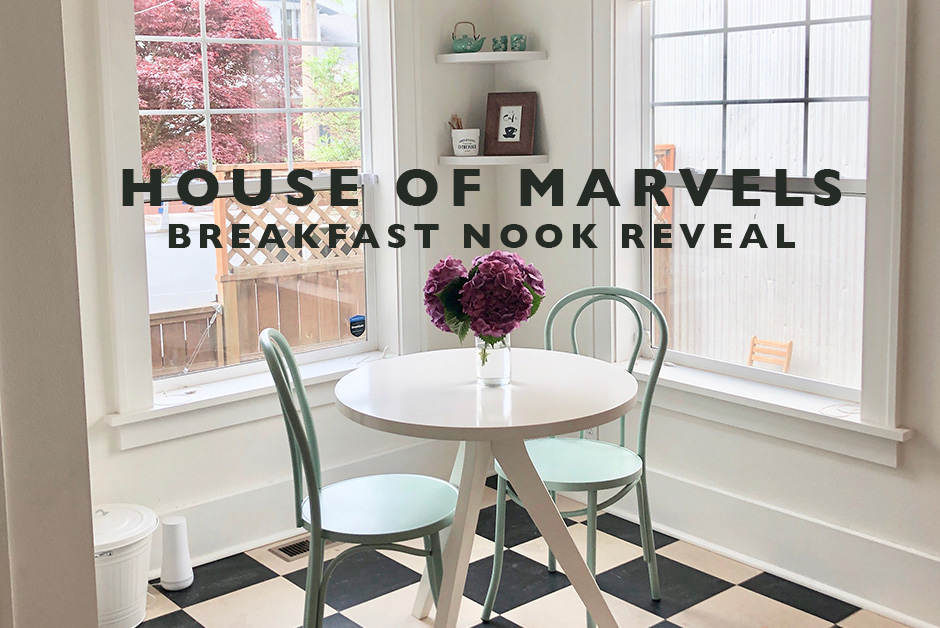 In the next part of this House of Marvels series, I'm moving on to a space that has turned out to be one of my favorite areas in our house.  It's not completely done yet as we'll eventually re-do the flooring when we renovate the adjacent kitchen, but for now, it's really all come together nicely!
This space took a while to come together after we moved in, mainly because for several months it was kind of our hold-all space and was used as a storage area while the other rooms downstairs came together.  We will replace the floor when we re-do the kitchen in the next couple of years (it's connected to the kitchen and downstairs bathroom so the floor will be the same in all the spaces eventually), but overall, this space is exactly what I wanted it to be.  It looks out over our back garden, so I wanted a space that felt almost like a European café, where I could sit and drink my coffee in the morning and see my plants out back.  On the wall I created a gallery framed piece with photos of cafés from all over Europe and we bought a beautiful antique shelf at one of our favorite antique shops in Portland that gives the whole space a very European vibe, complete with a wine rack to store my favorite European wines.
The last step was a couple of corner floating shelves on the wall to finish up an empty white corner and the addition of these really brought the space to life to showcase some of our treasures from around the world.  Complete with gorgeous hydrangeas cut fresh from my garden, the space is cozy and intimate and really does feel like a little café.
*I am linking to some of the decor and furniture items below for each room if you want to know where stuff is from, but none of them are affiliate links FYI.
The Decor : West Elm Table | Overstock.com Chairs