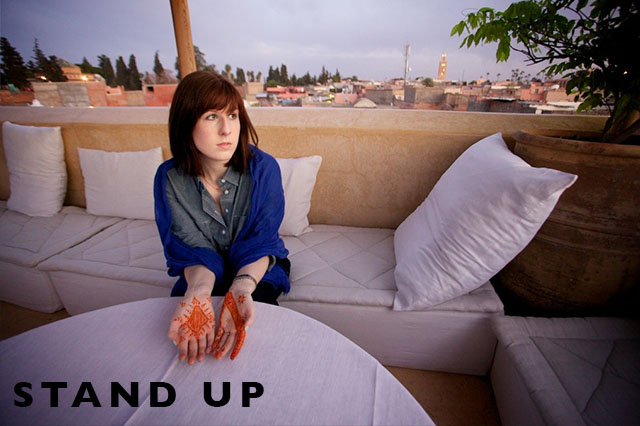 Upon arriving in Stockholm this past weekend, I was jet lagged and couldn't sleep so I jumped on Twitter and was overwhelmed by the news breaking out of my home country denying entry to the United States to everyone from 7 Muslim majority countries.  I've honestly spoken before about my opposition to Donald Trump for so many reasons, but this so called Muslim ban, this hit me like a bullet.
I may not be Muslim, but I easily could be.  I was born and raised amongst Muslims, in a country that prays to Allah, that houses the 2 holiest cities in the Islamic faith and I grew up hearing the call to prayer on a regular basis.  So as my country of citizenship would push legislation to ban people from the US, all for the simple idea that people from those countries, Muslims as the majority, exist only to cause harm to Americans, makes me sick to my stomach.  Did you know that the common greeting in Arabic that Muslims use to greet one another is "As Salaam Alaikum" which literally translates to "Peace be upon you?"  Did you know that Islam has many similarities to Christianity?  Did you know that Jesus is a significant figure in the Quran and considered a prophet in Islam?  The point of this is, just because someone prays to Allah instead of God or because they were born in a country of no choosing of their own, should they be denied entry to the United States?
And you might say, Trump is protecting Americans.  Did you know that from 2001-2014 (including 9/11) that 3,412 Americans (whether on US soil or abroad) were killed due to terrorism.  And yes, that's horrible and it's 3,412 lives that were taken violently and unnecessarily.  However, in that same time period, 440,095 lives were taken due to gun violence on our own soil.  (You can see where I got those numbers here).  440,095 lives taken with no link to terrorism. So let me ask you, which issue seems more pressing?  And yes, I completely believe in fighting against terrorism and extremism around the world, but let's do so smartly without, as my father so perfectly put it, punishing the whole class for something that the bad kid did.
I would also ask you this – by banning everyone from these 7 counties, even those with Green cards, even those already promised visas, even those that have given up everything they own and love and been through extreme horrors to escape for a new life in America – is it really American of us to then say, "no, sorry."  To send people kicking and screaming (this literally happened as refugees were physically forced  back on to planes this weekend) back to countries that have offered them nothing but pain and suffering, is that Christian?  Is that kind or morally decent?  Is that American?
In no way am I saying that the world isn't complicated and that sometimes, drastic measures need to be taken.  I'm not saying that we might need to scale back in how many people are let into our country, but if you can look at the horrific situations that occurred this weekend and not feel horrible about it, about how people were treated, then there really is something wrong.  If you can't see these people as human beings, picture yourself in their shoes, then perhaps you need to take a good long look in the mirror.
I was personally returning to the US from Sweden on Monday and even though I'm a citizen of the United States, I was also born in Saudi Arabia.  And while Saudi was not on the list of countries banned, I was still nervous about going through immigration upon landing.  I was worried I could perhaps be pulled aside, detained or questioned.  Just the fact that I had that thought, that in itself is worrisome when a country's own citizens are scared of what might happen to them.  I'm not Muslim, but I could be.  I'm not from Iran or Yemen or Libya, but I know people who are.  I don't speak Arabic or wear a head scarf, but I could.  We need to stop thinking we're so different from these people and start putting ourselves into their shoes.  What if you were a refugee from Syria, had lost everything and arrived on US soil to be violently detained and refused entry?  What if you were arriving home from a work trip and denied entry even though you have a green card and have lived here for years?  What if you had risked your life to help our soldiers in Iraq and arrived on a visa to the US but are handcuffed for hours on end and detained?
In the past, I've never been one to shy away from expressing my views, but this?  It might not be personal for you, but it's personal for me.  You might not know people who this will affect, I do.  And who's to say that this won't evolve and Saudi Arabia won't be added to that list of countries?  And who's to say down the road, my passport won't be flagged?  I am scared for the future of my country, but I won't stop speaking out or standing up for what is right.  So I ask you, whether or not you support Trump isn't really the issue here – the issue is whether or not we're good people and we support helping others in need.  And if we write this off, if we shove it under the carpet, more and more is going to happen and more and more people will be targeted.  Are you willing to risk that?  I'm not.  So stand up, use your voice and let's show the world that we're better than our actions have shown as of late.