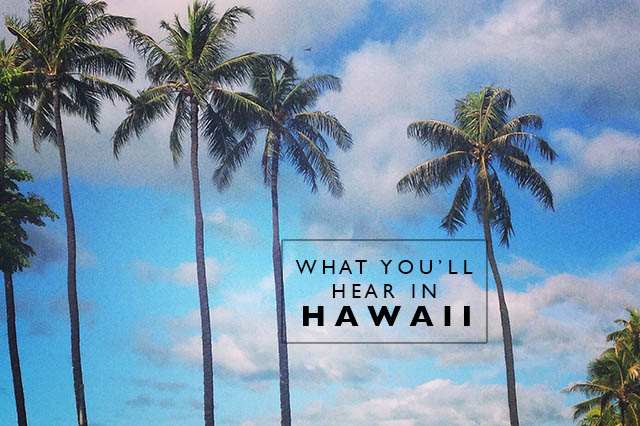 I've spent a lot of time in Hawaii.  I lived there for a couple years straight out of college, my parents live there now and I go back and forth for work to Oahu every couple of months.  So as a "main-lander" both living and working in Hawaii, I had a lot to get used to.  People are often surprised to hear about the differences between the US mainland and the Hawaiian Islands, but Hawaii is a full on culture of its own with its own slang, it's own stories, it's own vibe.  So if you're headed to the Islands, so that you have a better grasp of some of the local slang, here is what you'll hear in Hawaii and what it means.
Howzit 
When I first heard this term, I thought it was spelled "how's it?" Like, how's it going?  But in reality, it's legitimately spelled as I have it above and is a true local term.  You'll hear all the locals say this, and it's basically just the local phrase for "what's going on/how's it going?"
Da kine
Now this one is a strange one because there isn't really one true meaning but it's a word that is very common when spending time in local Hawaii.  It's a Hawaiian-pigeon term that is hard to explain as a meaning and even when searching online for a true definition, it seems there really isn't one.  Da kine is often used though in local Hawaiian slang as something close to "whatchamacallit" or when you can't remember something.  Like "do you have da kine?" or "what have that thing?"  But it can also be used as an adjective that sort of just holds the word's place holder… so long story short, you'll see and hear this everywhere and it's become sort of an everything term… so in the words of the Islands,  just go with it.
Aloha
Everyone knows this term these days, but it's as synonymous with Hawaii as the palm trees the Islands are so famous for.  This term covers the aloha spirit of the islands, the cultural feeling as well as a greeting and a goodbye.  This is used all the time by locals to say aloha or to explain the feel of the Islands.
Haole 
A very common term in Hawaii to describe caucasians or those of us, like me, with white skin, this term is thrown around a lot.  Take from it what you will, but as a Haole living in Hawaii, I was never quite sure if it was being used endearingly or to determine you as an outsider and not of Hawaiian descent.
Ohana
A word that locals use a lot, Ohana means family or your "group" if you will.  This could be talking about your work "ohana" or your extended "ohana."  Either way, ohana is a very important word and idea in the Islands.
Talk Story
One of the things I always think is interesting in Hawaii is that many of the local Hawaiians don't think they have an accent.  But as a mainlander, I can spot a Hawaiian accent the second I hear it.  I was in a restaurant in Portland the other day and the hostess was seating us and after just a few words, I knew she was Hawaiian.  She asked me how I knew and I said, "your accent."  She looked at me, like what?  I don't have an accent.  Anyways, long story short, another part of the Hawaiian dialect that can always give away their heritage, "talk story."  I used to hear this on a daily basis while working in Hawaii.  Hawaiians will use this as a way to catch up with people, you'll hear, "let's talk story."  It basically is their way of asking, "how's it going, what's going on with you?"
Pau
A Hawaiian word that means "the end" or "done" this term is widely used in Hawaii.  "We're pau," is a common term for when you're done with something, like a meal.  "You pau?" when asking if you're done.
Headed to Hawaii?
Check out our Oahu Travel Guide in the Land of Marvels Shop for only $5!