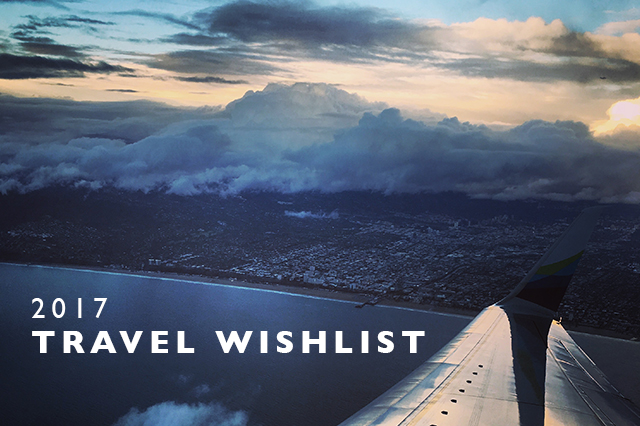 Each year as we plan our travels ahead, I keep a running travel wishlist for the year: places that I've been wanting to get to, or places that I'd like to return to.  And each year, as we fill up our calendar for the months ahead, some places become more of a priority than others, but either way, I love doing a wishlist for the year ahead and here's what I'm looking forward to for potential travel this year!
Alaska
I fell hard in love with Alaska when we visited last Summer and I'd love to make a return trip up there this year at some point.  We don't have anything booked yet, but I'd love to make a weekend trip work in the year to come!
Paris in the Fall
Originally, we were thinking of returning to Vermont in the Fall for a repeat visit since we loved it so much last year, but upon looking into it further, it was going to be quite expensive to fly back East on the dates we were looking.  So randomly this past weekend, I came across an amazing fare deal from Seattle to Paris for a long weekend for only about $100 more than it was going to cost to head back East – so we switched our plans and we'll be heading to Paris for my birthday in the Fall and I can't wait!
Provence
We do have this trip booked and I am beyond excited about it.  In July we'll be taking 5 days and road tripping through Southern France in search of lavender fields, croissants and Rosé!  I'm so excited for this trip and a destination that's been high on my list for a long time!
London
I'm not sure if we'll get to do this or not this year, but Delta just announced a new nonstop flight from Portland to London and if an airfare deal comes up for a long weekend in one of my favorite cities, I might just jump at the chance!
Diablo Lake
I've been wanting to make it up to Diablo Lake, which is a few hours outside of Seattle, for a long time now and I'm hoping this Summer we'll be able to make that a reality.
Mt. Rainier Wildflowers
As well as Diablo Lake, seeing the wildflowers at Mt. Rainier has been high up on my list for a long time.  Hopefully this Summer that will happen as well!
Las Vegas Foodie Weekend
For a while now, Nick and I have been wanting to do a foodie weekend in Las Vegas since there are so many amazing restaurants there now.  The idea is that we'd fly down for a day or two and just enjoy some of the top notch restaurants in the city and take in the best of the best foodie experience.  I'd like to see if we can make it happen this year!
Yellowstone
We've been throwing around the idea of visiting Yellowstone for a while and we're finally making it happen this year when we'll road trip from Portland, up through Washington and Montana to Glacier National Park and then wind our way down through Yellowstone, back through Sun Valley, Idaho and finally home through Eastern Oregon.  I'm so excited for the scenery this trip will bring when we head there in May!
Snowy Thanksgiving Escape 
We don't know exactly where we'll head for our Thanksgiving escape next November yet, but I'm hoping for somewhere snowy and festive.  We played with the idea of Quebec for a long time but it's surprisingly hard to get there from Portland, so now we're thinking potentially a return trip to Iceland for a snowy escape… we'll see what happens, but for sure someplace with snow!