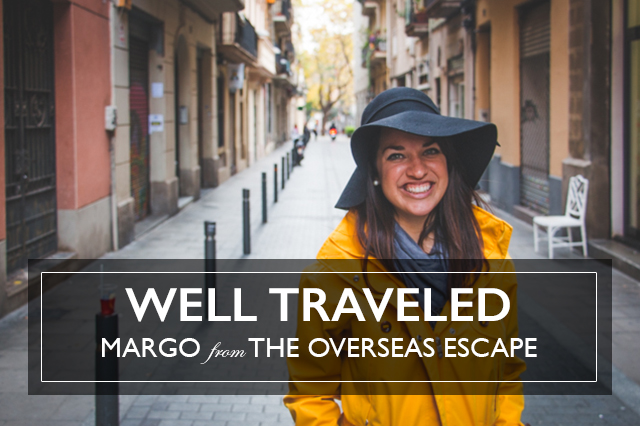 Margo has quickly become one of my favorite travel bloggers out there and I love watching her adventures all over Europe.  From Spain to Ireland to her adorable dog, her pictures and documentation of her explorations always keeps me coming back for more!
Find her here: The Overseas Escape
What's your dress code when flying: dress up or dress down?
Call me old school but I romanticize air travel in the way that is was in the TWA days.  I'm faaaaaaar from fancy but tend to lean towards trendy-comfortable, if that's a style.
Favorite luggage?
My favorite black leather tote, extra roomy to fit my laptop, camera, wallet, passport and everything in between.
Best flight you've ever had?
Hmmm, I had no qualms about getting upgraded to business on a flight from Frankfurt to Dulles.  I was so grateful for every single business class treat, I'm sure the flight attendant knew I wasn't a regular.  "Why yes, I'd LOVE water before take off.  Wow THANK YOU!"
Favorite hotel you've ever stayed at?
Perhaps I didn't actually sleep there but the Marina Bay Sands in Singapore is a stunner.  On the top floor is an insane view of the city and infinity pool to boot.  Google it, you'll see.
If you could make flights on airplanes better with one thing, what would it be?
Free wi-fi on all flights.  I have a feeling that's not all that far away though.
What is one place continuously on your list to get to that just hasn't happened yet?
Thailand, Thailand & Thailand!
Your next planned destination is where?  
Lisbon, Portugal
What is the best souvenir you've ever brought home from your travels?
I picked up two huge handmade porcelain mugs at a farmers market in Prague.  One is white with thick navy stripes and the other is blue with little fish painted on it.  Perfect for soup, ramen and generous portions of ice cream.  They're a little anthropologie-esque and remind me of my wonderful visit to Prague.  I love them.
Where have you been in the last 6 months and where was your favorite?
Living in Europe certainly has its advantages so don't judge me for being in a travel frenzy, it's all so close! Since August I've visited: Amsterdam, Cochem (Moselle Vally), Cinque Terr, Pisa, Annecy (France), Lausanne (Switzerland), Bern (Switzerland), Munich (Oktoberfest!), Neuschwanstein Castle, Dingle (Ireland), Killarney (Ireland), Frieburg (Germany), Strasbourg (France), Taormina (Sicily, Italy), Barcelona, Tenerife (Canary Islands, Spain), London and Paris.  My absolute favorite… oh boy, I'd say it's a tie between Dingle, Ireland and Annecy, France.
What's your best kept travel secret?
Save money and eat street food.  I swear it's just as good as anything you'll find in a restaurant.