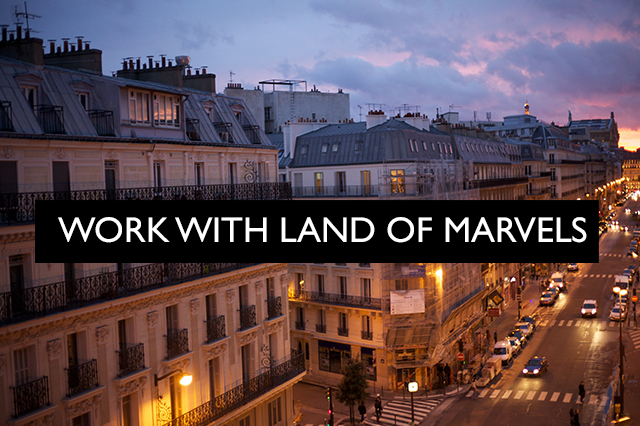 As a passionate traveler, I love working with travel brands that fit with my readership and dynamic.  If you're interested in working with me on a collaboration, I'd love to discuss options with you and potential partnerships!
Product Reviews + Sponsored Posts
If you have a product you'd like me to review, I'd be happy discuss options with you.  Feel free to email me to see if I'd be interested in a collaboration and if your product will pertain to my readership.
If you would like to discuss with me the opportunity for sponsored posts, please email me and we can discuss requirements and fees.  Please note, I don't accept sponsored posts without compensation.
Work with Land of Marvels
I am open to opportunities for press and social media trips as well as collaborating with brands and products related to the travel industry.  For more information, please email me.
Brands I Have Worked With: This is Ground, LUXE City Guides, Iceland Air, Sand Cloud, Uber, Nordurflug Helicopter Tours Iceland, Pins to Kill
Hotels I Have Worked With: Desert Wind Winery, Swinish Casino & Lodge, Kimpton Hotels, Provenance Hotels, The Inn at Bandon Dunes, Melia Hotels, Corral Del Rey, Hotel Casa 1800 Granada, LX Boutique Hotel , Sunriver Resort, Esperanza (an Auberge Resort), LX Boutique Hotel Lisbon, Corral Del Rey Seville, Pullman Hotels, Hotel Le Marianne Paris, Hotel Therese Paris, Sophia Suites Santorini, JW Marriott, Thompson Hotels, Ion Luxury Adventure Hotel
Freelance Writing
I write freelance for many different travel sites and blogs.  If you're interested in having me write for your site, please email me.
Contact me: casey@landofmarvels.com 
Featured On:
Articles
Paris Off the Beaten Path: Quiet Spots in the City (Utrip)
Siem Reap Travel Guide : 2 Days of Culture and History (Utrip)
Casey's Favorite Road Trips (Route Bliss)
A Weekend in Portland (Utrip)
Five Spots in Europe for a Fantastic Autumn  (Route Bliss)
5 Magical Spots for a Winter Holiday (The Overseas Escape)
5 Perfect Itineraries to Use the IcelandAir Stopover (Unlocking Kiki)
Featured On
Interviews
Q&A with True Colours (Found Love. Now What?)
The Traveler Series : Casey of True Colours (The Pin the Map Project)
True Colours on Treasure Tromp
Meet Casey | Land of Marvels (Of Golden Roses)
Save Money while Traveling with Casey Martin (Kick Ass Traveling)
Travel Tips & Advice | Casey from Land of Marvels (Of Golden Roses)