The Shoreline Hotel
Waikiki, Honolulu, Hawaii
When we were booking this long weekend trip to Waikiki, it was overwhelming the amount of hotels to choose from.  I didn't want to spend a ton of money on such a quick trip and I ended up using credit card points from my Chase Sapphire cards for our hotel.  That helped narrow down what was available and what my points would cover which is how we ended up at The Shoreline.  Overall, I thought it was good with a few things that I didn't love – my full and honest review is below!
LOVE
Cool Design – One of the main reasons I picked The Shoreline was due to its recent design update.  I had seen it in one of my Interior Design magazines a few years ago and the design is really cool.  The renovation really took this older Waikiki hotel and made it really interesting in terms of the design.  I will say though, I felt that while overall I liked the vibe, there were still areas that felt like they didn't update which took away a little bit from the overall feel and made it feel older than it should with a renovation.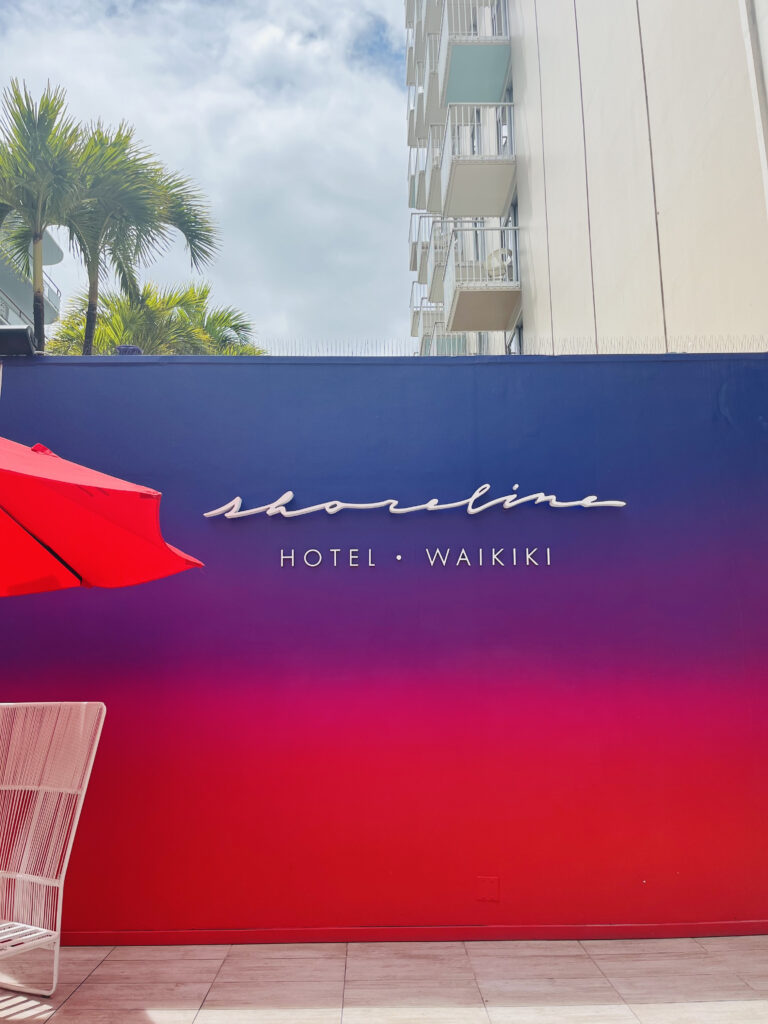 Location– This is where this hotel shines.  The location was prime for us.  It's a block from the beach, a block from Kuhio Avenue where a lot of restaurants are, close to bus stops, and right next to the International Marketplace where there are tons of shops and restaurants, basically just easy access and close to everything.  It doesn't have beach front access if that's what you're looking for – but it's an easy 5 minutes to the beach.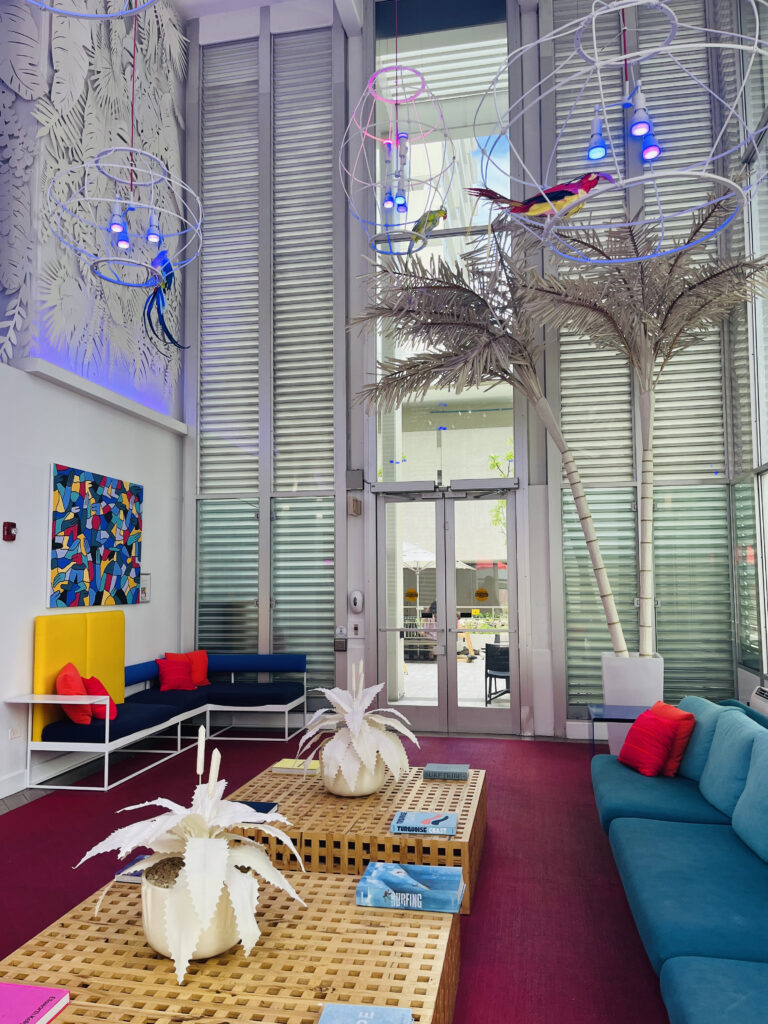 DIDN'T LOVE
A Little Worn Down – While there were parts of the renovation of this hotel that I thought were outstanding, there were also things that still felt really worn down.  The bathrooms were not part of the renovation and it just felt like corners were cut there and very dated.  Some of the finishes also just felt a little on the cheaper end.
Pool is Really Small – If you're going to be spending a lot of time at the pool, this one probably won't do it for you.  They have a rooftop pool but it was tiny and there was no place to sit around it.  The views are beautiful from up there but the pool left a lot to be desired.
NOTES TO KEEP IN MIND
We paid nothing for our hotel stay (through credit card points) and it was great for that, but if I was paying per night, I'm not sure I'd pick this hotel. It's so expensive to stay in Waikiki, so if you're going to pay the money, I'd say splurge a bit on one of the larger resort hotels.  But if you're looking for a quick overnight or more of a boutique hotel, then The Shoreline might be a good option.
Traveling to Hawaii?
See all of my posts on Oahu!