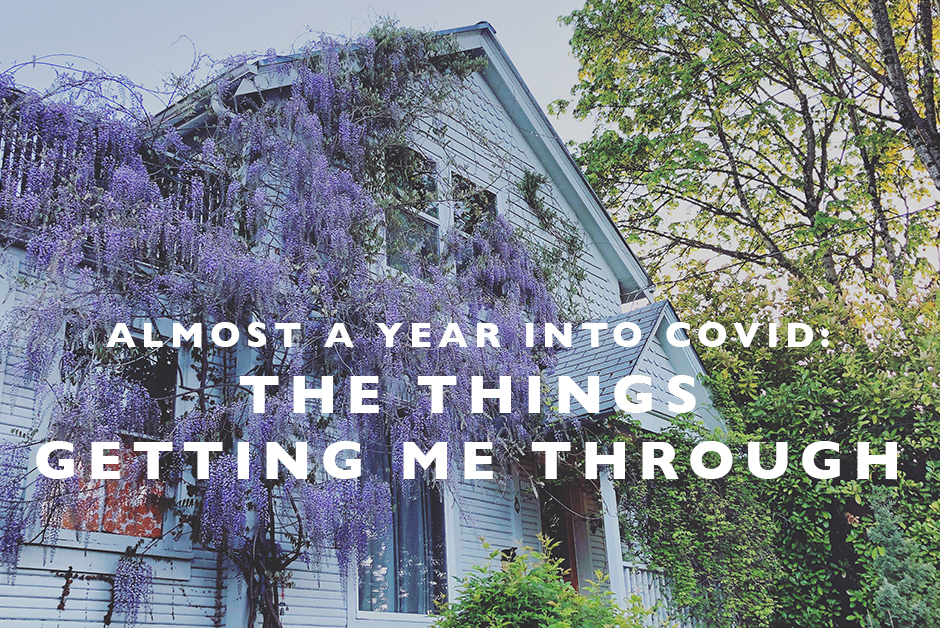 Remember last Spring when our world was turned upside down?  When all of a sudden we were told not to leave our houses?  When we started wearing masks?  When every day in March of 2020 seemed like an eternity?  Yea… that was almost a year ago, as hard as that is to believe.  We've been going through life during a pandemic for a year and honestly, we've still got a long way to go still.  And while there is definitely more hope this year that we might actually near the end of this intense period of our lives this year, we've got a lot ahead of us still.  When I wrote about the pandemic last year, it's crazy to think about how green we were at that point.  We had no idea how long this would last, we had no idea how much our lives would change.  Now, a year later, after watching my husband go through being sick with COVID and having many other family members and friends go through it as well, I'm finding that there are certain things that are still getting me through.  During this period in our lives, it's so important that we take care of ourselves, both physically and mentally.  So if you're struggling, just know that I am too.  If you're so ready for life to get back to normal, I am too.  And if you're looking for some things to bring you comfort or make your life easier, here are the things getting me through on a daily basis during COVID, a year into this horrific period of our lives.
Green Tea
I've found myself drinking more green tea this past year than ever before.  First, it's a super healthy tea that boosts the immune system to keep us healthier, but it's also just been super comforting.  Sometimes in the afternoons, especially in the colder weather, a cup of hot green tea really does wonders for my mood.  My favorite brand of Green Tea has a soft, soothing flavor.
Multi-Layer Masks
Even though I've greatly limited my outings in general, I've been in-person teaching since August at a local university, so my mask-game has been strong.  Being in a room with 8 other people for a couple hours at a time has made me really look closely at what masks I'm wearing as I still have to be able to talk and lecture for a long time during class.  I have loved Gap masks this year as they have great patterns, fit my face well and are multi-layer so they protect better than just one layer of fabric.
Amazon Fresh, Instacart + Thrive Market
Like most people, I've turned to delivery this year like never before.  I try to alternate my groceries so that I'm not going to the grocery store every week to try and limit my exposure while out and about, so I do a couple weeks of delivery and then go myself on the off weeks.  For groceries, depending on what I need I alternate between Amazon Fresh and Instacart.  For my pantry staples, I'm used Thrive Market for the past year after joining in March after the pandemic started.  Thrive is my favorite to stocking up on things like chicken broth, oat milk and tunafish and I end undoing a couple Thrive orders per month.  I've also started ordering my meat from them as it's all organic and grass-fed and I've been really happy with their products.
Organics to You
Another thing I started last March amid the pandemic was my weekly vegetable box delivery from local Oregon farms from Organics to You.  This amazing service drops off a fresh box of vegetables each Tuesday at my door and I love the idea of a different variety every week.  It's been one of my favorite things that I've come across during COVID and I will continue to use them for years to come!
Music
Like so many of you, I'm sure, music has been a solvent for me this year.  Stress and heightened awareness has brought my anxiety back full fold this year and I've used music as a calming agent a lot this past year.
Airborne
I swear my daily Airborne habit was a huge help in how I was able to fight off COVID even as Nick was very sick with it in December.  I've been a huge Airborne fan for years and their citrus chewables are my go-to to stay healthy, but now with COVID in our lives, it makes me feel ever better knowing that my daily habit is helping my immune system stay strong and healthy.