Bandon Dunes Golf Resort – The Inn – Bandon, Oregon
When we started looking into a weekend trip down to Bandon a few months ago, I immediately knew where I wanted to stay.  The Bandon Dunes Golf Course is a world-renowned spot (in golfer circles) and knowing they have a lodge on the grounds as well, I really wanted to see and experience this local famous spot.  We ended up staying at the Inn on the grounds, though I'd love to go back and stay at the other spots on the grounds as well.
LOVE
Scenery – Notably, this part of the Oregon coast is gorgeous and the setting for Bandon Dunes is beautiful in itself.  Built on rolling dunes and keeping with the natural scenery of the area, the grounds here are beautiful.
Location – For easy access into the town of Bandon, this spot is so easy and convenient.  It's a quick 5-7 minute drive into town and the parking was easy each time we left and came back to the hotel.
View/Patio – Our room was on the first floor with a patio that overlooked some of the golf course with the ocean in the background.  It was a lovely view and a great added addition to the room.
Large Room – The room was really large and had lots of space for us to store our luggage and all of Nick's camera gear, which was really handy.
DIDN'T LOVE
Decor – While this really wasn't that big of a deal, the only thing I can think of that wasn't my favorite was the decor in the rooms.  It felt very masculine to me, though to be honest, I think that's the majority of the people the hotel caters to as it is a golf resort, so it didn't bother me too much!
TIPS
Be Aware of Where the Turn Off Entrance Is– The entrance to the grounds is right off of the 101 highway but it comes up quick and especially in the dark can be tricky to know when it's coming.  I suggest mapping it and following along on your phone so you know where you will be turning.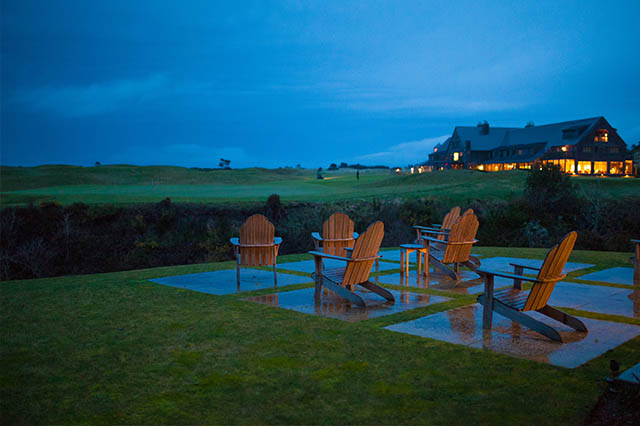 Play a Round of Golf – If you're a golfer and visiting, be sure to play a round.  We drove around the ground which includes multiple courses and they all look gorgeous!
Land of Marvels was welcomed to the Inn at Bandon Dunes as a guest, though all opinions are my own for this review.