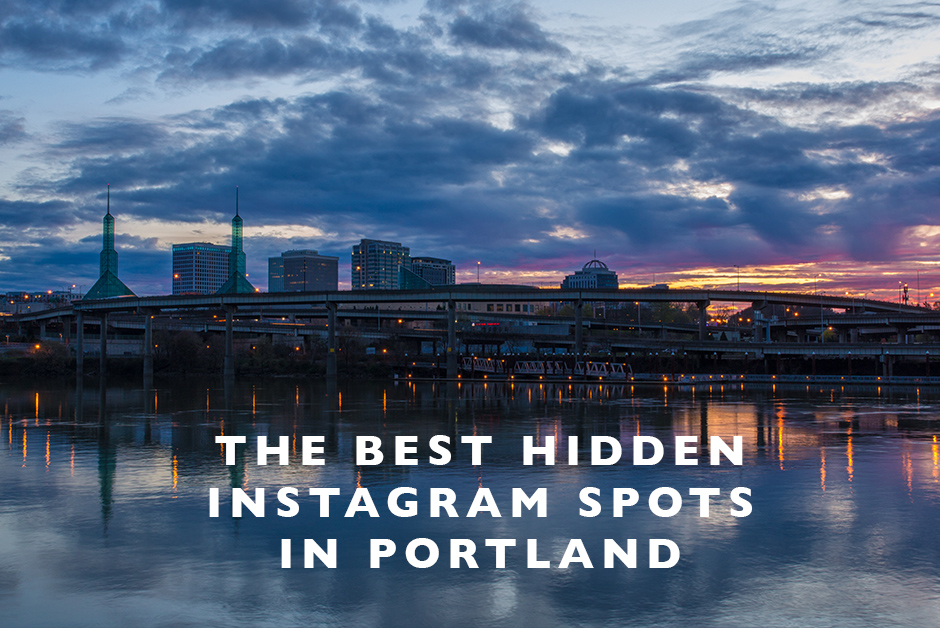 Welcome to Portland Week!  I realized that while I share so much about all the places I visit, I often don't share as much here on Land of Marvels about my amazing home city of Portland, Oregon which is becoming a tourist destination in its own right.  With an amazing food scene, incredible landscapes and a really livable downtown, Portland is an up-and-coming destination with so much to offer.  All week I'll be giving you local advice and information on how to make your visit to Portland the best it can be!
Portland is a beautiful city and I'm not saying that just because I live here.  Rain or shine, Portland really is quite beautiful and there are so many spots that you see all the time on people's Instagram's feeds after visiting the Rose City.  You see Voodoo Donuts and ice cream from Salt and Straw and the Keep Portland Weird sign, but as a local, I am privy to a whole bunch of other amazing, lesser known spots for amazing Instagram's while in Portland.  So here is my inside knowledge of the best hidden Instagram spots in Portland so you're prepared to see more than just what the tourists see and get away from the crowds during your own visit!
View of the city from NW Westover Road.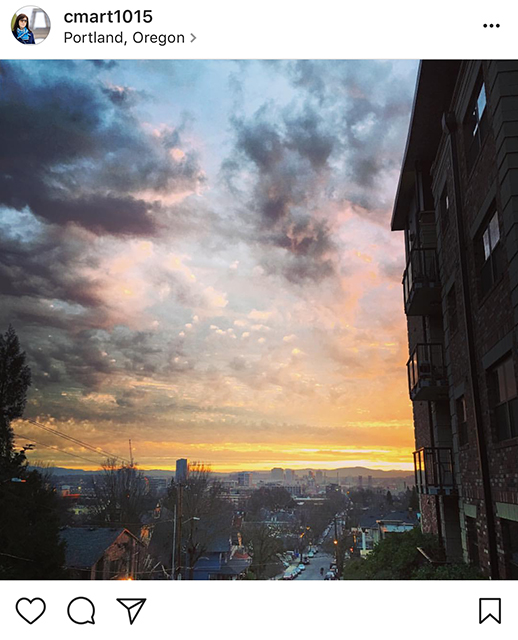 There are a variety of spots around the city where you can take in an amazing sunrise with the city horizon in the background, but perhaps one of my favorites is the spot on NW Westover Road just above Nob Hill right near the Cambridge Condos, where the views stretch for miles.
Ivy covered townhouses in NW Portland.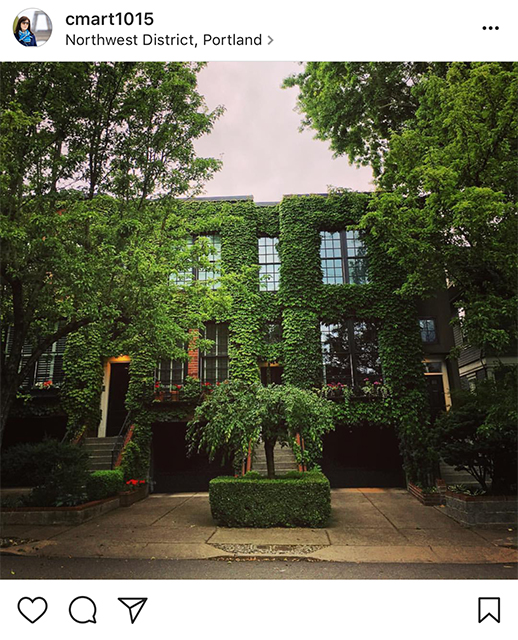 In my home neighborhood of NW Portland, there are tons of old historic houses and townhouses and they are always a favorite for visitors.  One set of brick townhouses in particular always garner a lot of attention and are breathtaking with climbing ivy covering them in green.  Find them at NW 24th and NW Overton in Nob Hill.
Sunrise at the Portland Riverfront.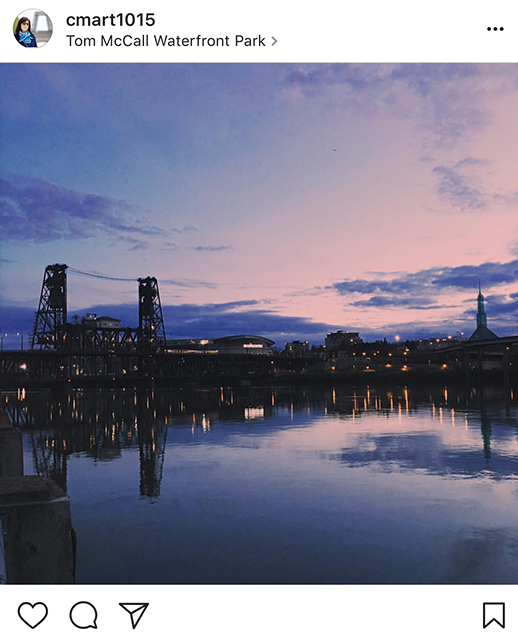 Our Tom McCall Riverfront Park is a beauty and stretches the entire length of downtown Portland along the Willamette River.  It gets pretty crowded during nice weather during the day, but my favorite time to visit and snap a pretty Insta is at sunrise, looking toward to the Convention Center and East Side of the city.
Portland Sign from the Riverfront Park.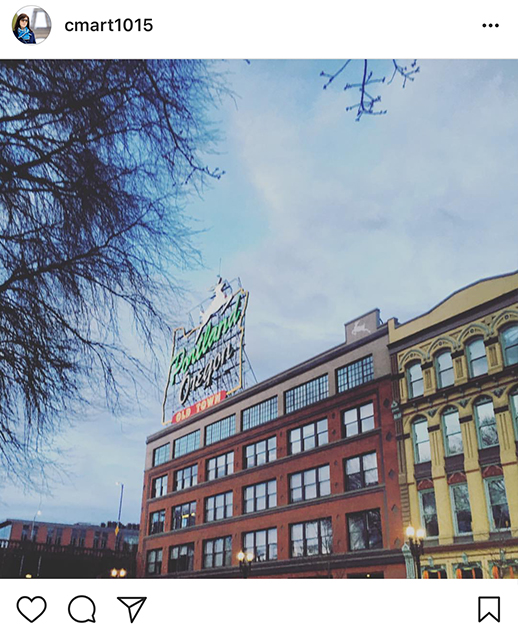 One of the most famous landmarks in Portland is our Portland Sign, which used to reach "Made in Oregon" and has since been changed to just read "Portland Oregon."  It adorns the Burnside Bridgehead as you make your way into Downtown from the East Side and a great vantage point to see it is just under the Burnside Bridge from the Riverfront Park.
'Go by Streetcar' sign in the Pearl.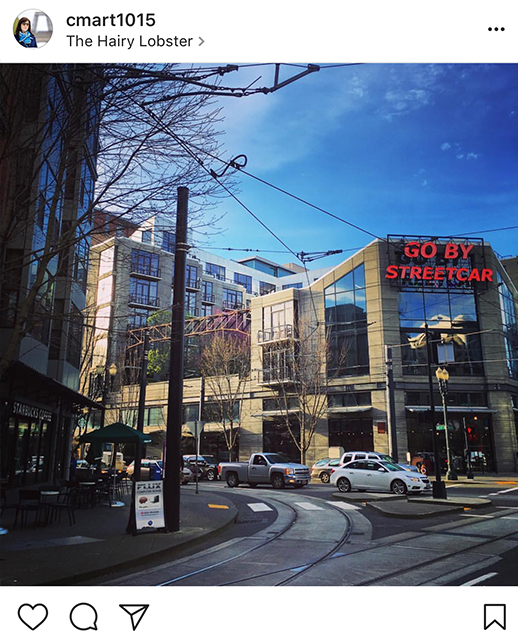 Another famous spot in Portland is the "Go By Streetcar" sign in the Pearl District, which sits atop a condo building on one of the roads that the streetcar runs on.  For best view of it, stand in front of the Hairy Lobster restaurant near Jameson Square in the Pearl District and you'll have a great view.
Old brick buildings downtown near Nordstrom.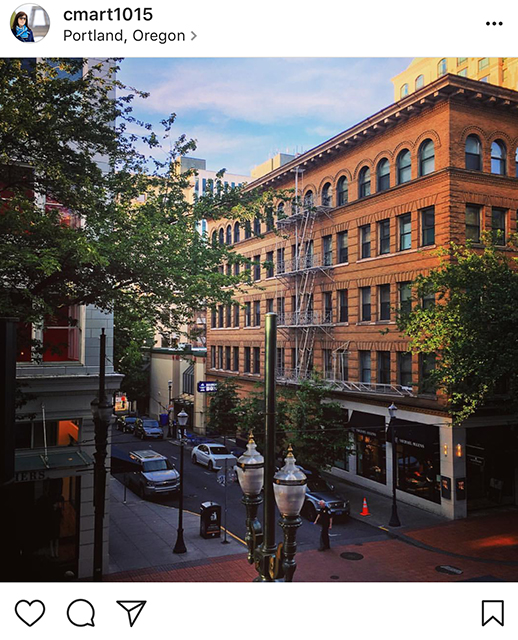 Portland's downtown is filled with historic brick buildings and some of the most beautiful ones are found a couple blocks behind Nordstrom, near Pioneer Square.  My favorite view is from the stairwells of the parking garage on SW 9th and SW Morrison downtown.  You'll feel like you're in old sections of New York down in this area.
Portland skyline from Vista Bridge in Goose Hollow.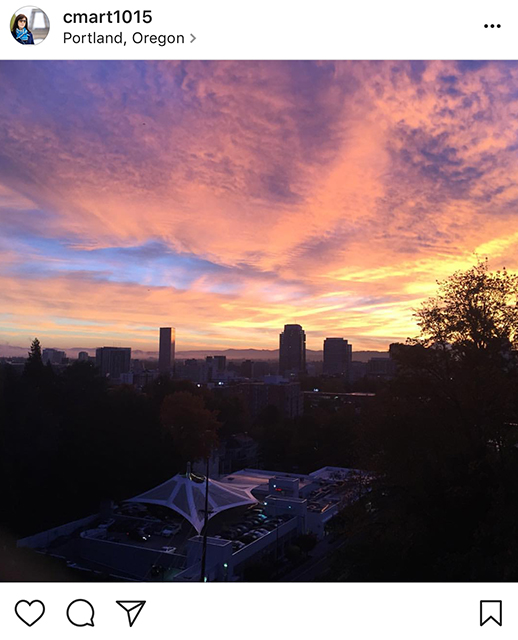 For breathtaking sunrises and vies of the Portland Skyline, perhaps the best spot in the city is the view from Vista Bridge in Goose Hollow.  Particularly on extraordinary sunrise mornings, this is the place to be.
Headed to my home town of Portland?
Check out our Portland Travel Guide in the Land of Marvels Shop for only $5!