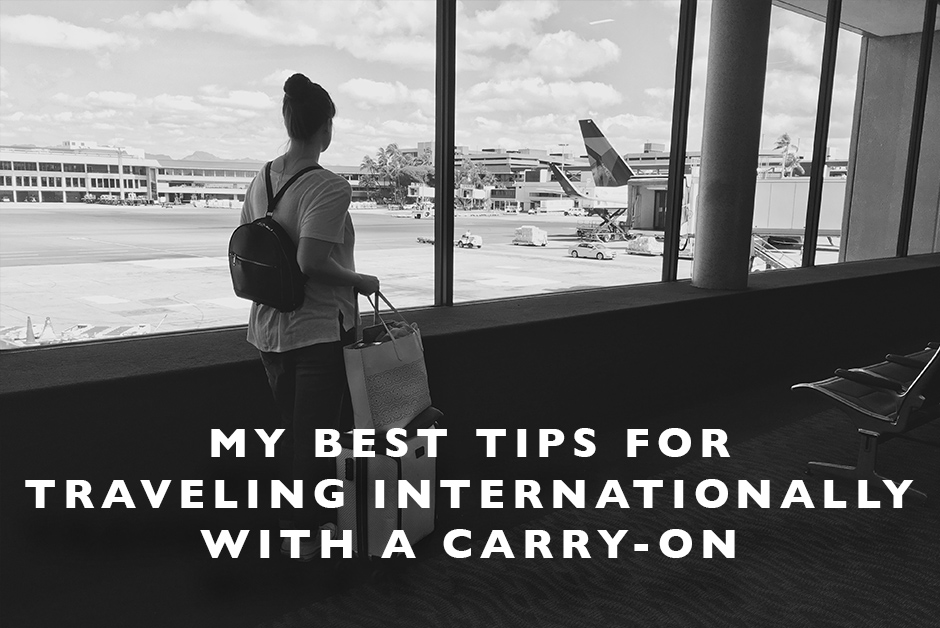 I'd say one of the most consistent things people say to us when they see us traveling, looking at our suitcases and saying "is that all you brought?!"  Even when traveling internationally, we almost always bring only carry-on luggage, fitting everything in there we need with no issues.  Now, we've had years of practice to get this down right but still, people are shocked when we show up for a week's worth of traveling in a rolling hard side carry-on and small personal item for the plane.  For me, traveling carry-on only takes a huge part of the headache of traveling out of the equation and since we already spend so much time in airports, being able to go straight to security on the way and then right out to the airport after we arrive saves hours of our time in the long run.  Plus, our stuff is with us the entire time which takes so much stress out of lost luggage or broken bags away as well.
If you're thinking to yourself right now, "I couldn't fit all my stuff in carry-on only luggage," then I'm here to tell you today, you absolutely can with a few of my best tips and tricks.  So as you pack for that next trip, here are my best tips for traveling internationally in a carry-on suitcase and you'll be just fine!  I promise!
Check Weight Requirements per Airline and Airports
Every airline and some airports have their own weight restrictions with how much you can carry on board the plane with you.  Some are stricter than others, for example, Charles de Gaulle Airport in Paris is notoriously strict on carry-on weights while LAX doesn't really care.  Some airlines like Delta hardly ever weigh your bag unless it looks gigantic and others like IcelandAir can be a little bit pickier on how much your bag weighs.  I do think also certain airlines at certain hubs are stricter than others too.  Be sure to check weight requirements just in case before you start packing though, so you have a ball park number of what your bag should weigh.  I try to stick close to the requirements, but if I'm a little over, I usually don't worry too much.  Worst case scenario?  If you get to the airport and they say it's too heavy, you can take stuff out or end up checking it.  But it's better to know the requirement ahead of time and try to stay close to it.
*Secondary tip – invest in a good luggage scale!
Pick the Right Luggage
The right luggage can make or break a trip, truthfully.  For years we used cheap luggage we found at Marshall's and while it was fine for a while, over time and the amount of trips we take, it completely wore out and a huge hole tore through it on our way back from India a few years ago.  After that, we invested in real sturdy luggage and after searching all the luggage companies, I ended up going with Tumi.  To this day, years later, I'm still a huge fan of our Tumi luggage.  We chose hardside versions as they don't bulge and always look smaller and lighter than they actually are.  Plus they fit in the overhead bins super easily and still look great after hundreds of trips.  Mine is white and years later it still looks beautiful! Pick a good brand and one that will work for your unique travel needs.
*Secondary tip – Always get luggage with 4 spinner wheels!
Print out your Itinerary and Write Outfits per Day while Packing
I've done posts on this before, but my best tip for packing well for a trip is to print out your travel itinerary, day by day, and then go through it and try on outfits for each day before you leave.  Once you decide on an outfit, lay it out and then write it on the itinerary so you remember which day it's for.  Once you've figured out all your outfits, then go through and cut out any necessary items and weed down until you have the outfits you want, but not more than you need.
*Secondary tip – Also take photos of your outfits so you remember which items go with what.
Pack Specific Outfits per your Itinerary, not just Random Items
I've found that it's better and easier to pack less when you're packing specific outfits, not just throwing in 5 random shirts, 3 random pants, etc.  If you actually plan out your outfits prior to a trip, you can then mix and match items and don't need to bring as much.  I often find when planning out outfits for trips that I might only need half as much as I was thinking because so much can go to together.
*Secondary tip – Try to stay in one color family for easier mixing and matching.  For example, choose all blue or all black as your base color so they all match.
Limit Yourself on Accessories
My biggest hurdle when packing, is weeding down how many scarves I really need to bring on a trip.  But if you're a shoe person or a jewelry person or a purse person or a hat person, limit yourself on how many accessories you bring on a trip.  This will significantly cut down on how much you need to bring.
Wear your Heaviest Items on the Plane
This tip is tried and true – always wear your heaviest items on the plane or at least carry it over your arm.  Whether that's a heavy winter coat or a really thick scarf that takes up a lot of room or a pair of heavy boots – wear those on the plane.  That way you can still take them with you but they don't take up the space or weight in your bag.