On our first trip to New York City a few years back, we ate at Bobby Flay's Mesa Grill in Manhattan.  I remember it really a spectacular meal and was really excited to go back in Las Vegas this time around for our Foodie Weekend.  Overall, the brunch at Mesa Grill in Caesar's Palace was solid, but it didn't live up to that first experience in New York. Would I go back?  Yes… but there are lots of other great brunch spots in Vegas too, so it's a toss up.
LOVE
Eggs – As you'll see below, I felt the overall food quality and taste for our Brunch at Mesa Grill was just decent here but I will say the scrambled eggs here were the best I've ever had.  I don't even usually eat scrambled eggs but they really were the fluffiest, most delicious I've ever had.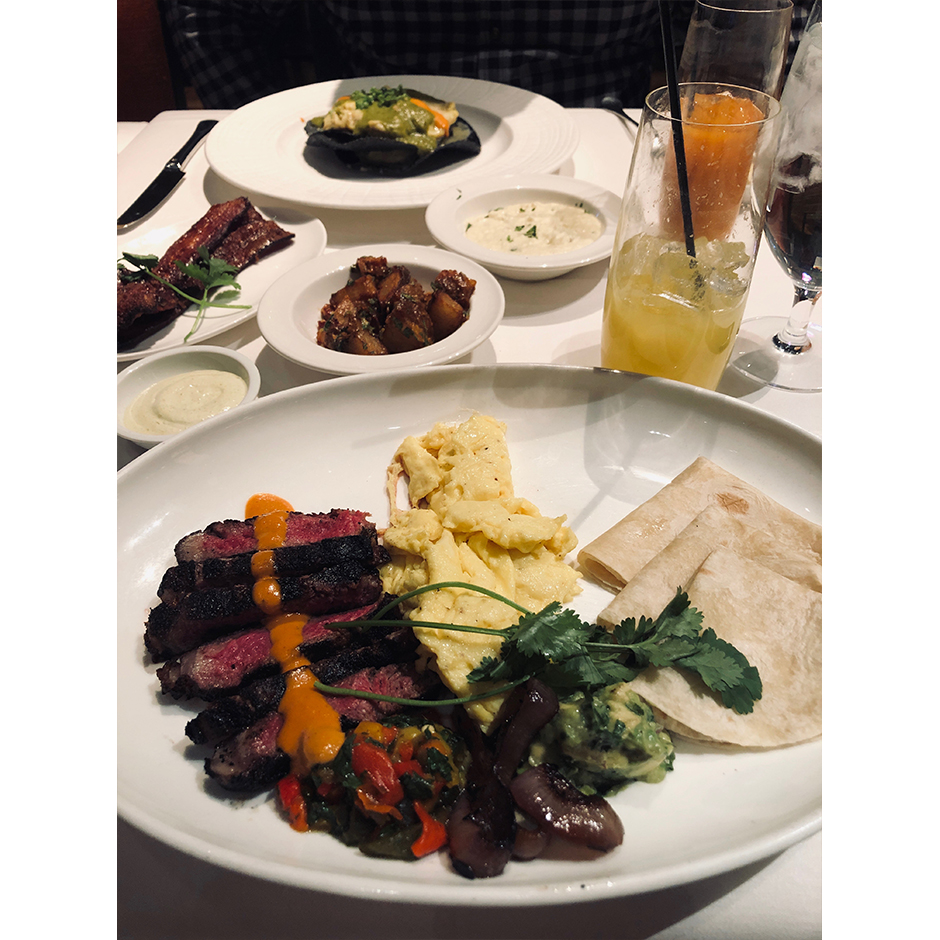 Maple Glazed Bacon – Again, I'm not generally a huge bacon person but the maple glazed bacon as a side is a must try at Mesa Grill's brunch.
Grits – Nick ordered the creamy grits as a side dish to his meal and as I'm dairy free, I got the side potatoes instead.  I did have a bite of his grits though and they were extremely good… so if you like grits and you aren't dairy-free, order them!
DIDN'T LOVE
Overall Food Quality – We've eaten at Mesa Grill in New York City a few years back and I actually remember the food quality and taste being a lot better there.  Not that our brunch was bad at all, it was decent all around, but I expected a little more knowing what I know about Bobby Flay and his flavors.  Out of all the restaurants we went to in Las Vegas this trip, this impressed me the least.
NOTES TO KEEP IN MIND
You Probably Don't Need a Reservation for Brunch – We made a reservation for 10:30am for Brunch on a Sunday but upon arrival, there were only about 3 other tables there in the restaurant with people.  You probably don't need a reservation if you're going for brunch but you might for dinner at peak times.
Headed to Las Vegas?
See more of my content on Las Vegas.