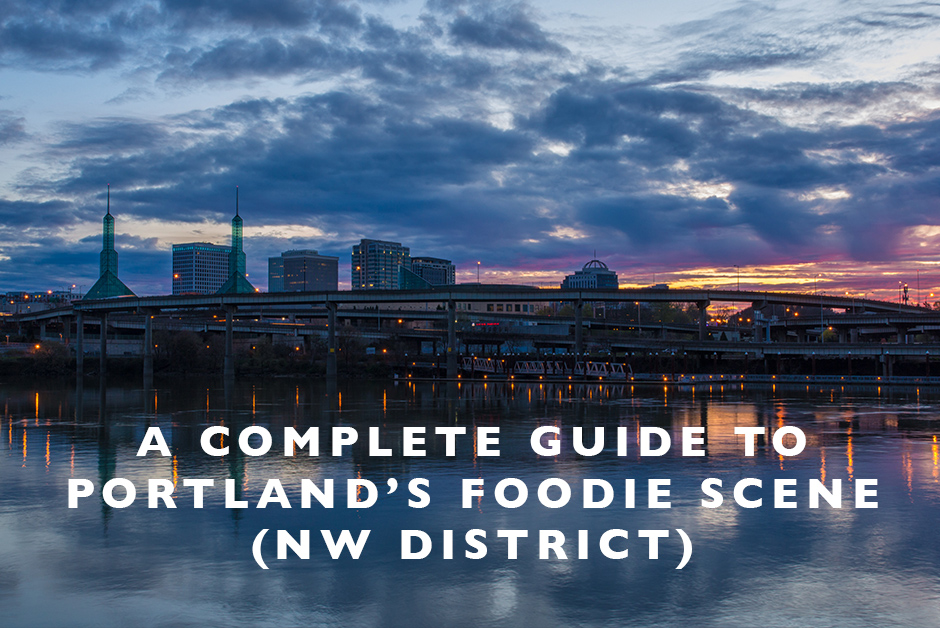 Welcome to Portland Week!  I realized that while I share so much about all the places I visit, I often don't share as much here on Land of Marvels about my amazing home city of Portland, Oregon which is becoming a tourist destination in its own right.  With an amazing food scene, incredible landscapes and a really livable downtown, Portland is an up-and-coming destination with so much to offer.  All week I'll be giving you local advice and information on how to make your visit to Portland the best it can be!
My home city of Portland is a true foodie haven and over the past handful of years we've really made a name for ourselves in the food scene we have here.  World renowned chefs and amazing restaurants are popping up everywhere in the Rose City that often it can be hard to keep it straight with where you should eat when come visit.  I happen to live downtown (on the West side of the River) so while there are many amazing restaurants on the East Side, I'm limiting my suggestions here to the NW sections of the city which are close to downtown.
So if you're headed to Portland in the future, here's where I suggest you eat and a complete guide to Portland's foodie scene.
In NW
Pearl District
Andina – This Peruvian spot is a must eat spot in Portland.  The menu is exotic but every single thing is divine.  My favorites are the Tortilla Española and the bread with salsas.  You'll want to make a reservation here!
Piazza Italia – Want to be in Portland but feel like you've been transported to Rome?  This is your spot for that.  Straight from Rome, the waiters are true Italians and the food is Italy on a plate, complete with Italian soccer playing on the TV's.  Be sure to make a reservation here… it's tiny and fills up fast!
Oven and Shaker – For a foodie spin on pizza, Oven and Shaker is the best choice.  It's conveniently located and the food is amazing.  Try their Salami pizza drizzled with honey!
Isabel Pearl – One of my favorite breakfast spots in the city, Isabel Pearl is a cute little diner type restaurant with elevated food.  Their blackberry pancakes are divine.
Paragon – For good elevated American food, Paragon is the spot.  Their grilled cheese and tomato soup is a favorite, but everything on their menu is amazing.
Cheryl's on 12th – Another of my favorite breakfast spots and while technically it's not truly in the Pearl, it's right over Burnside so I'm looping it in.  Their breakfast sandwich here is to die for!
NW 23rd Ave. / Nob Hill
Fireside – For an amazing brunch or a quiet dinner, Fireside is a great spot right on NW 23rd Ave.  Their entire menu is amazing and the ambience truly takes it to another level.
Besaw's – As our neighborhood "regular spot" for breakfast, Besaw's is an old Portland institution.  Even though they've moved from their original building into a newer building now on NW21st and Raleigh, their menu is amazing and the service is fantastic.  We go early at 8am when they open and sit at the bar, but if you go later, be prepared to wait, it gets crowded!  Try their Farmer's Hash and the Avocado Toast!
Kung Pow – For elevated Chinese food, Kung Pow on NW 21st is the spot to go.  It's not greasy, has amazing flavor and they make all their noodles in house.  Try their Cashew Chicken and their potstickers!
Ataula – One of our all time favorite Portland foodie spots, Ataula is Spanish food and the chef is directly from Barcelona.  It's a small neighborhood restaurant, but go early as it gets super crowded in the evenings.  Try their Sangria, their Tomato bread and the Rossejat!
St. Jack's – For standard French food in NW Portland, St. Jack's is your spot.  Sip a glass of Rosé and enjoy a plate of Steak Frites.  Make reservations for their dining room or show up and grab a table in the bar.
St. Honoré NW – For one of the best French bakeries outside of France, grab a croissant and café au lait from St. Honoré for breakfast.
Blue Star Donuts – Portland is a donut city, but the creations at Blue Star are the best.  Made from brioche with amazing flavors, you'll love Blue Star.  Try the location on NW 23rd for shorter lines.
Matador – When you want Mexican, Matador is the place to go.  Located right on NW 23rd Avenue, go for Happy Hour and sip horchata while you much on street tacos and enchiladas rojas.
Southland – When the mood for Southern food strikes, look no further than Southland.  I love their Fried Chicken, but you really can't go wrong with anything on their menu.
*I should also note that this list does not even begin to cover the amount of amazing restaurants in Portland and doesn't even touch on the East Side spots that are well-known as well!  But if you're staying in Downtown Portland during your visit, these will be the closest to you.
Headed to my home town of Portland?
Check out our Portland Travel Guide in the Land of Marvels Shop for only $5!