Courtyard by Marriott Lake George – Lake George, New York
365 Canada St, Lake George, NY 12845
As we looped back South from our time in Vermont, Lake George in Upstate New York was the perfect stopping point and a beautiful little lakeside town.  This was probably my favorite hotel of our whole trip and was well worth stopping here!
LOVE
Location – The location on Lake George is gorgeous and the little town is really cute and perfect to wander around.  It's also pretty easy to get back on the highway as well and offers a great location and easy to get to.
Design – The hotel feels really new and the design was spot on throughout.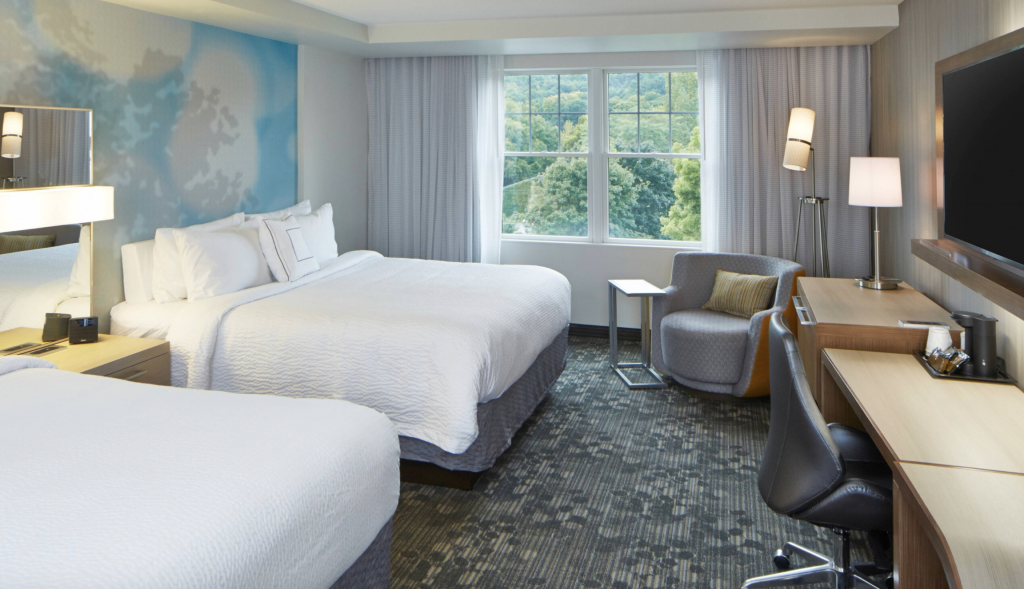 Smart TV – As I mentioned in another of my reviews from this trip, it's nice to see more hotels implementing smart tv's in their hotel rooms as it just makes it easy and convenient.
Coconut Milk Lattes – We had breakfast at the hotel restaurant the day we checked out and while the food was okay, they had coconut milk to make me a coconut milk latte which made it really nice.  A lot of times I find that hotel coffee shops don't offer any unique things like plant based milk options and it was really nice that they had that.
Lots of Food Options Nearby– We ate dinner at the Italian restaurant right next door to the hotel the night we arrived but there are lots of restaurants on the main strip through town right next to the hotel which made it very convenient.
DIDN'T LOVE
Onsite Food – The food in the breakfast restaurant was just ok and I wouldn't say I'd eat there again.
NOTES TO KEEP IN MIND
Parking is Behind the Hotel –  There is under-cover parking directly to the back of the hotel, so when you arrive, go behind the building and that's where check-in and parking is.