Courtyard by Marriott Nashua – Nashua, New Hampshire
2200 Southwood Dr, Nashua, NH 03063
When I was planning our recent return to New England for the Fall colors, we flew into Boston but instead of staying in the city, I wanted to get a little bit out of Boston the first night so we'd have less to drive North to Vermont the next day.  Nashua was a good stopping point the first night for us, about an hour outside of Boston and then made our drive to Grafton and Woodstock in Vermont easier the following day too.
LOVE
Easy Drive from Boston – We specifically wanted to get a little outside of Boston for our first night and this spot did provide a great option for that.  A quick 50 minute drive from Boston's Logan Airport and we were at the hotel.
Near Lots of Food Options – We grabbed Chipotle for dinner which was right down the road from the hotel but there were lots of options nearby which made it easy.
Smart TV with Netflix – This is becoming more common in hotels now but I still really value it.  We were able to easily log into our Netflix account and watch stuff while eating Chipotle in bed… not super glamorous but wonderful all the same.
DIDN'T LOVE
Old Building with Updates – The shell of the building seems like it's from the 70's and then they've come in and done design updates to make it more modern.  The design updates were great, but it still just felt like a really old hotel, specially the weird ceiling and outdated bathrooms.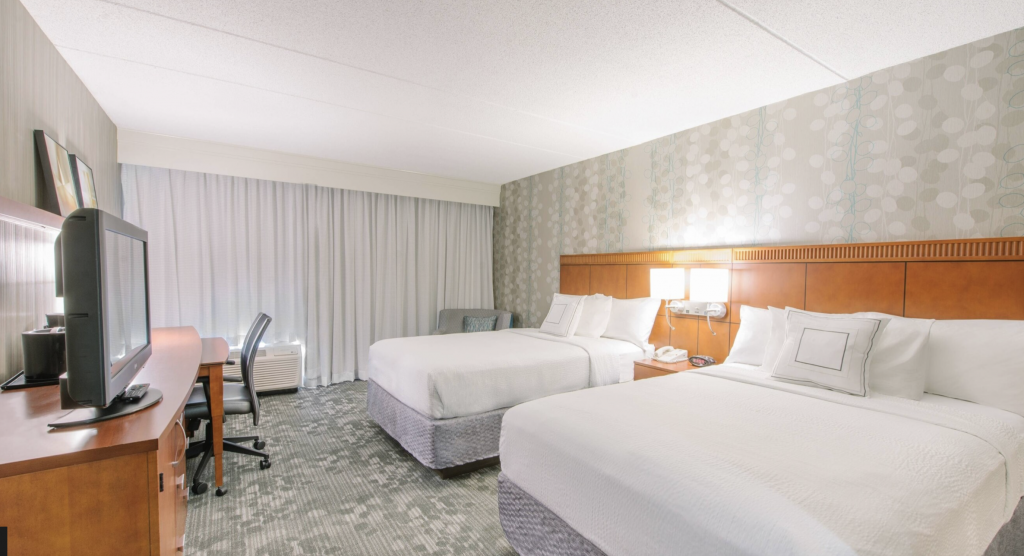 Very Loud – We heard our neighbors up until all hours of the night and you could hear every person that walked by out in the hallway.
Expensive for What You Get – We paid around $200 for this hotel night which in retrospect was way too much for what we got.
NOTES TO KEEP IN MIND
There are lots of hotels nearby, you might find a better one for a better deal.  I'd personally look for a better deal in the Nashua area as there are lots of hotels nearby.