Nick and I have been binging Top Chef the last few months and so when we knew we were headed to New York City we knew we wanted to have dinner at Craft, Tom Colicchio's famous restaurant there.  All in all, we left pretty disappointed for a restaurant that has won countless awards and gets good reviews.  Maybe we got them on an off night but it's not a spot I would recommend unfortunately and wouldn't go back.
LOVE
Location – The location was super convenient for us and we walked the 10 minutes down the road to Craft from our Midtown hotel, The Evelyn Hotel.  So that was super easy.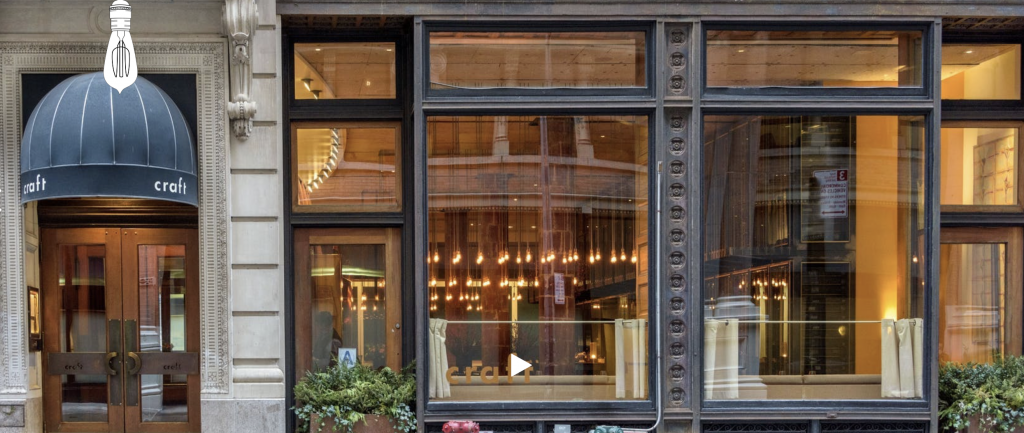 Design – The inside of the restaurant space was beautiful and the ambience was nice.  The design overall was one of the best parts of our evening at Craft.
DIDN'T LOVE
Price for what you Get – For the amount of food you get, I felt everything was overpriced, even for NYC.  I didn't feel like the quality and amount of food really lived up to what you were paying.  I'm super happy to pay for a great meal, unfortunately we didn't walk away feeling like we had gotten a great meal and paid a lot for a mediocre one.
COVID Charge – This really bothered me and I am still thinking about it weeks after we dined at Craft.  They add on a charge to your bill (without a lot of information about it) as a COVID charge.  It's a percentage of your meal and ours ended up being about $9.  Basically it's money that just goes to the restaurant to help make us for lost revenue during COVID.  It doesn't go to the servers – just to the ownership basically, which really bothered me.  I would have rather them ask if we would like to add on something for the servers that were out of work or even to help the restaurant recover, but to just automatically add it to your bill felt a bit scammy.
Missing Food – Our server didn't put Nick's dinner in the computer after we ordered so mine came and I started eating and they had to rush his.  It came pretty fast but still, in that caliber of restaurant, that really shouldn't happen at all.
Bad Desserts – Nick and I both got a dessert and both were pretty bad.  I got the chocolate soufflé and it was so watery in the center that I didn't even want to eat it as I thought it might make me sick later.  Nick got the Tarte Tatin and the puff pastry was so hard he couldn't even bite or cut through it.  Overall, the salads were the best part of our meal, the mains were mediocre and the desserts were bad.
NOTES TO KEEP IN MIND
We might have gotten them on an off night – Craft has won several awards so I'm wondering if we just got it on an off night, however a lot of the other things that bothered me, like the COVID charge on your bill and then forgetting Nick's meal all together just really made us leave regretting our dinner there.  After our experience, I wouldn't recommend Craft to anyone unfortunately.
Headed to New York City?