On past trips to New York we've booked reservations at popular restaurants and dressed up for dinner.  This trip though, we wanted to really enjoy all the food that New York is known for that doesn't require a reservation, like the famous Jewish deli, Katz's.  We arrived on a Friday night into New York City, dropped our bags at our hotel in midtown and grabbed a Lyft immediately to Katz's.  Arriving around 10pm, there was still a line out the door but it was well worth it.
LOVE
Flavors – The food was delicious all around.  We got a pastrami sandwich to split (which was plenty!), a bowl of matzo ball soup and latkes.  It truly was so good in terms of flavors and we devoured every bite.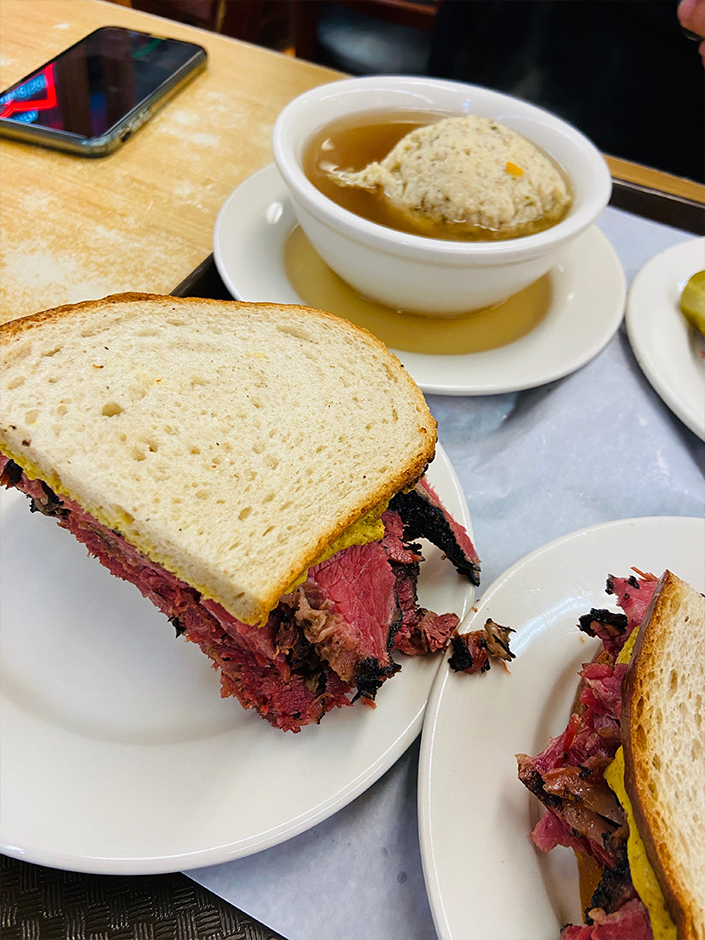 Ambience – The inside of Katz's is pure old NYC.  It's loud and there is stuff all over the walls and it's just pure NYC deli.
DIDN'T LOVE
Prices – I was a little blown away by the prices and obviously, as a tourist haunt, they can get the prices they charge.  While the food was delicious, I did think it was very over priced.
Waiting in Line – We went late at night and there was still a line.  I think during the days it's longer… so just know that you'll wait in line for a bit to get inside.  Although when we went, it did move pretty fast.
NOTES TO KEEP IN MIND
Go late at night before they close for shorter lines – We lucked out in that the time we went was late at night around 10pm so there were a lot less people than there would be around mid-day for lunch.  Even then though, it took us about 20 minute waiting in line to get in the door.
Headed to New York City?