Esperanza (An Auberge Resort) – Los Cabos, Mexico
When we were looking for a place to travel to celebrate my birthday and our 10 year anniversary of being together, we looked at a bunch of spots but ended up wanting to check out Mexico since it's a fairly easy flight from Portland and it's a country that, while a neighbor of the US, I don't know much about.  We decided that a restful weekend in Cabo would be the perfect way to unwind after a busy Summer and ended up booking with the Esperanza Resort to see what Cabo offered and enjoy some R&R in the meantime!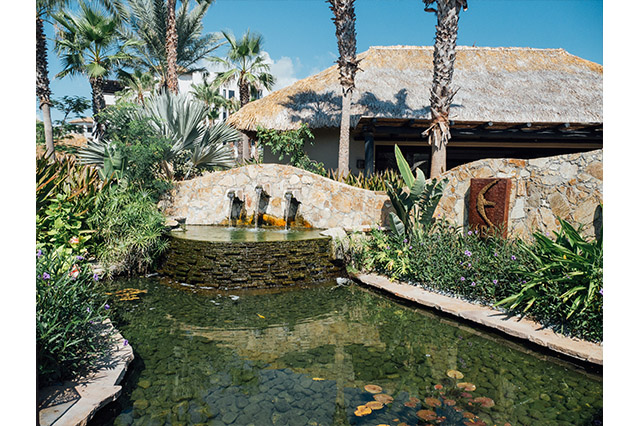 LOVE
Views – The location of the Esperanza is really beautiful and the grounds are gorgeous.  With sweeping cliffside views of the ocean, infinity pools spilling over seemingly into the Sea of Cortez, the resort is breathtaking.  If you like palm trees, ocean views and landscapes full of cacti, this is the place for you!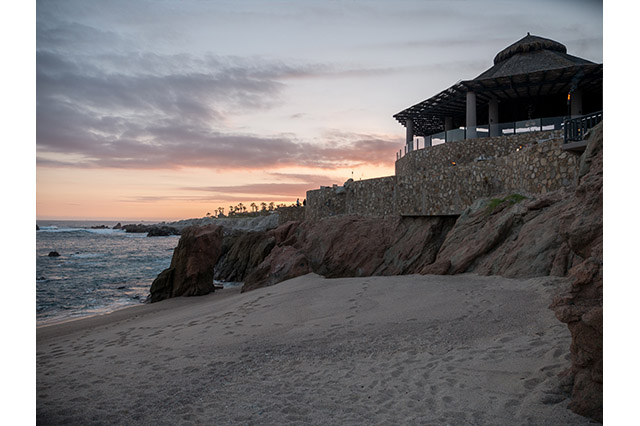 Service – We had great service from the staff at the resort throughout our stay.  From remembering our names to always being friendly, helpful and kind, we really enjoyed the great service.
Large Casita room – Our lovely little casita was a big room with a large bathroom and it was really well appointed and comfortable.  Especially if you were staying for an extended period of time, it would be great to be able to spread out!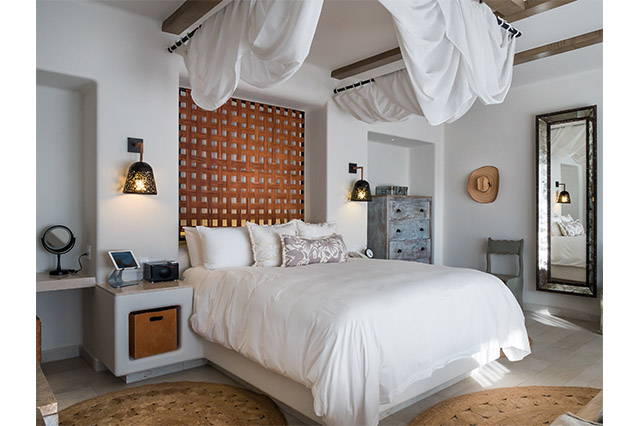 Great Wifi – All over the resort, Nick and I kept remarking at how nice it was to have such a great wifi connection.  Whether down on the beach, at the pool or in our room, it was a solid connection everywhere we went.
Great Air Conditioning (in the room) – Cabo was really hot, a little too hot for my taste and it was so refreshing to be able to come back to the room and have a really cool air conditioned room.
Tour of the Property – Zuri, the Sales Coordinator of the Resort took us on a tour of the Esperanza property on Saturday morning and it was so lovely to see everything.  Since we were only there for a long weekend, we didn't have time to experience everything so it was really great to be able to see the property with her showing us around. But we got to see the lovely spa, the rest of the property (which is huge!) and it was great to get some background info on the resort and how they handled the renovation after the hurricane which hit Cabo last September.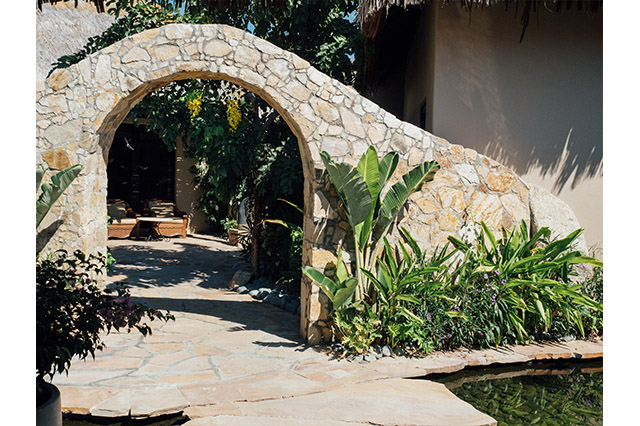 DIDN'T LOVE
Window Shades– Our casita was on the ground level of the resort and our bathroom window (which was quite large) faced directly out to the main walkway of the resort.  It had a tan sunscreen roller shade on the window, but it was quite disconcerting showering and looking out as people were walking by.  When it was sunny outside and the lights on inside you couldn't see in (I made Nick go out and check before I showered!), but when it was dark outside and the lights on inside you could see everything.  It was quite a strange design decision and really awkward even if no one could see in, because it felt like they could.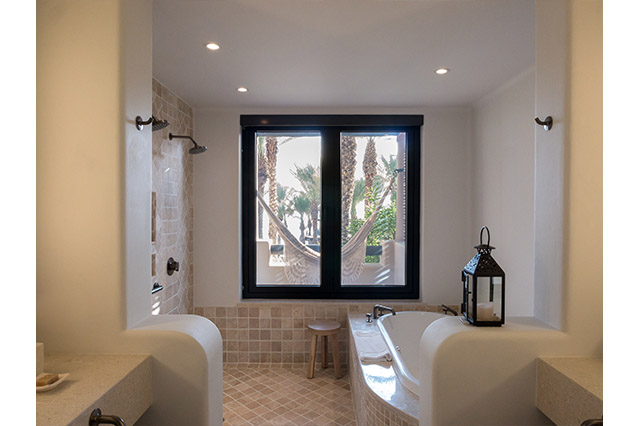 Really dark at the restaurants at night – This is kind of a stupid thing but really bothered me.  Both nights we had dinner at 7pm which was wonderful to watch the sun setting, but once it went down, the restaurants had hardly any outdoor lighting around the tables which made it incredibly dark.  I couldn't even see my food the second night to even see what I was eating!
Late Check-Out Mishap – Knowing that our flight didn't leave until 4pm on Sunday, we spoke with our concierge on Saturday afternoon to confirm that we could do late check out at 2pm on Sunday and head to the airport.  We wanted to go into Cabo San Lucas in the morning on Sunday and wanted to come back and be able to change/shower and get our stuff together after our morning in town.  He assured us it should be fine and would call Sunday morning if it wasn't.  Well Sunday morning rolled around and after breakfast we hadn't heard anything so we called the front desk.  Unfortunately either he didn't confirm the late check out or he tried, couldn't get it and then didn't bother to let us know.  Either way, it ended up really messing up our plans and would have been helpful to know either way.
Breakfast charges – This ended up being taken care of by the hotel but still another mishap that wasn't communicated well.  On our arrival, we were told that breakfast was included in our room.  So both mornings, we took advantage of that perk.  However upon check out, both charges were still on our bill.  They did take it off, but obviously something was lost in communication.
TIPS
Not in Town– Note that the Esperanza Resort is a solid 35 minutes drive from the Cabo Airport, about 25 minutes from San Jose del Cabo and about 10 minutes from Cabo San Lucas.  With that said, if you want to explore each of those towns during your stay, you'll have to get taxis to take you in to either town.  The resort has taxis/drivers waiting on the property, so you can take those whenever you need, but you have to grab taxis in town to bring you back.
Prices are High – If you think a trip to Mexico will be cheap, think again.  At least if you're staying at one of the many resorts in the Cabo area, you'll be paying high prices for food and drinks.  I was shocked at how much food was at the resort, so be aware of how that can really rack up on your bill.  Not only at the resort, I also found everything in both Cabo San Lucas and San Jose del Cabo remarkably high.  The resort towns are definitely not a cheap vacation.
Land of Marvels was welcomed to the hotel (at a discounted rate), though all opinions are my own for this review.
Headed to Mexico?
Take a look at the rest of our archives on Los Cabos here!