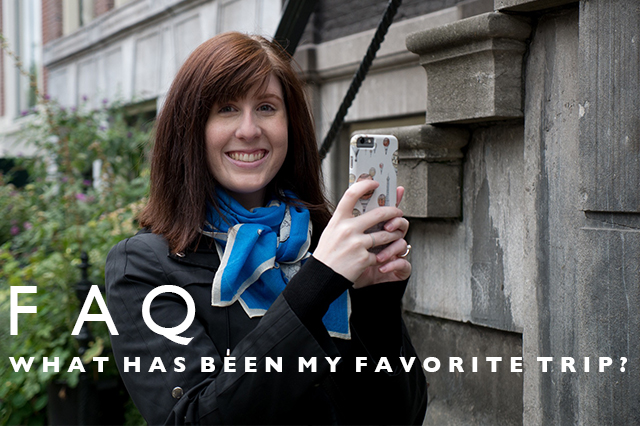 While I catch up on my end from recent travels, I thought it might be fun to do a FAQ catch up series here this week.  There are a lot of new readers around here recently and I thought you might enjoy me answering some questions I get asked a lot regarding travel!
What has been my favorite trip?
While some places I've traveled to might stand out, entire trips also stand out to me in a different category.  Sometimes you might like one place on a trip, but when you group the entire trip together, sometimes you might have different memories.  For me, a few trips standout as my favorites and they all have very different reasons why they stand out in my memory.
Our Honeymoon – When we got married in November 2010, Nick and I had never traveled together internationally.  And for Nick's first time to Europe, we headed out on two weeks through London and Paris.  It was special for all those reasons, but more so because it started a love affair for us with travel.  Seeing the awe in Nick's eyes as we visited both Paris and London, it made me fall in love with him and travel all over again!  It also was a foray into both cities for us which we now frequent often.
London, Paris, and Morocco – A couple years later, we spent a couple days in London in the Spring riding bikes in Hyde Park, exploring new neighborhoods and devouring all the pub food we could.  Then we headed to Marrakech, Morocco and spend a few glorious days enjoying the exotic city, the incredible food and our amazing Riad.  We then finished the trip with a couple days in our beloved Paris.  This trip was my first trip back to a Muslim country since leaving Saudi and it brought back all the memories of my childhood.  It was also our first trip together to a somewhat exotic location outside of Europe and the memories from this trip will always be special, from getting lost in the souks, to watching the sunset on the rooftop of our Riad as prayer call rang out to having my hands done in Henna, one side in the traditional Moroccan design and the other in the traditional Saudi design.  It was a trip for the senses and a very special one at that.
London, Ireland and Scotland – In the Fall of 2013, we spent 10 days driving through Ireland, both North and South and all around Scotland, with a couple days in London.  It was special for many reasons as I fell in love with all the countries on the list, but also because my family is Irish and it was so special seeing the country from where so many of my family came from.  It immediately felt familiar and I fell in love with Dublin, Northern Ireland and the countryside of Scotland.
India, Bangkok and Cambodia – In the Spring of 2014, we ventured through India (stopping in Delhi, Agra and Udaipur), through Bangkok, Thailand and then visiting the temples around Siem Reap, Cambodia.  It was one of those trips that completely threw us outside our comfort zone, exotic in all sensations and one of those trips that I look back on so fondly.  India in particular completely made me fall in love, with the colors, the history, the food, the people.  I fell hard for India, and Udaipur in particular and it's one of those places I know I'll revisit many times in my lifetime.
Spain and Portugal – This past Spring we spent 10 days wandering through Spain and Portugal.  The South of Spain in particular completely drew me in and Sevilla especially ended up as one of my favorite places I've ever been.  I fell in love with the incredible people in Spain, the amazing food and the overall slow pace.  It was made even more special as that is where Nick's heritage is, so to see the land of his ancestors made it even better!