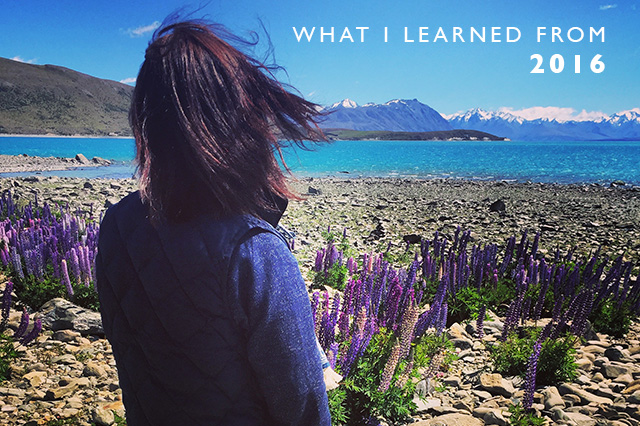 I had a conversation with a good friend of mine the other day about 2016.  In short terms, this year has been an enormous struggle.  Between the presidential campaign and election in the US, Brexit, part of my neighborhood blowing up (my bagel shop literally got wiped off the face of the planet due to a gas leak), and just general issues in my personal and professional life – believe me when I say, I'm really ready to put 2016 to bed and hope for a better year to come.
But in the scope of all the negatives this year brought, it's made me really think about the future in terms of what I value and how I handle the negativity in my life.  2016 brought a lot of really deep emotional thoughts, days of depression, of feeling the world around me really too intensely.  It brought moments of terror and thoughts of being unsure in everything in my life and days of tears.  In short, 2016 taught me to really live in the moment, feel what I need to feel and to do everything I can to make the world a better place.  
Sometimes here on the blog it seems like my travel might be frivolous, like Nick and I are spending all this time and money to jet off to all these exotic places.  Sometimes it might seem like our funds are endless, like our time is unlimited.  In fact, in couldn't be any less true.  Our funds are definitely not endless, we just use them wisely.  Our time is not unlimited, in fact it's really difficult for us to get away from all of our commitments and we usually end up spending a good deal of time while traveling working and catching up on everything while we're away.  The truth of the matter is that we still travel to teach ourselves, we travel to live in the moment, to open our eyes to something else other than our "normal".  
With a lot of the political unrest in the world and in my own country this year, one of the reasons that so many countries are leaning towards more isolationist ideals is because we aren't willing to open our eyes to how someone else might live or what someone else might believe.  We're not willing to open our hearts to people in need because we're so caught up in our own little bubble, we're not willing to think about being citizens of the world because we're so worried about our little tiny corner of the planet.  But here's the thing, we're all in this together.  What happens in your tiny little corner of the planet affects someone else's little tiny corner too.  By traveling, by opening our eyes to other countries, to stand on historic landmarks and think about how far we've come, that is what teaches us, what opens our hearts and minds – travel (and the thought process that comes along with it) is what has the power to unite us.  
2016 taught me a few really valuable lessons; seeing that we're all different, yes, but we're all more similar than we think.  The world is small, we're all connected – we can't cut each other off. We share a planet that is changing, we share countries and borders and trade.  We share ideals and beliefs and ideas.  We share more than we don't – so why can't we wrap our heads around that?  Why can't we see that we're all more similar than we are different?  Why can't we accept each other for who we are, no judgements?  Why can't we open our hearts?  Why can't we open our eyes and our minds?
And while this year broke my heart multiple times over, I think it also taught me that we must really live.  We can't just exist.  We can't just sit by and watch time and history pass us by.  We must live.  We must fight.  And we must take the power we have, in whatever that may be, and stand up for those who can't.  We must take the lessons and the heartbreak and live our lives to the very fullest we can.  So travel to learn and bring that knowledge back and help educate those who aren't as fortunate.  So fight for those things that are important to you and don't stop until the fight is complete.  So open your eyes big and wide and see this amazing planet we call home, open your hearts big and wide and have some empathy for our fellow human beings.  At the end of the day, we're really all just citizens of the world, and without each other, we're just alone.  Without each other, we're nothing.