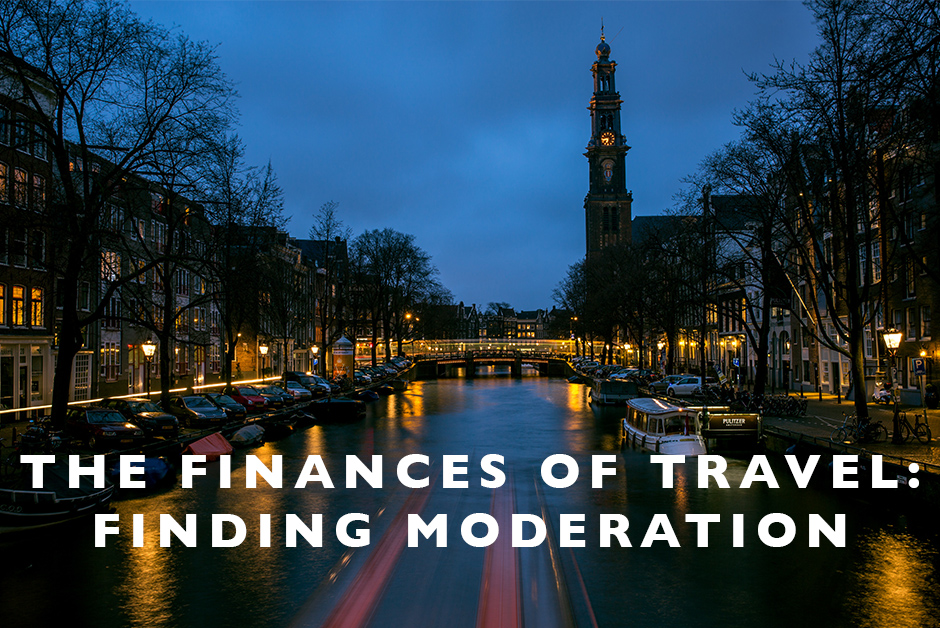 Whenever I am talking with someone and the finances of our frequent travel come up, most people are surprised to hear that we spend way less on travel than you might think.  With that said however, travel is still a huge part of our budget each year and while yes, we spend a good deal of money on travel, we also make sure that we are still saving money in our day to day lives as well and being fiscally responsible for our future.
Now everyone is living on a different budget and different income levels and so some of this might not apply to everyone.  To be upfront about our current financial situation and how we find moderation in our finances to afford to travel regularly, and to fully understand how we manage these financial steps in our own lives, I think it's important to be honest about our current situation.  For income streams, Nick and I both have multiple jobs: he works full time in a corporate environment running a division, and does photography on the side while I have a full time salary position at an architecture firm, own my own design business on the side and teach part time for my alma mater, plus whatever tiny income I get from Land of Marvels.  In general, we're fortunate that our hard work professionally over the last decade is beginning to really pay off financially.  With that said, we also have $0 credit card debt and no student loans, as both sets of our parents were able to help us through college.  We also have no car payments (we both paid off our cars a couple years ago) and no pets or children.  The only major debt we have is our mortgage for our townhouse in Portland.  With that said, our situation currently isn't always how it's been.  There were years where we had 2 car payments, a mortgage, credit card debt and other miscellaneous expenses that we were paying down.  It took years for us to get to this point in our financial situation and I think that's really important to understand.
So with that said, the finances of travel can be tricky, especially when you first start traveling.  You will be paying more when you first start traveling, since you aren't fully aware of how to save and cut corners, but it's super important to find moderation in your finances before you start spending money on travel.  For anyone looking at the finances of travel and wanting to explore the world, but not sure how all the financial side of that works out, here's what I would suggest from years of experience.
Don't expect to be able to afford lots of travel right away.
As I mentioned above, it took us years to get to a point of being able to afford frequent travel in our lives.  We've been married 7 years, together 12, and in that time, I feel like we're finally now at the best financial points we've been but it's all those years later, working hard the whole time to get here.  So don't expect all your finances to get solved or paid off over night – it takes time and commitment.  But down the road, it is all so so worth it.
Pay off your debts, or at least make a dent in them, before putting more money toward travel.
I see some young people that don't have the money to travel and have a ton of debt and still going and putting it all on credit cards to pay off down the line.  My advice to you would be not to do that.  Pay off your debts, or at least make a solid dent in them, before you start thinking about paying for travel.  And even then, make sure you have the cash to pay off the credit card bill from your travels.
Look at your daily life, cut where you can, but also be honest about your expenses.
I see many people around me that spend completely frivolously; money flying out for this and that.  To be financially smart you must look at your daily expenses and cut where you can.  Two trips to Starbucks a day?  Invest in a $100 coffee maker and you'll save a ton of money over the long haul.  $200 at Target?  Do you really need all those cute binder clips and notebooks?  $300 for a new Coach purse?  Is that just adding to the 10 purses you already have at home?  All these expenses every day in our lives add up really quickly.  It's important to still treat yourself from time to time, but be honest about how much of what you're buying you really need.  Then all that extra you're saving can go to paying off your debt quicker or to travel down the line.
Start building credit, therefore down the road, saving thousands of miles and points to get free travel.
While many people shy away from credit cards, especially if you already have other debt, they are actually a really important way to build your credit score and an amazing way to ultimately save money on travel.  The trick with credit cards is that you have to be financially responsible with them – don't run up a bill you can't pay.  But if you can control your spending with a credit card, especially  putting big purchases on them, you'll be amazed at how many points your can end up with down the road in order to travel all around the world for free.
Prioritize your spending.
A lot of people go about their daily lives just spending money on whatever they feel like in the moment and if you're trying to save or pay off debts, prioritizing your spending can help immensely.  We prioritize a large chunk of our income for travel but that means other things get pushed down the priority list.  We don't often drink which cuts back on our restaurant bills immensely.  I don't get my nails done or go to Starbucks everyday.  Those small changes in priorities can help immensely when looking at your spending.
Put your travel on credit cards, but pay it off immediately.
One of the ways we're able to stay relatively debt free, as far as credit cards, while still racking up points, is that when we book travel, we do indeed put it on credit cards for the points (my favorites are the Alaska Visa or the Chase Sapphire card) but we pay off those expenses immediately.  So when we're booking 6+ months out, by the time the trip rolls around, it's already paid off and the only thing we need financially for it is money for while we're there, which we keep a running savings account just for trips.  In the end, we actually come home to our bank accounts full, because we've used money out of savings account while we're gone.
Don't add more debt, but also live your life.
You'll hear from every financial consultant, pay off your debts and don't add more.  If you can't afford something, don't go into debt to get it.  The moral of the story is, if you have debt, give yourself the time to pay it off or at least pay it down enough to where it really makes a difference in your payments.  But at the same time, you have to live your life.  We have an entire generation coming into the workforce in immense debt and as a society, we still have to figure out a way to keep living and chasing dreams.  So I guess, my advice is this: give yourself time and work hard to pay off (or down) your debts, but be resourceful and don't forget to live and enjoy yourself a little along the way.