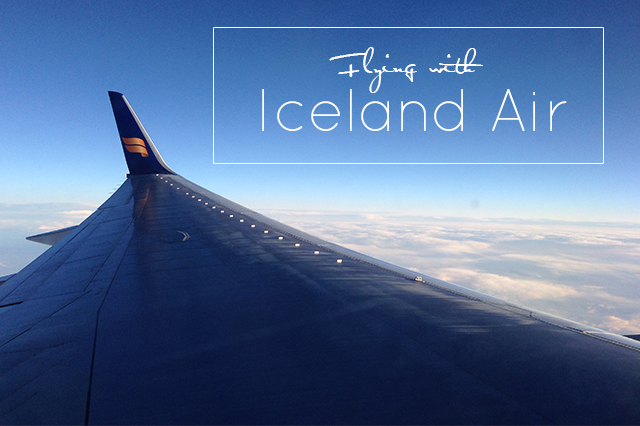 A few years ago when Nick and I went to Iceland, we booked our flights on IcelandAir because it seemed the easiest option considering we were going directly to Iceland.  I was miserably sick that trip and don't remember a lot about our experience on the airline, so when on this trip we were looking at options for our return flights from Europe, IcelandAir had the best prices for one way tickets and we could fly into Seattle, we jumped at the chance to experience the airline again.  Turns out due to our debacle of outbound flights and our whole ordeal on the way to Europe this trip, we ended up flying IcelandAir on the outbound trip as well, making it a full round trip on the airline this time around.
Overall, we were really pleased with the experience and enjoyed flying with IcelandAir.  Though because it offers lower prices than many of its other competitors, there are some things to note and remember when booking through them and I'll be touching on those items as we go through the review below.  But in hindsight, I'd definitly fly IcelandAir again and probably will many times since they are starting a direct route to Portland in the Spring next year.  So here's what I loved about the airline, what I didn't love and some tips to keep in mind when flying IcelandAir for your own travels.
What I Loved
On board service – As with most international airlines, the on board service is a million times better than our domestic US airlines.  I was pleased with the service we had on our flights and there were many flight attendants that were really friendly and helpful to us.
Prices – You really can't beat the prices on IcelandAir to get to Iceland or Europe.  It's the reason we booked them last minute for our outbound trip since we couldn't find anything else for under $2,000 one way for 2 people.  IcelandAir's prices were much cheaper than that, even a day before travel and if you search ahead of time, you can find some pretty amazing deals.
Routes – A major reason I love IcelandAir is that it flies into Seattle, but has many other US hubs as well.  For us, it's so nice to be able to go Seattle directly to Europe and then connect on as needed.  Another great thing about IcelandAir is their Iceland stopover option, so if you want to add a day or two in Iceland on your way, you can without any extra charges.
What I Didn't Love
Gate service in Seattle – It could have just been our particular agents but the agents at the boarding gate in Seattle on our outbound flight were really unfriendly and ignored me standing at the counter for a good 10 minutes before they even acknowledged me.
Food Choices On Board – While the food choices (to buy) on board of IcelandAir flights are alright, they get old fast.  Especially when you are flying them 4 flights on your trip, we got really tired of the same things over and over.  It would be nice to have a more varied assortment of food, not just snacks, on board.
Notes to Keep in Mind
Exit seats stowage requirements – We were booked in exit rows on the outbound trip and as we've experienced on other international carriers, you can't have your bags down in the seat in front of you in exit rows during take off or landing.  That just means you have to find more space to store your bags during those times and then bring them down during the flight.  Something just to keep in mind if you get booked in an exit row.
10 kg limit on carry on bags – We weren't aware of this prior to our flights but luckily our bags worked with the limit.  Keep in mind that you are allowed 2 carry ons but they can only be 10kg each.  Our gate agents weighed them, so make sure your bags work with this limit.
*True Colours was offered a discount on return flights from CDG-SEA, though all opinions on the carrier are my own.