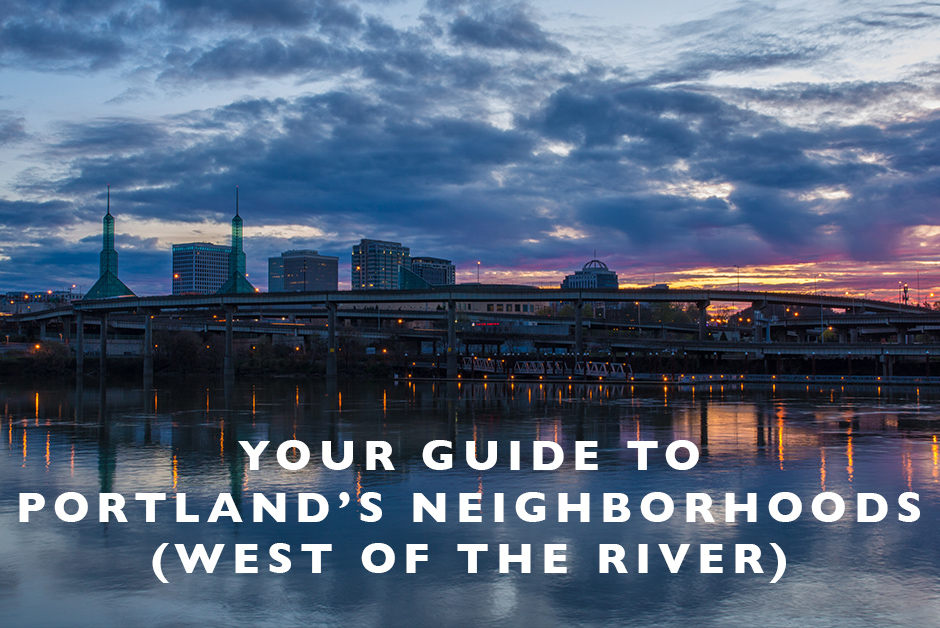 Welcome to Portland Week!  I realized that while I share so much about all the places I visit, I often don't share as much here on Land of Marvels about my amazing home city of Portland, Oregon which is becoming a tourist destination in its own right.  With an amazing food scene, incredible landscapes and a really livable downtown, Portland is an up-and-coming destination with so much to offer.  All week I'll be giving you local advice and information on how to make your visit to Portland the best it can be!
Portland is one of those cities that has very specific neighborhoods.  When you cross into a new area, you'll know the difference and each neighborhood in the city has a very unique vibe, different than the last.  There are so many unique neighborhoods in Portland but today, we're focusing on the neighborhoods West of the Willamette River.  You'll find a more eclectic assortment on the East side with really cool areas there as well, but for the purposes of today, if you're staying downtown Portland, here's the areas you'll probably be exploring.
Pearl District
The Pearl as it is known locally, is one of the coolest spots in Portland in my opinion.  An area that used to be all old worn down warehouses is now the go-to spot to be for amazing restaurants, gorgeous renovated lofts and amazing shopping.  The Pearl is a perfect spot to wander around for an afternoon.  It starts at Burnside and continues North to the
Pioneer Courthouse Square
This main central hub in downtown is not so much a neighborhood but an area that sort of connects a bunch of neighborhoods downtown.  A lot of tourist stay in this general area that houses Pioneer Courthouse Square as well as most of the downtown shopping areas like Nordstrom and Pioneer Place Mall.
Riverfront
We have a long stretch of riverfront in downtown Portland that extends down into the Pearl.  Along the stretch is a long waterfront park with buildings bordering it on the West side.  This area is home to quite a few hotels and restaurants as well as a great area to just wander or bike along the water.
South Waterfront
The South Waterfront is as the name suggest, farther South from downtown.  It's a collection of condos and businesses a little farther South down the River.  This is also where you can take the aerial tram up to OHSU for amazing views.
Financial District
This area of downtown is home to most of our tall buildings housing various businesses.  There aren't a ton of tourist attractions here but worth knowing.
University District 
Portland State University sits on a large downtown campus in the SW section of the city and extends up the South Park Blocks.  This area is a great to wander around with lots of big old trees as well as housing the Portland Art Museum and lot of theaters.
Goose Hollow
Goose Hollow's main attraction is the soccer stadium for our Major League Soccer Team, the Timbers.  It's a small section of the city that houses a lot of condos and old houses but it's gorgeous in the Fall.  It's hilly though, so be prepared for that!  It's also an easy access point to Washington Park and the Rose Test Garden.
NW Alphabet District
This area of the city is one of the oldest and houses some of the best restaurants in town as well as old houses and tree lined streets.  The streets run alphabetically here, Couch, Davis, Everett, etc. so you can figure your way out pretty well.
Nob Hill
The Southern park of the Alphabet District is known as Nob Hill and while it doesn't really change much from it's neighboring area, Nob Hill does tend to draw more tourists and larger crowds.  For example, this is the area where Salt and Straw is on NW 23rd which always has a line as well as larger shops like Williams Sonoma and Crate and Barrel.
Headed to my home town of Portland?
Check out our Portland Travel Guide in the Land of Marvels Shop for only $5!