Hilton Carlton – Edinburgh, Scotland
19 North Bridge, Edinburgh EH1 1SD, UK
On our last trip to Edinburgh, we stayed at the Missoni Hotel which I had been interested in checking out for a while.  But when we decided to make a return trip, we knew we wanted to be a little more central in our location and wanted a hotel that we could be close to Waverly Train Station, since we'd be arriving there from London by train.  When I found the Hilton Carlton, it checked all the boxes of what I wanted and actually ended up being one of my favorite hotels of the trip!
LOVE
Location – We wanted to be easy access to the train station and this hotel definitely is.  It's a quick 7 minute walk to the station and close to all the areas you want to explore in Edinburgh like the Royal Mile, Dean Village and the West End.
Design – The hotel is modern but also designed very elegantly with a slight nod to Scotland in plaids and tartans.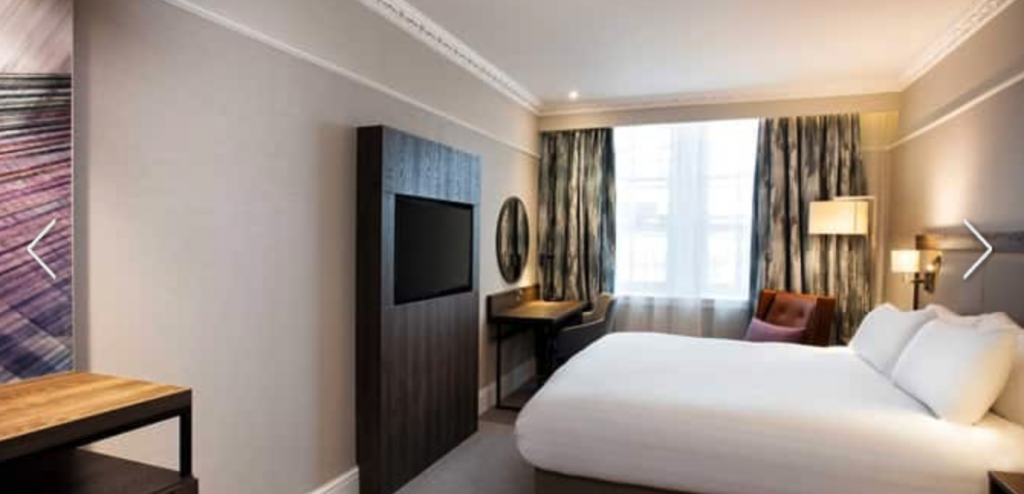 Room Layout – We had a standard Queen room but it actually had a decent amount of space and was very easy to spread out and relax.
Quiet – For a large hotel right off the Royal Mile, it was actually very quiet throughout our whole stay.
DIDN'T LOVE
Nothing! – Honestly, there was nothing I didn't like about this hotel.
NOTES TO KEEP IN MIND
When walking from Waverly Train Station, go towards the Balmoral Hotel and then up the bridge –  We did make the mistake when we arrived at Waverly by train to walk the wrong direction to the hotel and while it circled us around eventually, it was much more uphill and windy than the more direct route.  When you come out of Waverly Train Station, the easier way to go is toward the Balmoral Hotel on Princes Street and then take a right up the North Bridge right past the Balmoral Hotel.  That's a much more direct and easy route to the hotel.
All hotel photos via.
Traveling to Scotland?
See all of my posts on the country!