Hotel Casa 1800 – Granada, Spain
When I was looking at booking our hotel in Granada I looked at a bunch of different options.  But I knew I wanted a hotel with a lot of character as well as one semi-close to the Alhambra since that was the main attraction during our visit.  So when I found the Hotel Casa 1800 and saw their rooms with direct views of the Alhambra and the surround Albaicin neighborhood, I knew I had to give it a try.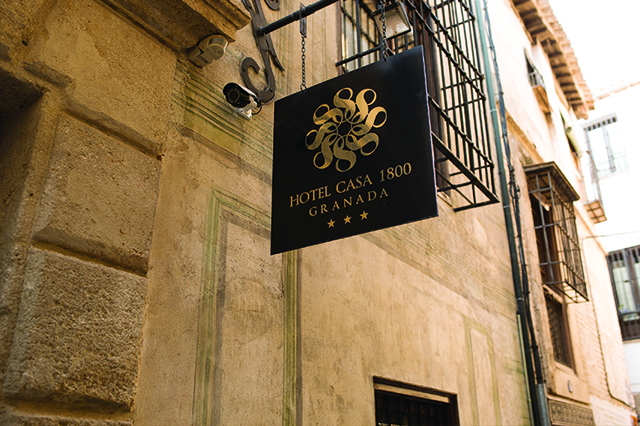 LOVE
Views of the Alhambra– We arrived at dusk the first night and immediately went out to our balcony to see gorgeous views of the Alhambra fortress all lit up at night.  The view made our entire stay in my opinion.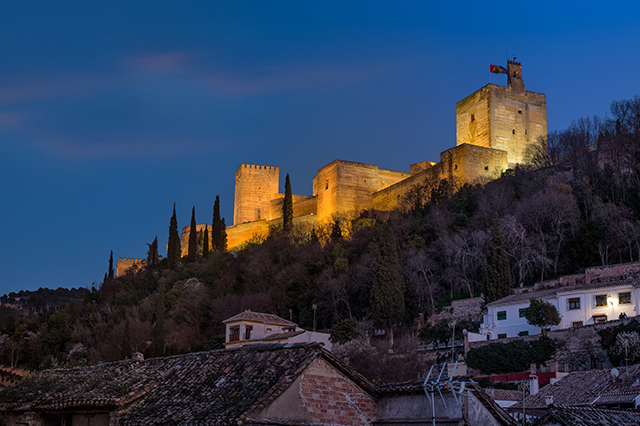 The location – The location of the hotel is great and near by lots of restaurants, many little "souk" type shops (we bought Moroccan tiles and lanterns), and within a 5 minute walk to a taxi stand.
Staff – The staff was super helpful from check in to check out and went above and beyond, showing us our rooms, helping us print off boarding passes and being helpful with everything we needed.  They also left a bottle of Cava in our room when we checked in, which was such a nice gesture.
DIDN'T LOVE
Run Down Decor – While I liked the general decor of the hotel, I felt it was really in need of an update.  I noticed stains on chairs and curtains, fraying at the edges of wallpaper and other such small items.  Nothing that couldn't be fixed up fairly quickly or that really changed our stay, but I am an Interior Designer after all and I definitly noticed that the interior could use a bit of work.
Wifi wasn't great – Nick and I stay connected when we travel and we really appreciate good wifi at a hotel.  We had a lot of problems connecting here and a lot of the time had to go down to the lobby to get a good connection which was kind of a pain.
AC wasn't turned on – One night, we got really hot in our room and when I went to turn the AC on, only hot air came out.  When I called the lobby, they said they hadn't yet turned on the AC as it was too early in the year.  Our room stayed really warm and stuffy the majority of our stay and there were no screens on the windows so we didn't want to leave them open all night.  It would have been nice to have AC as an option.
TIPS
Book the Deluxe Room – As I mentioned, our balcony really was the greatest thing about our stay.  The views of the Alhambra can't be beat.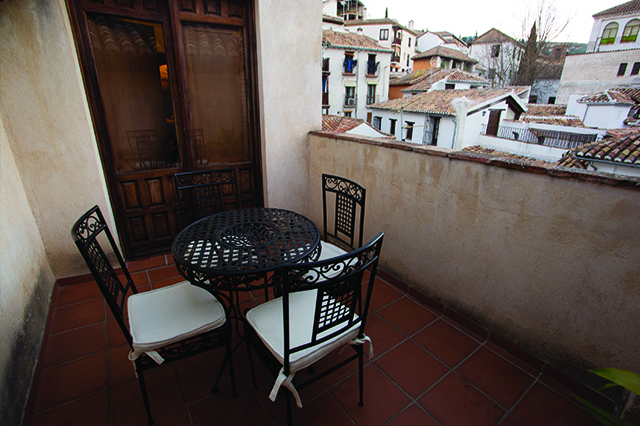 Tell the Taxi driver to drop you off at the entrance to Pisas Street – The hotel is on a historic street which cars can't get to, so have your driver drop you at Pisas street and then you'll have to walk a block in the alleyway to the hotel, but it's really well signed and isn't hard to find.
Land of Marvels was welcomed to the Hotel Casa 1800 Granada as a guest (at a discounted rate), though all opinions are my own for this review.  
Traveling to Spain?
See all of my posts on the country!