Hotel Duo – Paris, France
11 Rue du Temple, 75004 Paris, France
Our usual hotel spot in Paris for years has been the Hotel Le Notre Dame and while we love the location, we wanted to try out a new spot on our most recent trip through our favorite city.  I actually really liked the Hotel Duo and while I think we'll probably go back to Le Notre Dame on future trips for a couple reasons, Hotel Duo is an awesome spot in Paris and a great backup for us!
LOVE
Comfortable Bed – The bed here was divine and it was super comfortable!
Location – I'm listing the location of the hotel as both a pro and con, but for different reasons!  The location for exploring Paris is pretty good, especially if you've already done the major attractions in the city and just want a city break in Paris to explore the Left Bank and areas like the Le Marais, those are super easy and convenient.  We like staying near Notre Dame because our favorite restaurants are right around there and they were all super easy to get to on foot from Hotel Duo.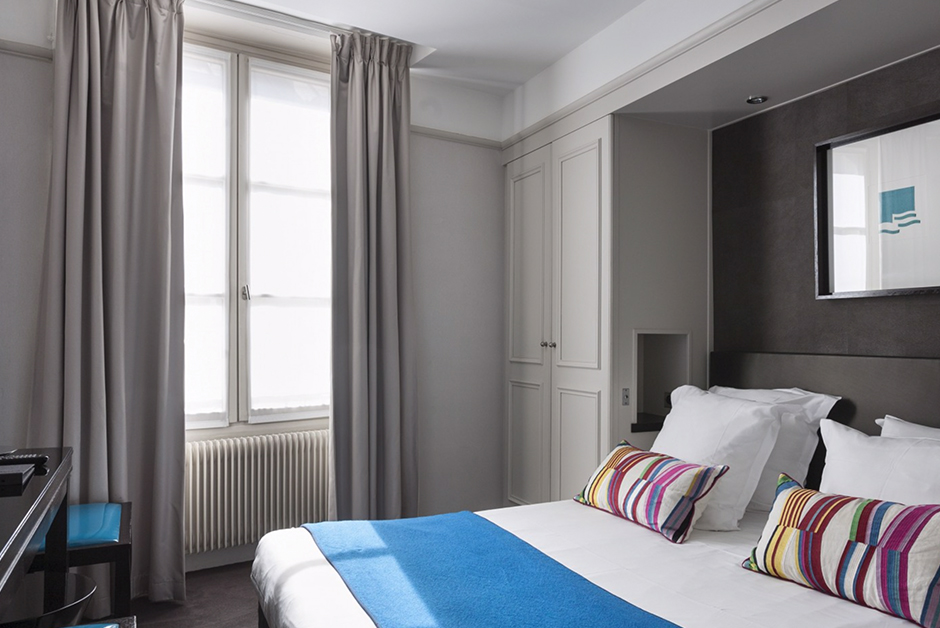 Modern Design – The hotel is nicely updated and modern and has an easy and clean design throughout.
Balcony – We got a room on the 5th floor with a lovely little balcony overlooking the city and it was a really nice little addition to the room.
Easy for Gare de Lyon Connections – The hotel was super convenient for us when we caught our train at the Gare de Lyon and is only a couple metro stops away from the train station, so if you're coming and going from Gare de Lyon, this is a super convenient location.
DIDN'T LOVE
Metro location not super convenient for Eurostar or Airport connections – While the hotel location was easy for Gare de Lyon connections, it wasn't as easy coming from the Eurostar station at Gare du Nord or to get to the airports which will require metro transfers.  While the location is pretty good generally in Paris, the reason we'll most likely go back to Hotel Le Notre Dame from now on is because it's much easier and more direct to get to from the airports and Gare du Nord.
Busy Area – The area around the hotel is extremely busy and right in the center of one of the busiest shopping areas in Paris so the whole neighborhood is a bit chaotic.  We didn't really have an issue with it, but it is something to keep in mind.
NOTES TO KEEP IN MIND
Use Hotel de Ville as your Landmark –  The Hotel de Ville in Paris is a big landmark and it's only a block from the Hotel Duo, so for taxis and such, use the Hotel de Ville as your landmark in the city.
Ask for a Room on the 5th Floor with a Balcony –  When booking, ask for a room on the 5th floor with a balcony so you get the incredible views out over Paris!
Headed to Paris?
Check out our Paris Travel Guide in the Land of Marvels Shop for only $5!