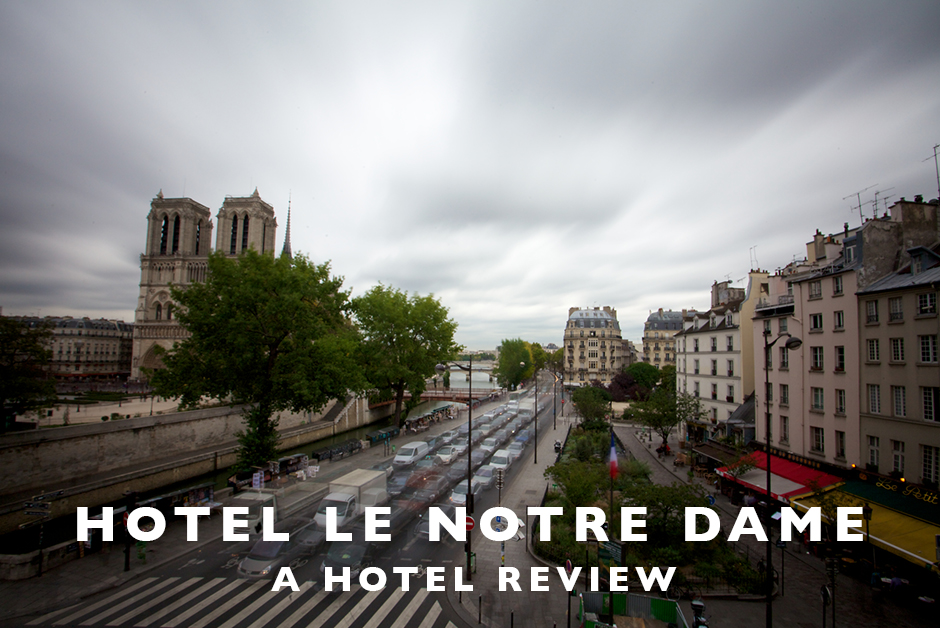 Hotel Le Notre Dame – Paris, France
This hotel has become our "regular" hotel in Paris if you will.  We've stayed here for several of our trips to Paris and will continue to stay here for many years to come I'm sure.  This hotel, while small, offers so much charm and a unique boutique hotel experience with the interiors designed by Christian Lacroix.
The location here also can't be beat, right across the street from the RER B Metro line which gets you anywhere in Paris, steps from Notre Dame cathedral and St. Chappelle and just a 10 minute walk away from the Tuleries and the Louvre. This hotel has become one of my all time favorites in all the hotels I've stayed at and has begun to feel like we are coming home whenever we arrive here. Here is my honest Hotel Review of the Hotel Le Notre Dame in Paris.
LOVE
Location – You really can't beat the location of this hotel and it's the main reason it's become our go-to hotel in Paris.  It's easily walkable to everywhere you want to go, easy access to the Metro and very useful for a base in Paris.
Check in – Check in is always easy here and the staff speaks immaculate English.  We've also been able to check in early a couple times, as long as I've emailed them beforehand to arrange it.  A couple things to note in the lobby here though, you must walk up a small flight of stairs to get to the lobby (often carrying luggage) and the elevator is very small. But on the other hand, we've come to appreciate the charm of the tiny spaces.
Room – The rooms at this hotel are not large by any means, but what they lack in space, they make up in creativity.  The wall paper and carpets resemble Renaissance paintings and transport you to another world.  The beds here are some of the most comfortable I've ever had in hotels.
Design – The design is what I love about this hotel.  It truly is so unique, I've never seen anything like it.  The imagination in the design always blows me away and each room is totally different so it's always a nice surprise to see the design when we stay in a new room.
It's also fun to see the different views of Notre Dame from each new room we stay in as each has a unique angle of the church.
DIDN'T LOVE
Bathroom – The bathrooms here are tiny, I won't sugar coat it.  And I do miss counter space at this hotel but the showers are good and there is a nice full length mirror.
TIPS
Always pay the little extra though for a Notre Dame/Seine River view – the view is what makes this hotel and blows me away every time.