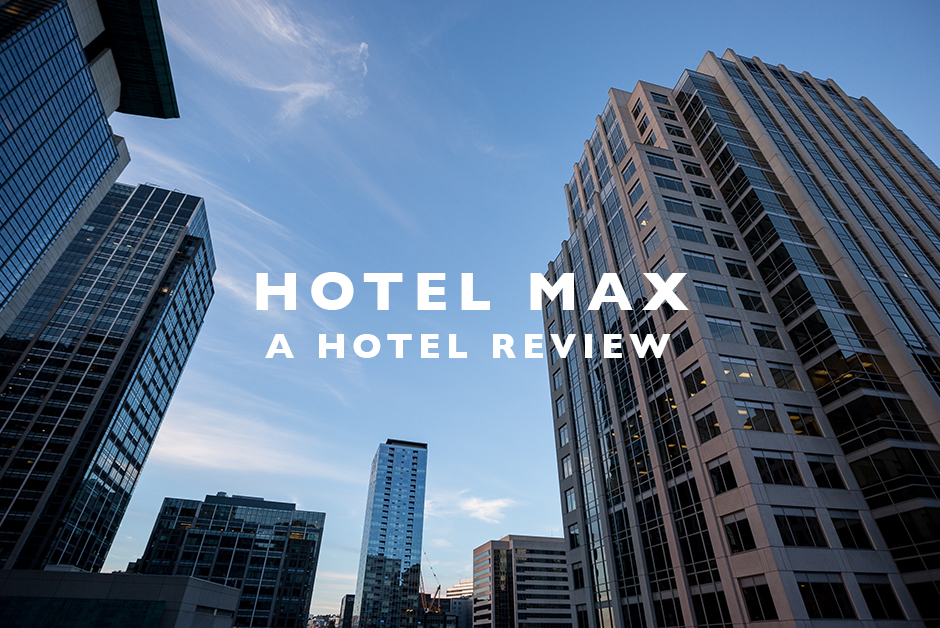 Hotel Max – Seattle, Washington
We booked this most recent trip to Seattle really last minute.  And originally we only booked to stay in the city for one night.  We chose to use that one night at an old favorite spot of ours, Hotel Max.  Ever since college after being mentored by the Interior Designer of the Hotel Max, it's become a favorite of ours in Seattle.  So for this trip, we chose to spend one night at this quirky and charming spot in the city.  (We ended up staying another night to get out of Portland's heat, but more to come on that in the next few days!)
LOVE
Views – Because this is an old building that the hotel was designed in, lots of the rooms are small and face other buildings.  But where this hotel really excels is if you book (or ask for an upgrade) to a room facing Stewart Street, the city views are wonderful!  We happened to be upgraded (thanks Hotel Max!) to a beautiful corner room and had gorgeous views, out of which we watched a lovely pink sunset.
Old Building Charm – The building is old, there is no doubt about that.  But the design fits in really well with the history of the building and the small touches like crown molding really add to the history and charm of the hotel.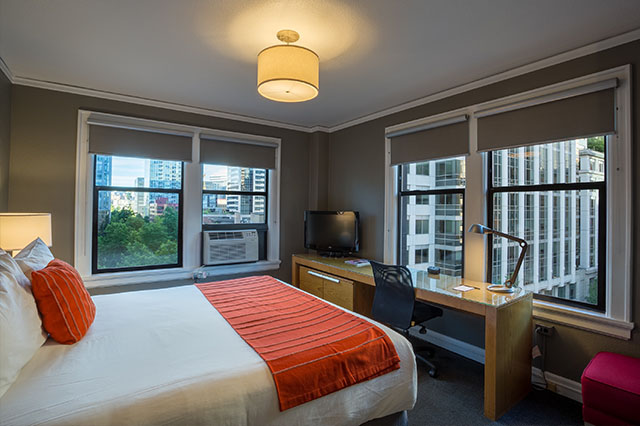 Decor – I happen to be a little biased on this, since my college mentor was the designer on this project.  But I love the grays and whites mixed with vibrant reds.  The photography theme throughout is also a great design item!
Location – Perhaps my favorite thing about staying at the Max is the location.  It's situated right in the heart of downtown but a little bit out of the crowded area around the shopping.  It's still easy access to everywhere though and easy to get to from the freeway too.
DIDN'T LOVE
Small Bathroom– One thing about this hotel is that the bathrooms are small, even in the larger rooms.  Just something to be aware of.
TIPS
Parking charges– Parking at hotels in Seattle is no cheap feat these days, so make sure you are aware of what it will cost to park your car overnight.
Rooms can be small– I would suggest upgrading yourself to a larger room when booking or asking for an upgrade at check in.  The small rooms are really tiny, so be aware of that.
Land of Marvels was graciously upgraded for our stay, though all opinions are my own for this review.