Hotel Therese – Paris, France
As I mentioned previously, for this recent trip to Paris we wanted to try staying in a new and different neighborhood, so for our last two nights in the city, we stayed at the Hotel Therese right near the Opera and fell in love with the neighborhood and surrounding area!
LOVE
Room Layout and Size- We were given an attic style room on the 6th floor of the building with views out over Parisian rooftops and it was a great size and layout, with a small couch area as well as a bedroom.  For European standards, it was a decent size room and the layout was nice for luggage storage.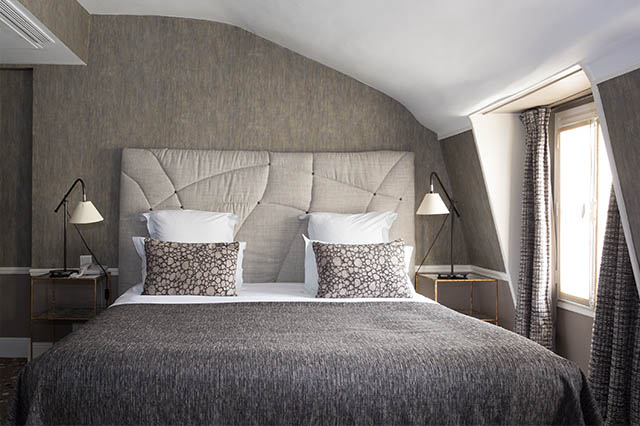 Location – The location of this hotel really is great for a central hub on the Right Bank.  Right near the Palais Royal and the Opera, it's connected to multiple convenient metro lines.
The View – Nothing says "you're in Paris" quite like the Parisian rooftops and we had a lovely view out over the tops of iconic Parisian buildings.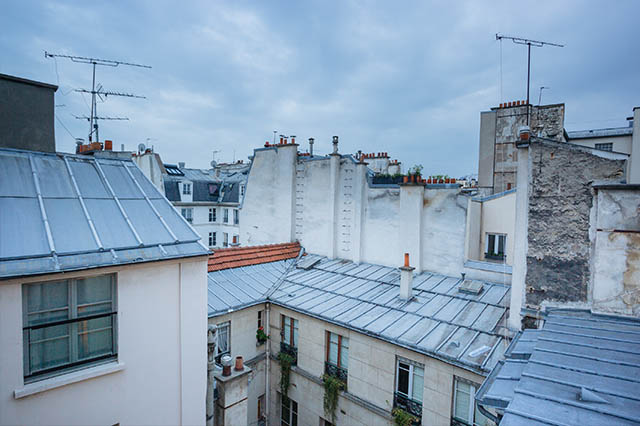 The Staff – Everyone we encountered from the front desk to the housekeeping service couldn't have been nicer or more helpful!
Decor – The decor was modern but interesting and the style and colors picked were really pleasant both in the lobby and the rooms themselves.
DIDN'T LOVE
Shower – My one major complaint with the hotel was the shower.  It was such weak water pressure and the shower head was wedged so tight in the corner of the shower that it make it very hard to even wash my hair.
Room Got Really Hot – The first night there Nick and I woke up in the middle of the night overwhelmed by how hot our room was.  We had the AC on full blast and it just wasn't enough cold air to fill the room, which meant the rest of the room was just stifling.  We figured out later that we could leave the window open and get some nice cool night air, but it would have been nice to have the AC work better in the room.
TIPS
Take Advantage of Afternoon Tea – The hotel has an afternoon tea everyday from guests.  We didn't get to enjoy it due to our schedule, but I'm sure it's lovely!
Ask for a room with a view of Parisian rooftops – Some rooms view out onto a courtyard, and I'd highly recommend asking for a room that looks out on the Parisian rooftops instead.
Land of Marvels was welcomed to the Hotel Therese as a guest, though all opinions are my own for this review.  
Headed to Paris?
Check out our Paris Travel Guide in the Land of Marvels Shop for only $5!