Hotel Topazz – Vienna, Austria
For our brief stay in Vienna, we had only 1 night in the city as we flew through to Greece.  So when deciding on a hotel, I knew we wanted a really central location to make the most of time there… Enter the Hotel Topazz, right in the city center with an amazing design and I was hooked!
LOVE
Location- The location of the hotel can't be beat… Right in the city center, right near the pedestrian only old town and near all the shopping and great food you could ever want.  It's also just a quick 5 minute cab ride to the train station.
Decor – I loved the decor of this hotel, from the crazy amazing wallpaper to the lamps that looked like duck feet.  It was quirky but modern and a great overall design.
Service – From the minute we checked in until the minute we left, the staff at the hotel was amazing.  They were kind, helpful and spoke amazing English.
Balcony – Our room, to our surprise upon check in, had a little balcony with a street view.  It was such a nice addition to an already nice room!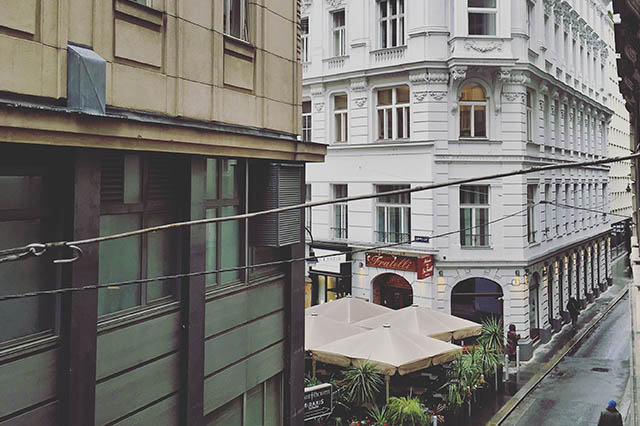 Large Room –  For European standards, our room was really large.  We had a nice sitting area, lots of room for luggage and a good size bathroom, all of which were great to spread out in.
DIDN'T LOVE
Nothing! – There was nothing I didn't love about our stay at the Hotel Topazz!
TIPS
Take the CAT train from the airport to the Wein Mitte station and then grab a quick cab from there to the hotel – It only takes about 5 minutes and 8 euros to get to the hotel from there.
Traveling to Austria?
See all of my posts on the country!