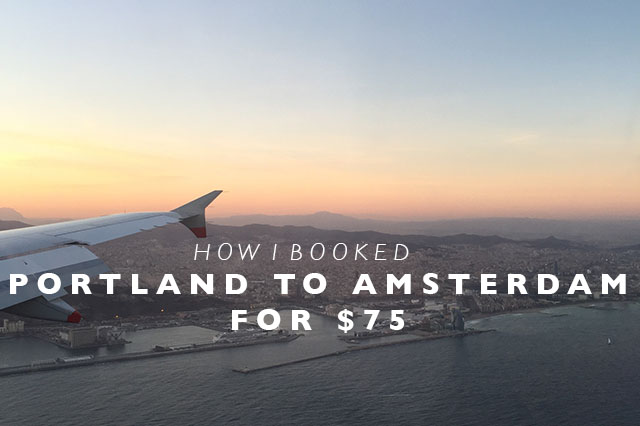 If you've been following on Instagram, you might have noticed we're already been busy booking trips for early 2017!  As we started looking at flights for our Spring trip in March of 2017, originally we wanted to fly through Amsterdam and on to the Middle East, but after a series of events happened both in the world and in our own lives, we decided to postpone our Middle East trip and explore a new part of Europe instead.  So in March, we'll be heading to Bavaria and Austria, via Amsterdam and I'm so very excited!
When we started looking at flights for this trip, we wanted to use some of our Alaska miles and we wanted a pretty direct flight from the West Coast of the US to Europe.  We also really liked the idea of going through Amsterdam again, as it's a city we've visited multiple times and that we always enjoy.  Luckily, Delta has a direct flight from Portland to Amsterdam which makes it super easy and Delta is a partner of Alaska, so we could use our miles.
Originally, I was going to just use our miles for one way, Portland to Amsterdam.  And on the way home, we were planning on flying another one way from Dubai (since we wanted to go somewhere in the Middle East) to Seattle on Emirates.  However, after we realized that the Delta flight would make us pay way more miles for one way over roundtrip, we changed our plans and decided to just stay in Europe for this particular trip.
At the end of the day, we were able to book our flights on Delta from Portland to Amsterdam for just $75 out of pocket and 60,000 Alaska miles.  Considering this flight would cost over $1,000 per person for this route, using Alaska miles on Delta flights is an amazing deal!  If you live on the West Coast of the US and bank your miles with Alaska, using them for flights to Europe or Asia on Delta can be a great way to go for very little out of pocket.
So in March, we'll be heading off to Amsterdam for a few days, followed by a few days in Munich (our first time in Germany – I'm so excited!), and then a road trip through Austria (which we fell in love with this past Spring!).  All in all, for only $75 out of pocket, I'd say that's a pretty great way to get to Europe!
Traveling to The Netherlands?
See all of my posts on the country!