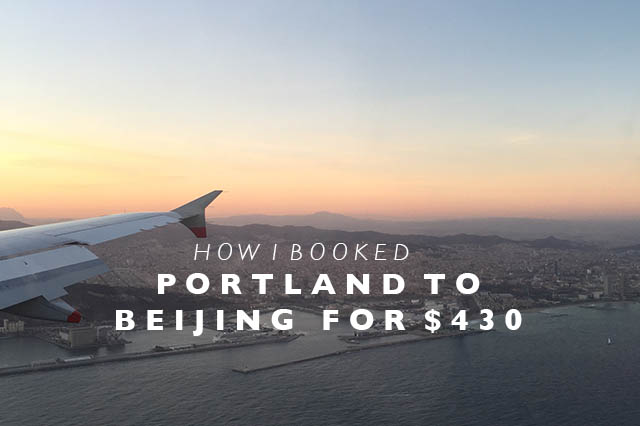 In this series, we cover great deals on hotel and airfare bookings.  Whenever I book a great deal on travel, I'll post about it and let you know how I did it, so you can book your own amazing trip for less money!  There are so many ways to save major cost on travel if you know what to look for and how to do it, so follow along in this series as we document some of the best deals we've found in our own travel adventures!
Sometimes a great airfare deal pops up on your screen that you can barely believe your eyes.  And usually in this series, I highlight amazing deals on airfare using points and miles, but every so often, an incredible airfare deal pops up that you know you just have to pay to reap the rewards.  Such was the case when I was searching for airfare from Portland to Beijing, China for our trip in November.  I was open to either flying into Tokyo (our second destination of the trip) or Beijing for our first stop, so I started researching to see what I could find on Orbitz and what the airline options were.  I prefer going through Seattle as our "hub airport" on the West Coast instead of having to go through LAX, so I started there and took a look.
The other important thing I wanted for this flight was to have it on a partner of Alaska Air, as that is where we bank our main miles and points.  So upon initial research, I found that Hainan Airlines operates a flight between Seattle and Beijing direct and that they are also full partners with Alaska Airlines.  Next, I started looking at prices and was blown away.  I started with a search from Seattle to Beijing because I figured that would probably be cheaper than doing the search from Portland and saw the price in the $500-$600 range depending on airlines.  Then I searched (out of curiosity) for Portland to Beijing (basically with just the addition of the Alaska flight from Portland to Seattle, and then on to Beijing direct) and I couldn't quite believe my eyes!  With the added flight to Seattle, the fare dropped to just $430 per person one way.  
Now to be honest with you, I did this search a couple days prior too and the fares were even lower and it's my fault that I didn't book then.  But still, I jumped on it the second time around and was in awe at how cheap we could fly to another continent directly from Seattle.  So all in all, I call it a win because Portland to Beijing for $430 is a pretty impressive airfare.  If you're in the market of heading to China, I'd highly recommend checking out this route as the prices are insanely low!
Traveling to China?
See all of my posts on the country!