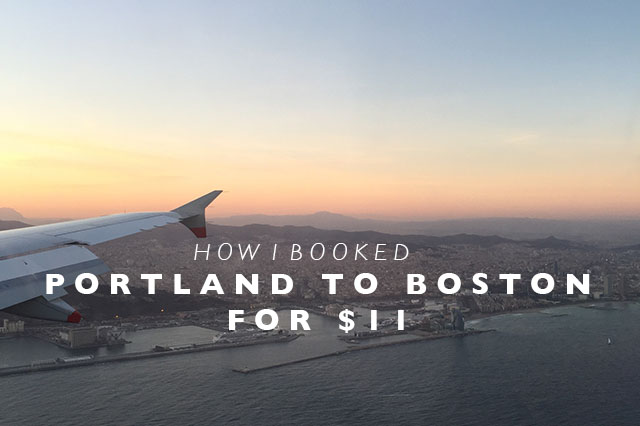 In this series, we cover great deals on hotel and airfare bookings.  Whenever I book a great deal on travel, I'll post about it and let you know how I did it, so you can book your own amazing trip for less money!  There are so many ways to save major cost on travel if you know what to look for and how to do it, so follow along in this series as we document some of the best deals we've found in our own travel adventures!
I've been busy lately booking travel for 2016 and as we are already half way through February, the year is coming up quickly and I'm finding myself eyeing travel through the end of the year.  At the moment we're booked through August with trips, but looking ahead, I turn 30 in October and for my big milestone birthday I really wanted to go somewhere to fully take in the Autumn colors that I adore.  Enter Vermont and the idea stuck.  So we'll be spending a long weekend celebrating my 30th birthday in the beautiful Fall colors of New England.
But even better than a lovely long weekend birthday trip?  Getting there for almost free!  I recently booked our flights from Portland to Boston (since that's the closest big airport and then we'll drive), for only $11!  That's for myself and for Nick by the way.  So if you're looking at a similar trip, here's how I booked one-way, Portland to Boston for $11.
Last year, I started experimenting with different airlines to use for all of our international travel to rack up points and which airlines were best for using points to get free travel.  My final solution: American Airlines.  For us, it seemed the best strategy and so Nick and I both got their credit card and have been using it all year to rack up points.  We also got a pretty hefty sign up bonus as well when we opened the card.  Long story short, I don't think we'll continue with this strategy this year simply because American Air just isn't super convienent for us in Portland however, with the credit card and supporting miles for the last year we've been able to cash in our miles for 2 basically free trips: 1 to Europe (which I wrote about here) and this trip to Vermont.
We paid 25,000 points + $11 for 2 people from Portland to Boston in October.  The availability was pretty good when we booked including multiple days and flight options to use.  If you live in an area where American Air flies into and out of, this might be a great point solution for you.  And if you are looking at a similar trip, be sure to take advantage of American Air's points program and get deals like Portland to Boston for $11!