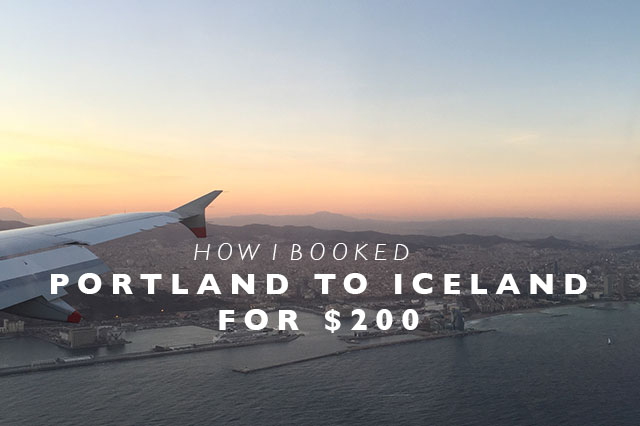 I've been sitting on a bunch of Alaska Air miles for the past few months, waiting for the right opportunity to use them.  Around the first of the year, Nick and I started throwing out ideas for our Thanksgiving getaway this year and because we're doing our travel schedule a little different this year, we are planning on just using the Thanksgiving holiday plus the Friday and weekend after for our trip, not the full week like we usually do, so the destination has to be a little closer to home than our usuals.  For a while we were thinking maybe Quebec, a snowy escape that would be festive and close to the US.  But after more research into the Quebec idea, it's actually quite difficult and expensive for us to get there over the dates we are looking at.  So we randomly threw out the idea of doing Iceland again in November and it stuck!
This will be our fourth trip to incredible Iceland and our first back in the Winter since our very first trip there 4.5 years ago when we escaped on a whim over Thanksgiving break.  We love Iceland and I'm super excited to go back in the Winter and explore, now that we know more about the country and how to get around easier, plus we'll be heading East again and spending more time near Vik which we fell in love with on our last trip and can't wait to see under snow!
And perhaps the best thing about choosing Iceland for our November destination?  The price!  I cashed in my Alaska Airlines miles which I'd been stocking up and we paid a total of $200 per person for roundtrip tickets to Iceland on Iceland Air (which is an Alaska Airlines partner)!  The Iceland Air and Alaska Airlines partnership is an amazing deal to get to Iceland and if you're flying from the Pacific NW, the flight is just around 7 hours which makes it super easy to get to as well.  You can also now fly direct from both Portland and Seattle, which makes the destination an easy one for a 4-5 day trip.
So if you're in the mood to head to Iceland on the cheap, look into saving up Alaska Airlines miles to use for amazing deals to get to the beautiful island of Iceland.  Because Portland to Iceland for $200... yea that's a pretty amazing steal!