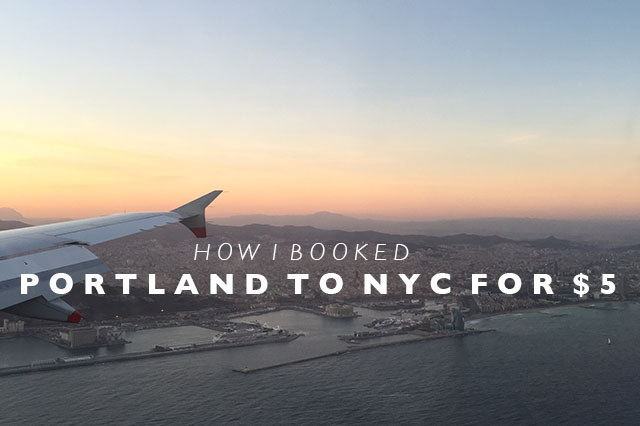 In this new series, we'll cover great deals on hotel and airfare bookings.  Whenever I book a great deal on travel, I'll post about it and let you know how I did it, so you can book your own amazing trip for less money!  There are so many ways to save major cost on travel if you know what to look for and how to do it, so follow along in this new series as we document some of the best deals we've found in our own travel adventures!
I recently booked tickets for Nick and I to spend New Year's weekend in New York City.  We'll fly in New Year's day, January 1st and leave on the 3rd, but since that is such a busy weekend in the city I was afraid I wouldn't be able to find any good deals.  After an hour or so of searching, I figured points were the best way to maximize our trip and I booked Portland to New York City, roundtrip for only $5 and here's how I did it (so you can too!):
For the flight to New York, Portland doesn't have a lot of great times for direct flights to the city, so I opted instead to fly through Seattle, which is a quick 30 minute flight for us and which we do quite often.  As I was looking around at flights for just this one segment of the trip, they were going for $300 plus for a one way on the days I was looking to book, so I opted to use my Alaska miles.  In total I paid 20,000 Alaska miles and $5 for the one way from Portland to Seattle and then onwards to Newark Airport.
Side Note: Alaska miles are a great value if you live on the West Coast.  They are my go to airline for any domestic travel and their awards program is particularly great.
For the flight home, we were pretty particular on time as we wanted to really maximize our last day in NYC so we wanted an evening flight but something that didn't arrive back in Portland too late since we'll be going to work the following day.  The best flight option was a Delta flight at 3:30pm leaving from JFK headed direct into Portland.  Again, just this one way flight was going to be over $300, so I reached into my Chase Sapphire account points and paid 25,000 points and $0 for this segment of the trip.
Side Note: Chase Sapphire and Ink Plus points are another of my favorites in the credit card points world for travel.  They have choices of every airline and you get to double dip; meaning that even though you pay on points, you still get the points in your airline mileage accounts for the trip, so it's a win win!
All in all, heading to New York City for $5 seems like a pretty amazing deal in my book.  So if you're looking to take a trip there soon, be sure to check out the options I mentioned above for your very own (almost) free airfare!