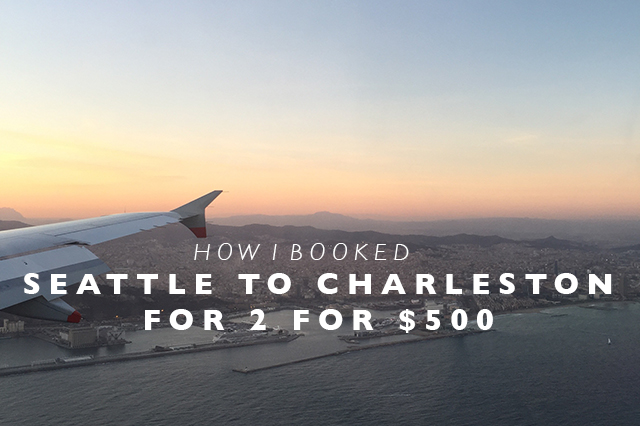 Charleston and Savannah have been on my travel list for years!  And over the years, we've always looked at it but for whatever reason, it's never worked out.  It's also usually pretty expensive for us to fly directly there, so we usually brush over it and say we'll come back to it.  So when I was looking at our travel schedule for early in 2018, I penciled it in for January or February, thinking maybe that time of year wouldn't be as hot and maybe prices would be lower.  Then one day a couple weeks ago I was just randomly searching flights to see what prices were in mid-February and I saw the cheapest flights I'd seen in a long time from Seattle, directly to Charleston.  On top of that, I had a $99 companion fare ticket from our Alaska Air credit cards that was expiring soon so I jumped at the change of using that along with a cheap fare!
It's not super easy to get to Charleston from the Pacific North West, but with the direct flight from Seattle to Charleston on Alaska Airlines, we're headed there in February for a long weekend for less than $500 for 2 people, which is often what it costs for 1 person to fly that route most of the year! On a side note, I've written about it before, but the Alaska Airlines visa is really an amazing travel credit card.  If you're in the market for a new travel credit card, one of the amazing perks of this card is the $99 companion fare every year you have the card.  You can fly anywhere where Alaska flies with it and your companion costs just $99 + taxes and fees, which usually comes to around $120 total!  We use the companion ticket a lot when Nick and I go to Hawaii together and it saves us a ton of money.  The other amazing thing about it is that the companion still gets full mileage for the flights.  So it's a win, win!
For our trip to the South in February, we'll be staying in Charleston for a couple days and then driving to Savannah, Georgia for a couple days.  Both cities have been ones I've wanted to experience for a long time coming and I'm super excited we were able to make this work.  If you have any recommendations for either city, let me know!