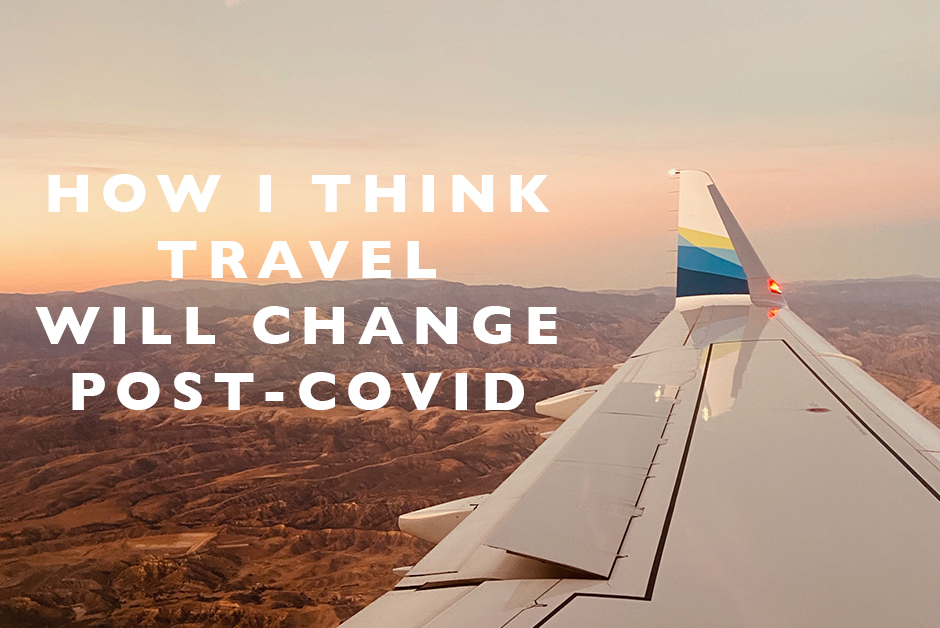 I don't know that there will be any other event in my lifetime that completely changes the way we live than the COVID pandemic we're currently entrenched in.  And while our everyday lives have completely been upended in ways we never thought possible, travel has been one industry that has taken one of the hardest hits.  With all leisure travel essentially off the table for the past year, those of us that traveled a lot in our pre-COVID lives have watched as trips were canceled and futures unsure of where the travel industry will be in the next few months or years to come.  Over the past year I've been watching the larger travel bloggers I follow to see how they are evolving through this pandemic and what might be to come in terms of travel in the foreseeable future.  From what I've been reading and my own personal experiences, here's how I think travel will change post-COVID and how we'll all be adjusting as we move forward in this post-pandemic world.
Say goodbye to long weekends in Europe.
In the past decade, I was always a huge fan of the weekend trip and have been known to take several long weekend trips to Europe when we only had a few days off of work to make the best use of our weekends.  Unfortunately I think this type of short travel will be unavailable for a long while due to quarantines and testing requirements going forward.  I'm looking ahead to longer trips in the next few years, places that might take longer to get to but that have the potential for us to stay and explore for a week or two or longer.  Longer trips will become more approachable in a post-COVID world because you won't be running against the clock for test results or required quarantines and I'm thinking that travel will require more days off work for the foreseeable future, or at least able to work remotely while you are on vacation somewhere in the world.
Health + Travel Insurance will be more important.
Even with vaccines, COVID is going to be circulating our world for several years to come, it's not just going away.  As we start traveling again, particularly abroad, I think health and travel insurance will become a must for every trip we take.  Before COVID, I rarely bought travel insurance but now, I think we'll be buying it for every trip we take outside of the US.  If you are traveling and get COVID, you want to make sure that you have good healthcare wherever you are and aren't worried about bills piling up in a country that isn't your home.
Cities will struggle for a while.
I think the idea of city travel will struggle for a long while as we move back into traveling in the years to come.  The idea of heading to a crowded city will make a lot of people uncomfortable as we inch back into our pre-pandemic lives and I think that cities are going to have to make some real changes in their tourist infrastructure to make that appealing again.  I know that for me, the idea of getting on a packed subway train or waiting in a crowd for a restaurant won't have me running to cities anytime soon.
Travel will be more expensive for the short term until people really start traveling again.
I know there are crazy travel deals in my inbox every day when I check my email but I'm resisting the urge to book anything just yet as we don't have a great timeline of what this year will bring.  And while those deals might stick around for the short term while the travel industry is bottoming out, I don't think they'll last.  In fact, I think once travel is on the table again that prices will actually go up and travel will be more expensive than it was pre-COVID for a while.  Airlines and hotels need to make up for their losses and I have a feeling everything will be more costly than we were used to, at least for a few years.
As we start traveling again, we'll also be adding in other travel costs that we weren't used to paying for prior to 2020, like paying for private cars or taking Ubers/taxi's instead of public transit to avoid people or having a budget in your travel expenses for required COVID testing to travel somewhere.  Those expenses will stick with us for a bit to travel safely and will unfortunately make travel more expensive for a time.
Less populated areas with resorts will become more popular.
I'm already seeing a lot of travel bloggers touting the ideal offer of remote places with all inclusive resorts as a great option for travel right now and moving forward.  This idea that you can still travel someplace that is basically a safe COVID bubble, with all the amenities you need without having to leave the resort is definitely an ideal situation as we move forward after this pandemic.  I think this idea will become more and more popular as you can remove yourself from busy cities and base yourself in a smaller community that has less of a chance for huge COVID transmission.
Hotels that offer Covid testing will be high on my list.
Another thing I've been reading a lot about and that will definitely be high on my list when I start traveling again (hopefully) later this year, some hotels and hotel chains are now offering COVID testing on-site.  This is a huge perk to the traveler that is looking for easy testing access and will be a huge factor for me when I'm deciding on hotels to stay at.  If you can do COVID testing on-site at your hotel wherever you travel, that means that you get to stay in one place and not have to spend the time researching testing locations in your destination and dealing with language barriers or insurance issues.  I'll definitely be on the look out for this feature as we move forward later in the year with traveling again.  Hyatt is the first major hotel chain to announce they'll be doing this and I'm hoping more chains follow suit.