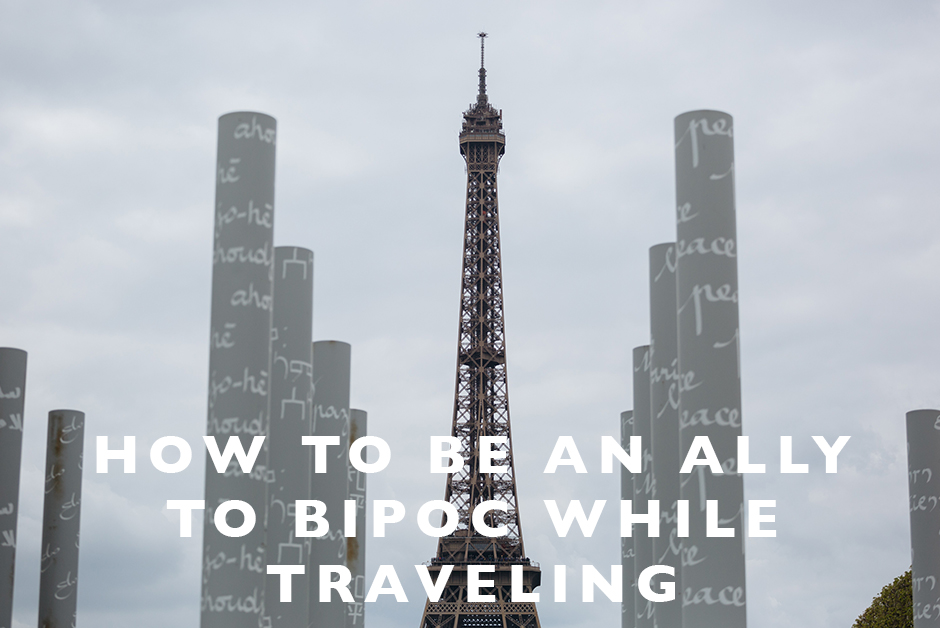 Over the past week, we've heard from so many incredible voices on how to be an ally to people of color.  And like many of you, I have been listening and taking in a lot of information, a lot of knowledge and diving into how I can personally and professionally be a better ally to BIPOC everywhere.  It's a cause that means a lot to me and the idea that anyone anywhere is treated less than someone else just because of the color of their skin, their religion, or the way they dress should not be allowed to exist.
I've been thinking a lot this week about how I can personally make changes in my life to be a better ally, to think about the things in my life that can be changed in order to amplify black voices, to lift up my brothers and sisters in this world that look differently than me.  And in a pre and hopefully post-COVID world, travel has been and hopefully always will be a large part of my life.  I got to thinking, how can I look at being an ally not only in my everyday life at home but also around the world, particularly in the travel sphere of my life.  It's no secret that racism is alive and well around the world, not just in the United States.  So how, as travelers, can we fight against that?  How can we be an ally to BIPOC while traveling?
First, we need to listen.
Like many of you this past week, I have been making an effort to listen, to hear from people of color on what needs to change, what's happening and how as a white woman, I can be a more effective ally.  As we begin traveling again, it's important to remember to keep listening, to not let all the knowledge we're gaining now to fall by the way side.  As travelers, we often stop and listen to other cultures around the world when traveling, let's not forget we also need to stop and listen to the voices within our own countries too on a regular basis.
If you see something, say something.
When we're traveling, there have definitely been times that I've seen something that wasn't ok.  In those moments, we must speak up.  If it's racism or someone being treated poorly, don't sit by and let it go.  As a white person, we must be able to stand up and use our privilege to help people that don't have the same privilege that we do.  Also remember that racism around the world might look different than it does in America, but that doesn't make it any less important to stand up against.
Know the history.
I've always thought that it's very important to know a little bit about the history of a country before visiting but it's even more important now.  Do the research and learn about how the history of a culture has created their stance on racial equality today.  The more information we know, the more knowledge we can have, can only allow to us to solve the problems in racially unequal societies today around the world and allow us to create a better future ahead.
Amplify the voices of people of color when you can and use your platform for change.
Going forward, I'm dedicating much more of my time to amplifying the voices out there that are speaking out.  By amplifying the voices of people of color, we allow those voices to shine through all the noise and hear them clearly.  Whether you have a platform as a blogger, a travel expert or just an Instagram followers, use that platform for change.  Use your voice to amplify other voices.