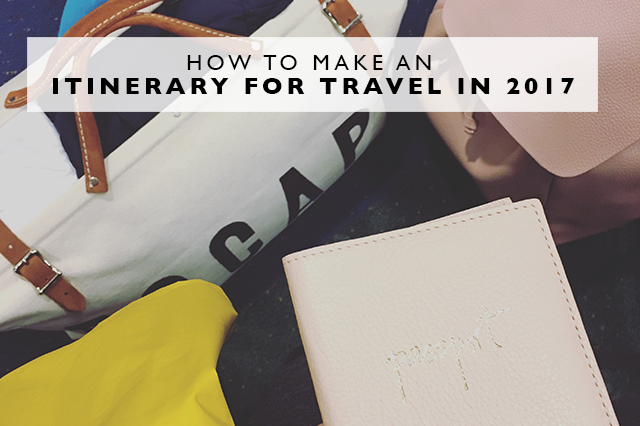 I get asked a lot "how do you travel so much with such a full schedule at home and work?"  The answer to this question is always "we plan ahead and make travel a priority."  The truth is, Nick and I don't have a lot of free time at home, we work a lot and with other commitments, our time at home ends up being very busy.  We both work full time as well as having side gigs evenings and weekends much of the time.  So in truth, the only way for us to really just escape and relax a bit is through our travels, but because of our busy schedules it's often hard to make the time for that travel.  Here's the trick – planning ahead.  We start each new year with the year ahead laid out before us and take a look at how we can maximize our days off of work.  Today, I'm sharing our travel itinerary for the year ahead with you so you can plan ahead and make an itinerary for travel in 2017 as well!
First, lay out the year ahead.  Sit down and look at when certain holidays fall and where you think you might go depending on the time of the year and how much time you can take for each trip.  Next, go through each month and see if you can travel that month or not.  And ultimately, start booking these trips based on the conclusions you come to.
Here's an example of a year travel schedule that we generally follow for reference:
January 
We like to do a long weekend trip in January.  After usually not traveling much in December, it's nice to do something at the end of January so get the year going with travel.  Sometimes we'll do something closer to home, other times, we'll fly off on a long weekend escape.
This year we're headed to Stockholm for a long weekend in January after finding an incredible airfare deal!
March
Generally, we like to do 2 larger trips per year.  The first one we do in the Spring and generally we prefer March to do this.  First off, it's less crowded everywhere than if you wait until April or May and second, it's usually a lot cheaper the earlier in the Spring you travel.  For this trip we'll do anywhere from 7-10 days on average and we'll go somewhere further and make more stops than just our shorter trips.
This year we're headed to Amsterdam, Bavaria and Austria in March for a road trip through these beautiful parts of Europe!
May
During this part of the year, holidays are starting to roll around more often and taking advantage of days you already have off of work is a great way to travel more.  Over Memorial Day in May, we usually will do a long weekend somewhere and take a day or two at either the beginning of the holiday weekend or at the end.  Since you have 3-4 days for this holiday, it's a great long weekend to escape.
This year we're actually taking a few more days on each end of Memorial Day and road tripping from Portland to Glacier National Park and Yellowstone!
July
While the Summers are usually pretty busy for us and we usually don't travel over the 4th of July, this year we're trying something different.  The 4th can be a great use of a holiday to travel, especially when it falls near the weekend and you get and long weekend out of the deal!  Just beware, usually travel will be most expensive this time of year so it's great to use points to book for travel in the Summer!
This year, we're headed to Provence for the long weekend in July to road trip around Southern France and we booked the trip almost all on miles!
September
I like traveling in September for a number of reasons – the weather is still nice most places, the tourists have died down a bit from the Summer and prices are starting to go down.  Labor Day at the beginning of the month can be a nice time to travel and use an extra day off for a long weekend somewhere.
October
Perhaps my favorite month of the year to travel?  October!  There is a chill in the air, the Fall Foliage is on display and everything is quieter.  I love making a long weekend escape in October somewhere that's full on Fall!
This year we're thinking about making a return visit to Vermont in October since we loved it so much last year!
November
For a few years now, we've done our second larger trip of the year in November over Thanksgiving.  Nick doesn't really like Thanksgiving food and I can go either way, so a few years ago we decided to start doing this and it's become such an amazing tradition!  It's a fun time of year while traveling as Christmas decorations are up around the world and the weather is cold and festive.  Usually we'll do a 7-10 day trip somewhere using Thursday and Friday of Thanksgiving as free days off.
This year we're headed to Iceland again for a snowy adventure!