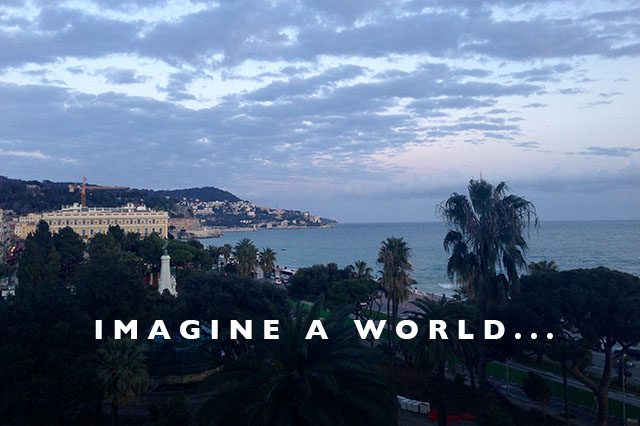 As I sat writing this, I was staring out the window watching the sun set over the Pacific on our way to Hawaii last week.  And as the pastel colors set across the sky, high above fluffy white clouds I sat quietly thinking about how peaceful the world seems from high up there.  About how all the problems and all the violence and all the sadness that we've seen lately seemed to disappear.  But the thing is, it didn't.  And those problems, that sadness, all the violence, it didn't disappear and the real scary part is that it probably won't disappear anytime soon.  And the really sad part of this is that I wrote this a week ago, and in that week, we've now seen another devastating tragedy in Nice among how many others the world over.
Land of Marvels is a travel blog, but it's also a blog of my thoughts.  It's also a blog where we gather to celebrate this world we call home, this planet big and small, beautiful and sad.  And so I think it's fitting that I touch on some of the recent events both in my own country and in the global atmosphere around the world.
I can't help but feel a truly heavy heart these last few weeks.  We've watched in horror as hundreds, maybe even thousands of people, have been killed around the world in the last couple weeks from terror attacks.  We've watched as innocent people have been killed in the US for doing absolutely nothing wrong and we've seen police attacked in scary and surreal heartbreak.  And personally, I've felt the strain of sadness as a friend of ours lost his wife recently, taken way too soon, taken way too tragically.  All in all, these past couple weeks have left me feeling increasingly sad and unsure of what to do with that sadness.
I find myself scared for our beautiful world, scared for the present, scared for the future.  I find myself fearful and sad of all the hate around us, hate for people of a different skin tone, hate for anyone who would stand for freedom, hate for someone with a different religion you might not understand, hate for someone's gender or sexuality or life choices, hate for those celebrating their country.  And around the world and even here in my own country, that hate is causing so much harm, so much sadness, so much cruelty.  When are we going to realize that hate will never solve anything, it never has.
Honestly, I really don't know what there is to do.  I want desperately to say we see an end in sight, that we have it all figured out and we can solve these deep and unresolved problems in our society.  But I honestly don't know.  And for the life of me, I can't fathom how anyone could hate anyone else for whatever reason – when do we all realize that we're all humans, we're more the same than different and that we really are all in this together?  When will we realize that we must help each other instead of hurt each other?  And that goes for everyone, leaders of countries, the homeless on the streets, the wealthy and the poor, women and men, all religions and all ethnic backgrounds.  We shouldn't care which color each other's skin is, we shouldn't care if you pray at a mosque or in a chapel.  It shouldn't matter if you're a man or a woman, we are one human race, one people.  We might pray to Allah or Jesus or Buddha.  We might be fair skinned or dark skinned, we might be young or old.  At the end of the day, we all deserve respect and dignity.  We all deserve the freedom to be who we are without fear of violence.
There is much sadness around us, so much fear, so much heartbreak.  And I think lots of us are feeling this way, so today, we're going to take that sadness, that grief, that fear and we're going to turn it into understanding, into love, into lessons learned.  Imagine if all of us reading this did just one act of kindness toward someone today, imagine if all of us reading this today reached out and helped someone in need.  Imagine if the whole world took just one day and everyone helped someone else, stood up for someone else in need of it, stopped and said, enough is enough.  Imagine our power then.  Imagine the healing that could begin.  Because the violence, the fear, the ignorance and racism and hate, it MUST stop and we have to make it.  We must stand up and say, this is the not the world we want to live in, this is the not the world we want for the next generation, this is not the world we want to call home.  Imagine if we all did that, in whatever way is feasible.  So today, I urge you, take a stand in whatever way you can, big or small.  Today I urge you, imagine what the world can be and what it should be, imagine a world without hate and filled with love and understanding – imagine a world free of sadness and then let's work together to make it so.