ME Madrid Reina Victoria – Madrid, Spain
When I was looking for hotels for our 1 night stay in Madrid, I knew since we only had 1 night there we wanted to be in a central location so that we could see as much as possible.  When I came across the ME Madrid, I knew it was perfect.  Situated on the Plaza Santa Ana in Central Madrid, this hotel is gorgeous inside and out.
LOVE
Comfortable Bed – The bed here was so comfortable and I slept so well. Coming from a semi-hard bed in Barcelona, it was so refreshing to have such a comfortable one in Madrid.
Location – To explore Madrid, the location of the hotel can't be beat.  Directly on the Plaza Santa Ana (one of my favorite little plazas we came across), the hotel is walking distance from all the major landmarks and close to metro stops if you need to go further.
Views – Our upgraded room had a gorgeous view right over Plaza Santa Ana and I loved watching the sunset from our room as it fell over the city.
Aesthetic – The design of this hotel is fresh and modern, with a clean chic flair.  Complete with colored mood lighting in the rooms, the whole hotel is well designed.
DIDN'T LOVE
A little loud – Even though I did love our views out onto the Plaza Santa Ana from our room, it also did make for a loud atmosphere at night.  It is Spain after all and lots of people that had been out all night made a lot of noise in the square in the middle of the night.
TIPS
Be sure to be clear with taxi drivers– Arriving from the airport, I told our driver the ME Madrid Reina Victoria hotel (that's the full name).  He instead took us to some other area of Madrid on a street called Reina Victoria…so to clarify, tell them it's on the Plaza Santa Ana.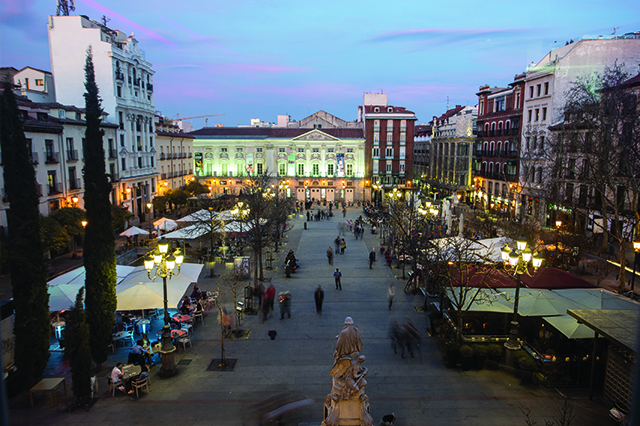 Ask for a room with a view– Our room looked directly out on the Plaza and the views were lovely!
Land of Marvels was welcomed to the ME Madrid as a guest (at a discounted rate), though all opinions are my own for this review.
Traveling to Spain?
See all of my posts on the country!