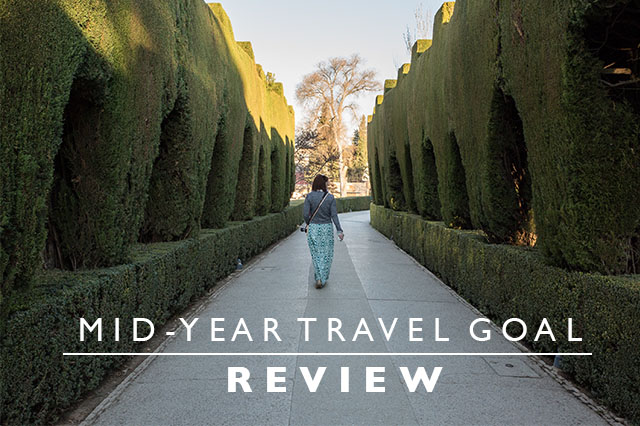 It's amazing to me that we're already half way through the year and with a crazy Summer ahead, I thought it would be a good time to review where I've been this year so far and what I've learned.  At the beginning of each year I create a list of travel goals that I hope to achieve in the year to come.  Each year it's different, and with each year, comes a different focus, but seeing as we're half way through the year, I wanted to take stock of what goals I've already achieved and what I still have left to accomplish.
Travel teaches us so much, but sometimes in the shuffle of everyday life, those lessons can fade as your trip gets farther and farther away.  This year, my post on my goals for travel ahead in the new year showcased what I hoped to achieve this year, things I hope to attempt to do in my daily life as well as when traveling.  So as I take stock of the first six months of the year, here's where I'm at.
Travel Deeper
So far this year, this goal has been a priority in our travels.  We've found new spots in Hawaii to photograph the sunrise on an empty beach on the windward side of Oahu, explored lesser known spots in our own home state like beautiful Bandon on the Oregon Coast, wandered deep into the cities of Spain, waking up at dawn in Sevilla to explore with no one around and wandering tiny off the beaten paths of Granada.  And most recently, we ventured way off the beaten path deep into the North of Iceland.  We've also spent more time seeing sunrises when no one is awake and leaving tourist destinations aside, instead going more for local stops in the places we've visited, which is what I had set out to do.  I'd say this goal has been fulfilled and we still have a lot of places on the horizon in the next six months that I think this goal will apply too… hello New Zealand!
Indulge in Local Treasures
I have had no problem tackling this goal so far this year in regards to food; from tapas all over Spain, to ramen in Hawaii, I think I've already done well with this one.  I'm also really looking forward to working on this more later this year in Mexico and Bali!
Be a Global Citizen
This one has been on my mind a lot as we travel, and even at home, and I think perhaps the most we've achieved this one was in Iceland in May.  Iceland is really sustainable and forced me to really stop and look at my own life and how we take care of our planet.  As we continue to travel later this year, I'll be thinking of how to continue to be a better global citizen.
Take Time to Relax
So far this year, most of our trips have been pretty hectic and with busy schedules, but we did slow down and rest in Lisbon in March, which probably counts the most towards this goal so far.  This one will come more into play later this year when we spend a blissful weekend in Mexico for our anniversary and then a few days in Bali in November.
Embrace Spontaneity
We've done a lot of this already this year!  From stopping to take in a gorgeous sunset in Barcelona, even though we were late for dinner reservations, to pulling off the road on our way to Bandon to take in the ocean dunes.  A lot of our trip to Iceland was spontaneous, pulling off on the side of the road at a moment's notice to take in some amazing scene.  I'm getting much better about being spontaneous while we travel and taking in those special moments!