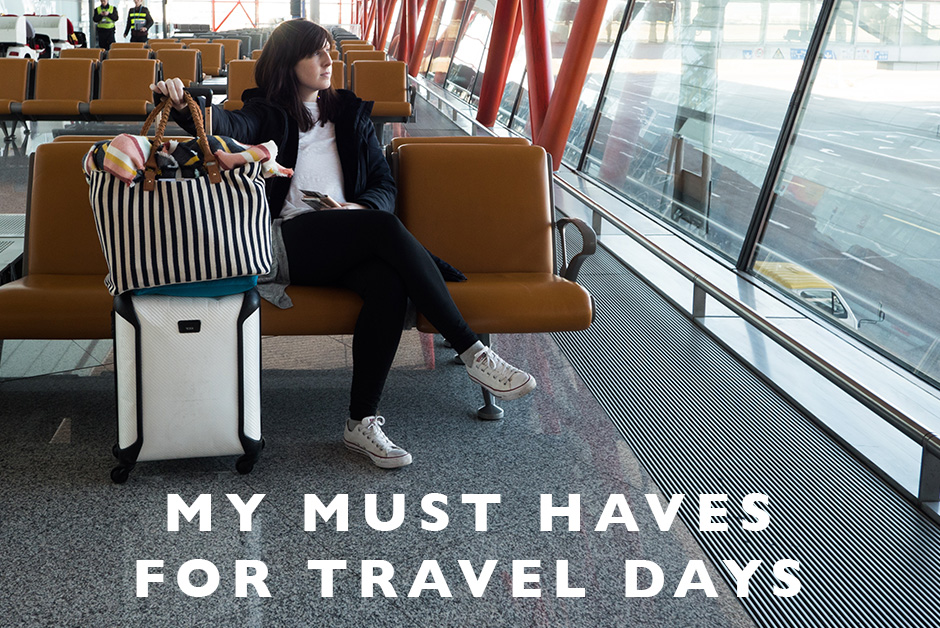 Travel days aren't generally peoples' favorites from what I've heard.  I actually love a travel day and don't mind being on an airplane for a number of hours getting work done or binge watching a TV show season.  However, I will also say, I have done it all my life and have a ton of experience on airplanes and traveling so there are things that I bring with me that are "must haves" when you'll be spending hours upon hours on an airplane that can make the experience more enjoyable.  Today I'm sharing my must haves for travel days so that you too, might be able to look forward to those upcoming travel days, instead of dreading them!
A big scarf (or two).
I'm a huge believer in scarves, both in life and for travel.  You'll rarely see me without a scarf, unless its super hot outside, and that is about a 100% certainty when I travel.  I always have a big scarf, regardless of the time of year, and sometimes even bring two in my carry on to have handy.  I use my scarves for so much on long haul flights and travel days: to keep my neck warm, wrapped around me like a blanket, sitting on when the airplane seat gets super uncomfortable, or as an extra comfort around my neck when I'm trying to sleep and my pillow isn't cutting it.  A scarf solves all number of travel mishaps, so bring one… or two.
Your phone or iPad loaded with stuff to watch.
I never leave on a trip, no matter how short, without loading up my iPhone Plus with a ton of movies, TV shows and music.  My favorite when I travel is to have a TV show to binge – some of my latest plane binges have included Season 1 of Riverdale and the latest season of Vikings.  Having your own entertainment means you don't have to rely on the airline as sometimes that might not be what you really want or the TV in your seatback might be broken.  Bring your own stuff and you'll never be disappointed.
Comfortable shoes and clothes.
A good travel outfit for me answers two questions: 1) Does this look nice enough to wear out and about at home? And 2) is it still comfortable enough to lounge around at home in?  If it answers yes to both questions, it's a winner.  My go to travel outfits is leggings (dark gray or black), Converse or Nike shoes, a sweater in cold weather or a linen t-shirt in warm, some sort of jacket and a scarf.  Even when I travel to Hawaii often, I always wear a light jacket on the plane because a) it's usually cold in the air and b) I usually end up wanting a light jacket at dinners and such while I'm there.  That outfit will basically get you anywhere, anytime and allow you to be super comfortable but also look semi-decent.
A travel pillow in the shape of your preference.
Travel pillows are one of those things that are super specific to each individual person.  I personally like a small rectangular one, not the neck wrap style so that I can use it for a number of different things.  I use my pillow to sleep, to lay in my lap and set my phone up in it when I don't want my tray table down, for an armrest over the hard airplane armrest and as a way of separating myself from my seat mate.  A travel pillow is your best friend, find the kind you like and never let go!
Evian facial spray and a great moisturizer.
I started using Evian facial spray a few years back and as pretentious as it sounds, it really does work wonders.  The freshness you feel when you spray your face with it mid-flight is totally worth it.  If the flight is over 7 hours, I usually take my makeup off when we get in the air.  Then I'll lather a great moisturizer on and let it soak in for the first few hours of the flight.  Mid-flight, I give my skin a nice dose of the Avian spray, followed by another right before landing and I usually feel pretty good at the end of the flight.
Melatonin and Tylenol.
I never go anywhere without both of these and they have saved me more times than I can count while traveling.  Melatonin because jet lag.  There is nothing worse than not being able to fall asleep when you really want and need to.  And Tylenol because when that headache strikes or you roll your ankle, you'll want to fend off the pain.  It's also super helpful if you aren't feeling well mid-flight and can't do much to ease your symptoms.
Luggage that's easy to carry.
Years ago, we invested in Tumi luggage and it's the best thing we did.  Our Tumi hard side carry on's not only hold a ton, but are super easy to carry and maneuver on travel days.  Travel days are already stressful and tiring, so make sure your luggage isn't causing an extra burden.  Duffle bags are great for roadtrips, but get yourself luggage that rolls and does the work for you so you don't have to carry 50 pounds on your bag while on the go all day.