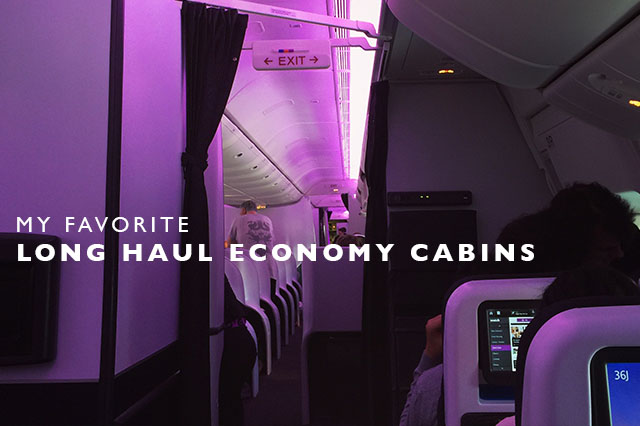 While sometimes Nick and I splurge on Premium Economy or use points for Business or First Class travel, the large majority of our travels we're in tight seats in Economy cabins flying around the world.  At this point in our lives, we just don't see the benefit of spending thousands of dollars on premium cabins when we could spend a percentage of the money and use that extra to travel to more places throughout the year.  Perhaps we'll change our minds later in life, but for now, I've become a connoisseur of airlines and here are some of my favorite long haul economy cabins, which seats are the best to pick and why I like them!
Norwegian Air's Dreamliner
I'm a big fan of the Dreamliner airplanes and I'll jump at the chance to fly them over regular airplanes any day of the week.  The air filtration is so so much better, the seats are more comfortable, the windows have tint levels instead of shades as well as being much larger and the bathrooms are about 3 times the size of normal airplane bathrooms.  I just find the experience on the Dreamliner a mile ahead of normal airplanes.  So when the insanely low prices of Norwegian Air's flight from the West Coast of the US to Europe also happen to coincide with being on their Dreamliner, it's a win win for me.
Tip: If you're traveling as a couple, choose the very last row of the plane – where there are normally 3 seats, the back 2 rows are only 2 seats and have tons of extra room around them!
Delta's A330 Airbus
We have a couple Delta direct flights from Portland and Seattle that go to destinations like Amsterdam and Paris which are really convenient for us as direct routes.  But on top of the convenience, I love Delta's A330 Airbus' that they fly on these routes because it's only 2 seats on each side by the window instead of the typical 3 on most other long haul flights.  It makes it so much easier if you're traveling as a couple to just have 2 seats to yourself without a 3rd seat-mate to crawl over.
Iceland Air's Exit Rows
We fly Iceland Air pretty often since we go to Iceland often but we've also flown it as an inexpensive alternative to mainland Europe.  The plane can get fairly cramped and it's a 3-3 configuration, but the trick is to book the exit rows.  You'll have miles of leg room and way more space to spread out.  The only caveat is that you can't have any luggage down in front of you during take off and landing.
ANA's Dreamliner
A few years back, we flew ANA's dreamliner from Tokyo to Seattle and loved it!  We haven't had a chance to fly the airline again but our experience was top notch.  Same tip as above with Norwegian's Dreamliner – select the very back row of the plane on the side, you'll have so much space you won't know what to do with it!