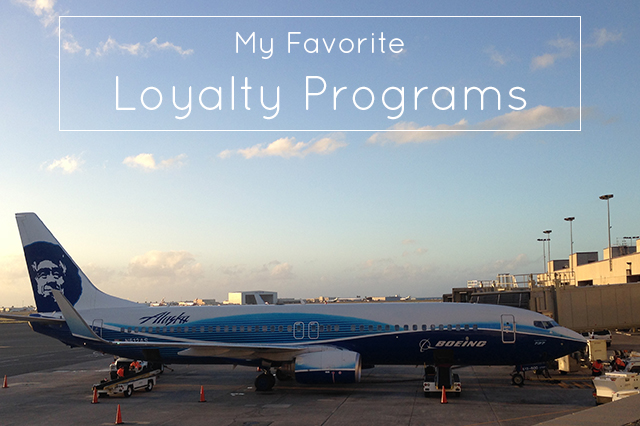 As I travel more over the years, I've come to know pretty well which loyalty programs are best worth it for me and which aren't great.  This of course if going to be different for everyone because people live in different places with different airlines that work best for them but for me, living in the Pacific NW and doing travel both in the US and throughout the world each year, these are the loyalty programs I've come to count on and why I think they are worth joining and using.
Alaska Airlines
With partners like Delta, Air France, Cathay Pacific, and Qantas, Alaska is my go-to mileage program for air miles.  Not only do I fly them often (they are my primary domestic airline of choice), they also have great customer service, an excellent and easy to use mileage program and a great website and phone support.  I've been MVP with them for a number of years and to fly to places like Hawaii, throughout Mainland USA and using their partners worldwide, their mileage program is pretty impressive and easy to use and build mileage.
British Airways
I've had the British Airways credit card for a number of years and because they have a non-stop flight from Seattle to Heathrow, we fly them often.  I've built up points with the BA Avios program for years between the credit card and actual miles flown and used their points for a number of things including flights, hotels and car rentals all over the world.  One thing I will say, it's harder to use miles with BA to fly from the US to London because of bad availability and high taxes and fees, but intra-Europe flights, hotels and car rentals are super easy with BA avios and have saved us hundreds of dollars over the years by using points for those smaller trip items.
Iceland Air 
We've flown Iceland air a handful of times and will probably fly them a lot more in the future as they are starting a direct Portland-Reykjavik flight this Spring which will be really handy for us.  I like them for a number of reasons, but their points program is also pretty great.  You can use the points you rack up from flights on meal purchases on board or you can transfer points (especially if you only have a small amount) to websites like Points.com and trade in those small remainders of points for gift cards.  I recently did this with our left over Iceland Air points and it turned into $100 worth of gift cards we can use anywhere you choose.
Norwegian 
We actually haven't had the pleasure of flying with Norwegian yet, though we were supposed to this past October for our trip to Europe that ended up being a problem with delays and such and we missed our flight and instead flew Iceland Air.  Though in March, we'll fly Norwegian from Gatwick to LAX.  When we've booked both this flight and the one we never got to fly, you get cash points through Norwegian that you can use toward future bookings.  That's a pretty nice perk, especially when you have to pay for food and to choose your seat when booking, using that Norwegian cash point to pay for that can be really handy!