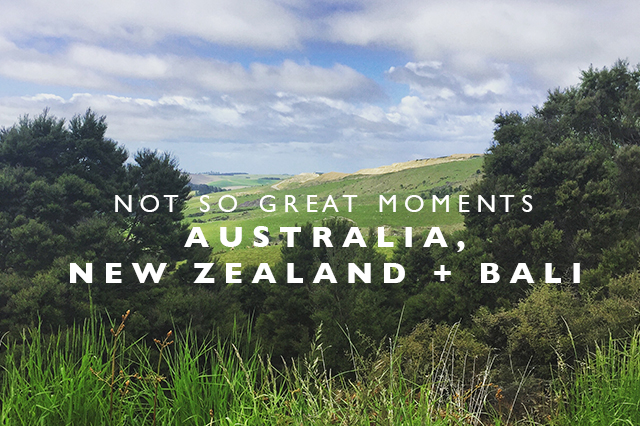 I know this title may sound strange, but bear with me.  Yesterday, I posted my favorite moments from our recent trip through Australia, New Zealand and Bali, and while yes, we had some incredible moments and enjoyed the tip a lot, we also had some really not so great moments on this trip as well.  And in the spirit of my Truth About Traveling series, I completely believe in being honest here on Land of Marvels, in showing you the amazing things about travel but also being honest about the not so great things about it as well.  It's important to know that not everything will go amazing when you travel and to prepare yourself for what might come.  Sometimes travel will be all smooth sailing and we've had lots of trips like that, but other times, many things can go wrong and while at the time they aren't so great, there can be lessons learned for the future.  So today, I'm sharing all the not so great moments that happened to us on this trip and the lesson learned along the way to help in your own travels.
Intense Driving Conditions in New Zealand
Our second day in New Zealand, we headed out of Christchurch in our rental car bound ultimately for Queenstown, but with planned stops in Lake Tekapo and Lake Pukaki.  After leaving the lakes, we decided to head to Wanaka and add it into our itinerary.  We were so glad we did and loved the Wanaka area, however then to drive from Wanaka to Queenstown, we mapped it on our phone and after seeing a fairly direct route that should only take a little over an hour, we headed in that direction.  Little did we know that the road would end up being so curvy that it made it difficult to drive.  Now just a little FYI about me, I actually love driving curvy back roads and Nick likes to joke that I was a race car driver in a previous life.  Give me a little fast car and a curvy road and I think it's fun.  But this road, it was beyond what I would even call curvy.  Imagine those roads in a James Bond movie where it's crisscrossing down a very steep hill, this was also while driving on the wrong side of the road and the wrong side of the car in record breaking winds.  I literally had to steer into the wind just to be straight on the road.  Needless to say when we finally arrived in Queenstown, we were very tense.  When we arrived to our hotel we looked up the road and it's known as the harshest driving road and the highest road in all of New Zealand.
Lesson Learned: In countries where the roads might be intense, always look up your route before you start driving it and see what the situation is going to be.  And if you get into a situation that makes you nervous, make sure to go slow and take as many stops as you need.
Sick in Queenstown
After our drive down the steepest mountain sides I've ever seen, we spent the night in Queenstown.  Originally we hadn't booked our flight the following day until the afternoon because we wanted to be able to explore Queenstown in the morning.  Well, that plan was crushed when I woke up that morning with such nausea and feeling faint that I could barely get out of bed.  I spent the morning in bed with a high fever and trying to sleep.  It was so bad that morning that I told Nick that maybe we should perhaps cancel the rest of our trip and go home.  It ended up being the start to a really bad cold we had the rest of the week, but that morning was the worst I've felt in a long time.
Lesson learned: If you get really sick while traveling, have a backup plan in place.  For example, that morning we made a plan that if I was still that sick the following day in Auckland, we'd just get a flight home.  Luckily I got a little better and we could finish our trip, but looking into options will help.  And if you're extremely sick for multiple days, see a doctor abroad.  Your hotel can help you find one.
Lost Passport
The same day that I was sick and had a fever (above), shortly before we were due to leave for the airport that afternoon, I started feeling a bit better thinking I had a 24 hour flu or something of the sort.  When we were packing to leave for the airport, I was checking to confirm with Nick that he had his wallet (with his passport in it) for our flight.  After checking his pocket where he keeps it, he suddenly realized he couldn't find it.  After a frantic internet search on what to do in that situation and literally crawling over every inch of our hotel room, we tried the last possible place it could be, in our rental car, and there it was.  One crisis averted…
Lesson Learned: If for some reason you do lose your passport, make sure you have a copy of it stored somewhere on your phone or in your email as well as copies of ID's and credit cards so if your wallet is stolen or lost, it will be easier to cancel cards or replaced pieces of information.
Worst Turbulence of my Life
In truth, that day in Queenstown was already horrible with me being sick and Nick almost losing his passport.  All this to say that our day only went downhill from that.  We arrived at Queenstown airport for our short flight to Auckland that afternoon.  We boarded our plane totally fine and got settled in.  When we didn't leave the gate on time, the pilot came on to tell us that we couldn't leave yet because there were two aircrafts circling in the air trying to land and due to incredibly high winds, they were having to make multiple approaches.  Ok, great, not what you want to hear when you're about to take off in those very same winds.
Now keep in mind at this point that Queenstown, New Zealand is breathtaking.  But it's breathtaking because it's literally built into a cavern between incredibly high mountains.  Finally, after only one of the two planes could make their landing (the other diverted to Christchurch), we headed out to the runway.  Let me just say before this, I've felt a lot of turbulence over the years of flying and there are a few instances that stick out in my mind as really scary, but usually it doesn't bother me at all.  This flight from Queenstown to Auckland was beyond the scariest flight I've ever taken.  Once we took off, the winds shot us up way faster than normal, already giving the sense the plane was out of control.  Once we started rising, gusts of enormous wind would come from each side and literally tilt the plane to a 45 degree angle sideways.  I was also in a window seat by the way for this, so seeing the plan veer, seemingly out of control, toward the enormous mountains not far off and with only a lake below was completely terrifying.  I was praying the whole 20 minutes it took for us to feel like the plane was in control again.  I have never in my life felt so scared flying as I did on that flight, feeling like the plane was at the total control of the winds and that it might not make it out of that canyon.
When we arrived in Auckland that night, we looked it up and apparently Queenstown airport is rated X, which on a scale of A, B, C and X of airports, is the kind of airport that has the very strictest conditions.  Only the highest qualified pilots are allowed to fly in there so the conditions must be bad quite often.
Lesson Learned: Don't fly in or out of Queenstown.
Lost Luggage
In Auckland en route to Bali, we arrived to very long Virgin Australia lines and because they only allow 1 carry on each, we had to check two of our bags (including my Tumi hard side carry-on).  We checked in, headed up to security and arrived at our gate with only minutes to spare before boarding, only then to sit on the tarmac for forty minutes.  Because of the delay, we barely made our connecting flight in Sydney bound for Bali.  Fast forward to 9 hours later, we arrived in Bali and got to the baggage claim only them to see only one of our bags.  My Tumi (of course the one without the baggage tracker on it) would be the one lost.  It had been left in Sydney.  After reporting it, it was a full 24 hours until my luggage was delivered to our hotel, leaving me having to wear some of Nick's clothes the following day.
Lesson Learned: Make sure your luggage has name tags and trackers if possible in case they get lost.  And make sure to keep your bag tags that the airline gives you, that way they'll be able to track it much better.