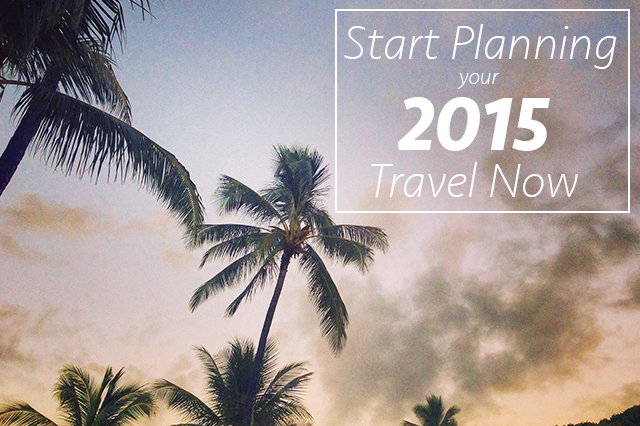 I seriously can't believe we're in December already, but alas, another year is coming to an end and as we look toward 2015, it's time to start looking into travel plans for the new year.  It's easier to add more travel to your life in the coming year if you plan ahead for it and map out the year in front of us, so here's how I plan for the year ahead in travel to add as much as I can into our schedule.
Look at the Calendar
To be able to do all you want travel-wise in 2015, like anything else, it's important to have a plan ahead of time.  Around this time of year, Nick and I sit down and look at the year ahead on the calendar.  We map out our larger trips (for us usually in the Spring and Fall) and then we look at the rest of the months and how many openings we're going to have for smaller trips throughout the year.  We try to take advantage of holidays like Memorial Day so looking at the calendar and seeing where those holidays fall, will help you narrow down your plans.
Narrow Down Your Destinations
It's all too easy to start going crazy with destination ideas for the year ahead, there are so many places to see and not nearly enough time.  But if you look at your priority spots, places you're craving now, places you've seen a lot on or places that are those bucket-list spots, narrow down which should go to the top of the list.  For me, 2015 top priority places include Spain (which we'll head to in March), Bali (which we're shooting for in November), and perhaps a return trip to Iceland (hopefully in May).  Those spots went to the top of our list this year and so we're trying our best to get to all of them.
Ask for Time Off
We try to have our year ahead mapped out for how many days off we'll need in January, that way when the new time off calendars go live at our jobs, we know how many days we'll have off and how many of those will need to go to travel.  For our trips January-March, if we need to use days off, we usually just put in for the time off shortly after the new year to just make sure we get the days we need.  If you plan ahead with your time off of work, it's much easier later to not have to worry about it getting approved or falling through.
Start Saving
One nice thing about planning travel for the year ahead is that is gives you a ton of time to save money for those trips.  We usually plan our major trips at least 6 months in advance if not longer, so it means we have that much time to save money for the trip and pay everything off.  Start saving now for the year ahead and happy travels in 2015!