Springhill Suites by Marriott – Kennewick, Washington
The first stop on our road trip to Yellowstone was Kennewick, Washington as Nick has some work in the area and so we stopped off here for a night.  This hotel was the one that his office recommended and we walked away not being disappointed at all!
LOVE
Location – The hotel is easy and convenient in Kennewick, with easy access to lots of restaurants and shops nearby.
The Design – Overall, I'm really impressed with the Springhill Suites brand by Marriott.  The design is spot-on and a really nice modern mid-range hotel.  This particular one was modern and comfortable.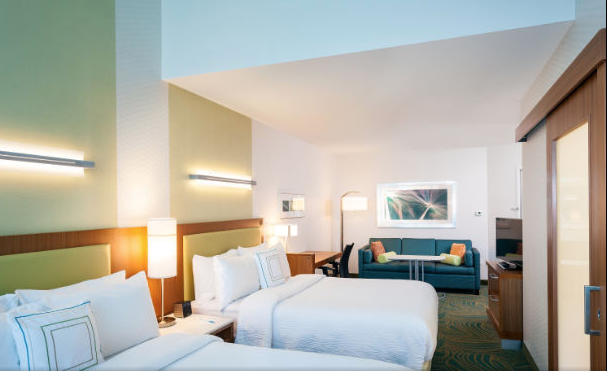 Big Room/Great Layout –  The layout of our room here was really nice and big, with a sofa area, a desk as well as a nice large bed.  The layout was easy and comfortable.
Starbucks in Lobby – While I didn't realize this until the day we left, the hotel actually has a Starbucks in the lobby area which is a great perk!
Great Parking  – The hotel has parking in both the front and the back and both were super easy and available.
DIDN'T LOVE
Nothing! –  There was nothing we didn't love about our stay!
TIPS
Park your car in the back – it's the easiest option and a little closer than parking in the front.